Features Dolby Atmos and Q-Symphony – Now Compatible with Samsung TVs!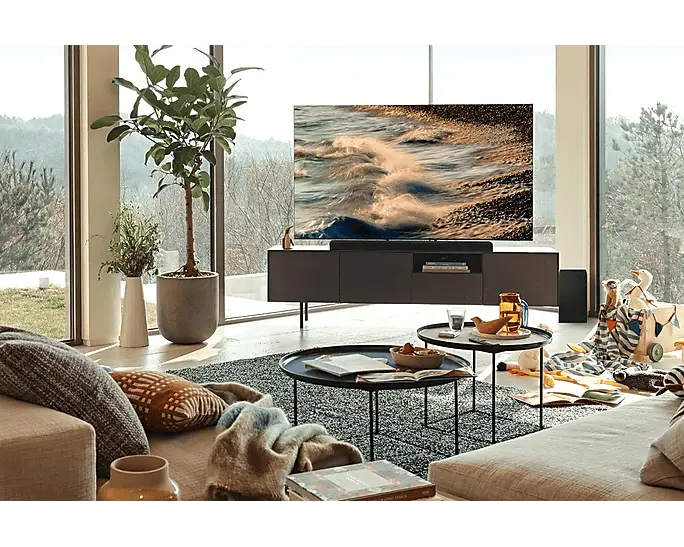 Samsung unveiled three new soundbars at the Consumer Electronics Show (CES) 2023:
Samsung q990c
the ultra-slim HW-S800B (this model already exists, it's still unclear whether they will still keep the name of the new version as Samsung hw-s800b or they'll be naming it Samsung hw-800c), (UPDATE: It's named SAMSUNG HW-Q800C) and
a gaming-oriented Samsung HW-G60C. 
Read: Performance & Value With The Samsung HW-Q800B Soundbar Review.
The HW-Q990C, the flagship model for this year, is the successor to the HW-Q990B, released in 2022. The hw-g60c soundbar and the HW-S800B are also upgraded versions of their previous models (samsung hw-g60b and the HW-S800B respectively which were both launched in 2022).
Samsung HW-Q990C
Q-Symphony creates harmony between the TV and the soundbar. 
Q-Symphony 3.0 takes the Samsung soundbar experience to the next level by tapping into the TV's Neural Processing Unit to deliver unparalleled audio detail.
AI Sound Remastering is also onboard the Samsung q990c. What this means is that the soundbar uses artificial intelligence to remaster each sound object. The result is a clear crisp voice, a well-rounded audio environment, and the perfect sound level for each component. 
When paired with a Samsung TV, the soundbar amplifies dialogue while the TV's speakers provide the surrounding audio to create a stunning 3D audio experience.
Samsung's SpaceFit calibration -perfect for nighttime watching
Samsung's SpaceFit calibration technology leverages AI to adjust individual driver frequencies and gain levels to properly fill a room. It features a nighttime mode that adjusts for low-volume listening. Adaptive Sound 2.0 uses AI to optimize audio, and Game Pro 2.0 tweaks the settings for various genres.
The hw q990c also features a SmartThings hub, offering voice control and the ability to change things inside the SmartThings app. 
Samsung's SpaceFit calibration technology uses AI to create a perfectly balanced soundscape for any environment. It adjusts individual driver frequencies and gain levels to fill a room with an optimal audio experience.
11.1.4-channel soundbar with Dolby Atmos
The Samsung soundbar q990c enhances your home's audio experience with its 11.1.4-channel setup. Featuring nine audio channels, including three front-firing, four side-firing, and two top-firing channels in the soundbar, you can enjoy impressive sound quality.
The other two speakers that come with the soundbar have 6 audio channels; two front-firing, two side-firing, and two top-firing channels ensuring a truly immersive and dynamic sound experience.
Rear speakers and a wireless subwoofer.
The Samsung q990c soundbar model is said to be equipped with two rear speakers and a wireless subwoofer. The Q-Symphony 3.0 technology of the HW-Q990C model enables Samsung to direct audio elements through the soundbar and TV speakers. This guarantees crisp clear sounds on up to 22 channels on compatible TVs.
The Samsung HW Q990C Is a Dolby Atmos Powerhouse! Read The full review here
Samsung's first gaming soundbar; Samsung HW-G60C
Samsung has unveiled its first-ever gaming-oriented soundbar, the HW G60C. It is based on the HW-S60B soundbar, which the company released in 2022. The Samsung G60C is designed for PC gaming, but its HDMI/ARC, USB, and AirPlay 2 connectivity also make it suitable for TVs.
The soundbar features echo-cancellation technology for clear in-game chat and voice isolation for virtual voice assistants. It will also come with LED lighting to help set the mood for gamers. 
There's still little information on the specifications, but they're expected to slightly improve the HW-S60B 5.0-channel audio setup.
Samsung HW-Q800B; a newer version. Or Is It Samsung HW-Q800C?
The HW-Q800B model was originally released in 2022 and is already on the market….so we are assuming the Samsungs CES press release was most likely an error (which is a very low possibility). UPDATE; The Samsung HW Q800C was just recently released as the 2023 model.
Read more: HW-Q800B review
But, so far Samsung's soundbar naming thought process has appeared to be product A for 2021, B for 2022, and C for 2023. That is, Samsung A-series soundbars were released in 2021, B series in 2022…
It's not yet clear why they used the same model name for the same product. Or they just want to do a few improvements without changing the design, naming it the Samsung HW-Q800B 2023 model or HW-Q800B Version II.