Wireless Rear Speakers, Dolby Atmos, and DTS:X onboard for immersive 3D sound.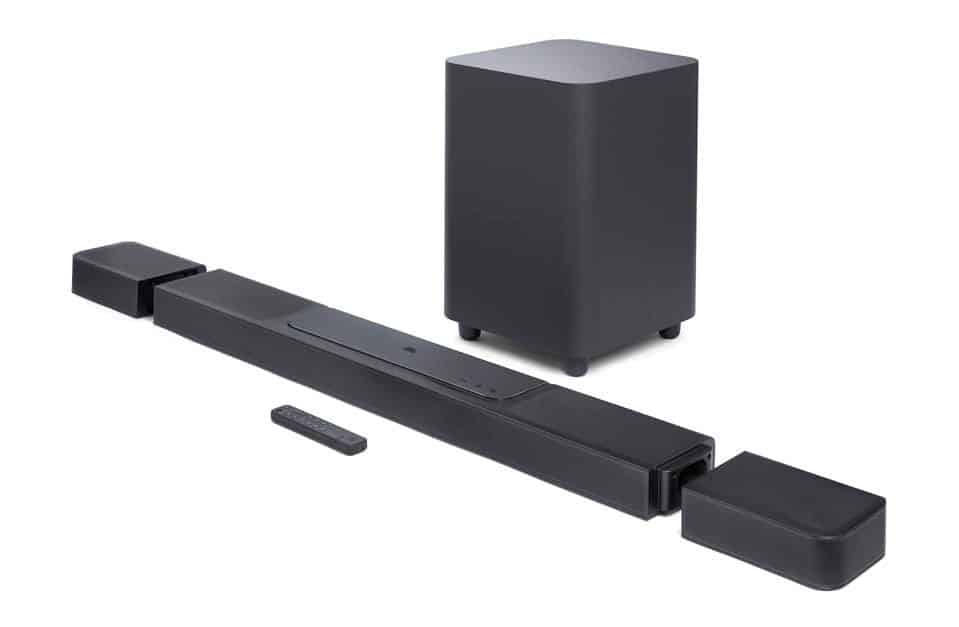 The JBL Bar 1300X Pro is among five new soundbar models recently announced at the 2023 CES in Las Vegas.
This is in addition to several others launched in late 2022, including the JBL Bar 1000 Pro, JBL Bar 500 Pro, and JBL Bar 300 Pro. Like the JBL soundbar 1300x, the JBL Bar 700 Pro is expected to go on sale in February 2023, with the JBL 1300x soundbar expected to be priced at $1,699.95 and the Bar 700 pro likely to cost around $899.95.
2023 JBL soundbar lineup
JBL Bar 1300X PRO
JBL Bar 1000 Pro
JBL Bar 700
JBL Bar 500 Pro
JBL Bar
300 Pro
Channels
11.1.4
7.1.4
5.1.2
5.1
5.0 All-in-one
Power output
1170W
880W
620W
590W
260W
Detachable rear channels
Yes
Yes
Yes
No
No
Dolby Atmos®
Yes
Yes
Yes
Yes
Yes
DTS:X 3D surround sound
Yes
Yes
No
No
No
MultiBeamTM
Yes
Yes
No
Yes
Yes
Upfiring drivers
6
4
2
0
0
Subwoofer
12" Wireless
10" Wireless
10" Wireless
10" Wireless
Built-in
HARMAN PureVoice
Yes
Yes
Yes
Yes
Yes
JBL One App
Yes
Yes
Yes
Yes
Yes
JBL's Most Advanced Soundbars Yet
JBL's PureVoice is available across its entire 2023 lineup
According to JBL, all five of their new soundbars will have PureVoice, a sound-optimizing feature that guarantees clear dialogue audio even when the scene has other loud sounds.
Other features to expect on the soundbars include; 
Customizable EQ settings to tweak the tone of the bar,
WiFi and Bluetooth for wireless connectivity and streaming.
JBL One app support and voice assistants such as Alexa, Google Assistant, and Siri, 
Integrated music platforms such as AirPlay 2, Alexa Multi-Room Music (MRM), and Chromecast 
The JBL Bar 1300X has an 11.1.4 channel speaker setup capable of 1,170 watts of output. (at this point, the rival Samsung Q990B, with a similar speaker setup but only 656W, seems measly!)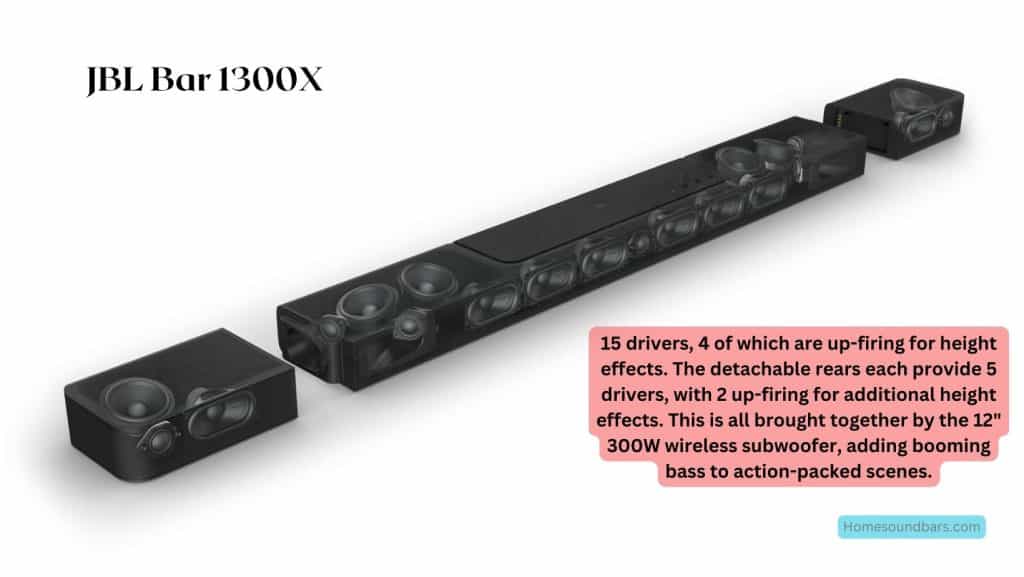 The soundbar has a total of six up-firing drivers which are meant to make the most out of the Harman Kardon MultiBeam spatial audio technology. JBL states that this is three times more than some companies offer.
Ground-breaking channels and power numbers are only part of the story.
The design is pretty remarkable too! With the detachable wireless rear speakers, you can remove them from the main soundbar to customize your listening experience. The speakers can last up to 10 hours on a single charge and they can be recharged by connecting to the main bar. 
Read more: Can You Use A Soundbar As Rear Speaker
In terms of connectivity (aside from the wireless options) the soundbars have an HDMI/ARC port and three additional HDMI inputs.
A more realistic and immersive listening experience
The JBL soundbar 1300x is designed with Dolby Atmos movie and music mixes in mind. It also supports the DTS:X sound format, meaning you'll be able to benefit from the ultra-immersive thrills of object-based sound. 
The DTS:X sound format places sound effects in a carefully created 3D soundscape rather than simply steering sounds to speakers, despite the object-based format in which a particular film might be mixed.
Powerful crisp bass
The substantial wireless subwoofer delivers the system's '.1' bass channel. The soundbar itself is large enough to house a 12-inch driver, which is currently the largest driver available on any soundbar. In comparison, the Samsung Q990B, which is also known for its impressive audio capabilities, has an eight-inch driver (though it does feature an Acoustic Lens feature to improve sound dispersion).
Is the JBL Bar 1300X better than the Samsung Q990B?
While the Samsung Q990B performs better in pretty much everything including better dialogue, better atmos, and an adequate sub (though the JBL 1300X does outshine Samsung's sub), it requires everything to be set up correctly and in one position to maintain the "advantage." A change in the room layout could result in a loss of audio quality.
For example, if the couch is against the wall or in a corner, the side-firing speakers may need to be repositioned to avoid audio issues.
The JBL Bar 1300X is mainly better in terms of flexibility, versatility, and ease of use.
With the JBL Bar 1300X, you have more freedom to place the detachable speakers wherever you want.
When listening to music, you can leave the speakers on the bar, but when watching an atmos movie, you can place them on a side table next to the couch, on the couch armrest, or even on a temporary speaker stand. This flexibility ensures that you can enjoy an immersive audio experience without worrying about the placement of your furniture.
In short, while the Samsung Q990B may have some advantages regarding specific audio features (which, to me, is the most important aspect of buying a soundbar), the JBL Bar 1300X offers greater flexibility and ease of use, ensuring a seamless and enjoyable audio experience regardless of your room setup or setup furniture placement.
JBL Bar 1300X Verdict
To wrap up, the JBL Bar 1300X is an excellent choice for someone looking for a high-end soundbar system that can easily replace a traditional AV receiver-based setup. Despite its hefty price tag, the Bar 1300X offers an impressive array of features that make it well worth the investment. I'll keep on testing and will write a more comprehensive JBL 1300x soundbar review soon, but so far, this soundbar is a strong contender for our best soundbars list.
EXCLUSIVE BUNDLE - Includes (1) JBL BAR 1300X PRO Soundbar (1) 12 inch Wireless Subwoofer and (1) Sanus SAC-21HDMI2 2.0 meter/6.56 ft. 8K Ultra High Speed HDMI Cable
1170 WATTS OF OUTPUT POWER - With 1170 watts of total system power the JBL BAR 1300X transforms your movies music and games into immersive sound experiences and pulls you into the middle of the action
BUILT-IN WIFI - Enjoy all of your favorite audio content internet radio and podcasts in high definition and access over 300 online music streaming services through AirPlay Alexa MRM and Chromecast built-in
JBL ONE APP - Customize EQ and control all of your compatible speakers with a single convenient app - easily set up the soundbar personalize settings and browse the integrated music services to find your new favorite song
PERFECT PAIR - The Sanus Ultra High Speed HDMI cable provides a throughput for home theater audio and video in a single-cable solution and supports up to 8K resolution @ 60Hz