"more bass, more sound pressure levels, Hi-Res Audio and party lighting with flexibility of installation"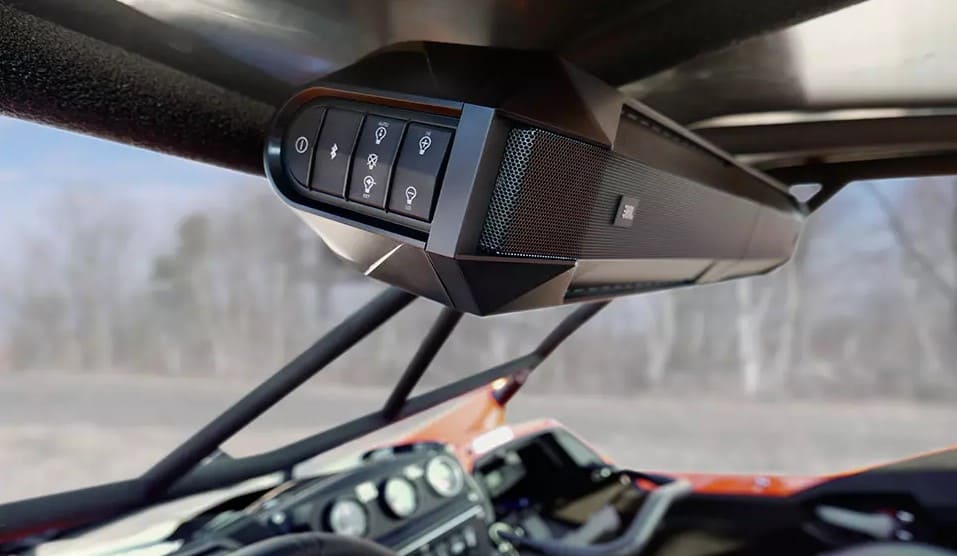 The three new rallybars for powersports and marine applications from HARMAN International Industries are here! The JBL Rallybar XL, JBL Rallybar and Rallybar S offer exceptional sound quality, advanced technology and JBL's signature sound.  These lightweight and compact rallybars are the perfect choice for your audio needs, whether for off-road vehicles or boats.
The JBL Rallybar family takes the success of the JBL UB4100 and takes it to the next level, with more bass, more sound pressure levels, Hi-Res Audio and party lighting with installation flexibility. With this new lineup, JBL has pushed the boundaries of what's possible in terms of looks, audio performance and durability, making it the best in its class.
Quality Sounds Should Not Just Be Limited To Your Home.
The new  JBL Powersports Rallybar will bring your adventures to life with its next-generation audio performance. Now you can enjoy the same great sound you know and love from JBL, with the convenience of a portable and versatile audio solution designed for the Powersports market.
The Rallybar is an improved better version of the UB4100. It is equipped with a 300W amplifier and supports Hi-Res audio. Its 1" tweeters, 3" mid-range drivers, and 3" by 7.3" racetrack passive radiators ensure the best sound quality for your adventures. With the Rallybar XL featuring 10 speakers and 4 radiators and the Rallybar's 150W amplifier with 6 speakers and 2 passive radiators, you'll be able to enjoy your ride with powerful sound.
Experience Next Level Audio: HARMAN Tuned Rallybars
The JBL Rallybar XL, JBL Rallybar, and Rallybar S models boast exceptional features, including HARMAN-tuned DSP, USB play, aux-in and out and Bluetooth, enabling you to sync to an unlimited number of Rallybars. The Rallybar XL and Rallybar also come with 7-way customisable party lighting and a map light function for in-vehicle use. With an IP66 design, these powerful speakers are rugged enough to withstand the most challenging conditions and easy to spray down after a long day of adventure.
User Friendly, Easy To Install
The Rallybar is an unbeatable choice when it comes to ease of installation. The unique mounting brackets on the rallybars are designed to swivel 360 degrees. Thanks to the adjustable clamps, they can be affixed to any rollbar or wakeboard tower in a matter of minutes. No matter the angle or size of the bar, the Rallybar can be securely attached with minimal effort.
Availability and Pricing:
The new JBL Rallybar speakers will be released between April and June 2023, with prices ranging from $600 to $1,000. The JBL Rallybar S will be the cheapest, while the JBL Rallybar XL as the most expensive of the pack.
Features and Technical Highlights:
Bluetooth Broadcasting Mode that lets you pair multiple phones for Party Mode and sync music across any number of Rallybars. 
Aux-in/out and USB play offer lots of flexibility when consuming your music,
A Hi-Res Audio system with more than 40Khz resolution for best-in-class fidelity. 
Mounting kits to fit any bar diameter or angle
300Wrms Class D amplifier that delivers superb SPL and deep bass.
The dome light is bright enough to light up the interior of your rig whenever you need to read a map or find something in the dark.
Customize your camp or trail party with the unique dynamic LED display
IP66 rating ensures your rally bar is protected from dust, mud and water.
Harman sound tuning offers extraordinary sound performance and bass, with 75+ years of sound tuning experience behind it.