Experience hassle-free surround sound with JBL Bar 1000. Detachable battery-powered speakers & Dolby Atmos® provide theater-quality 3D audio.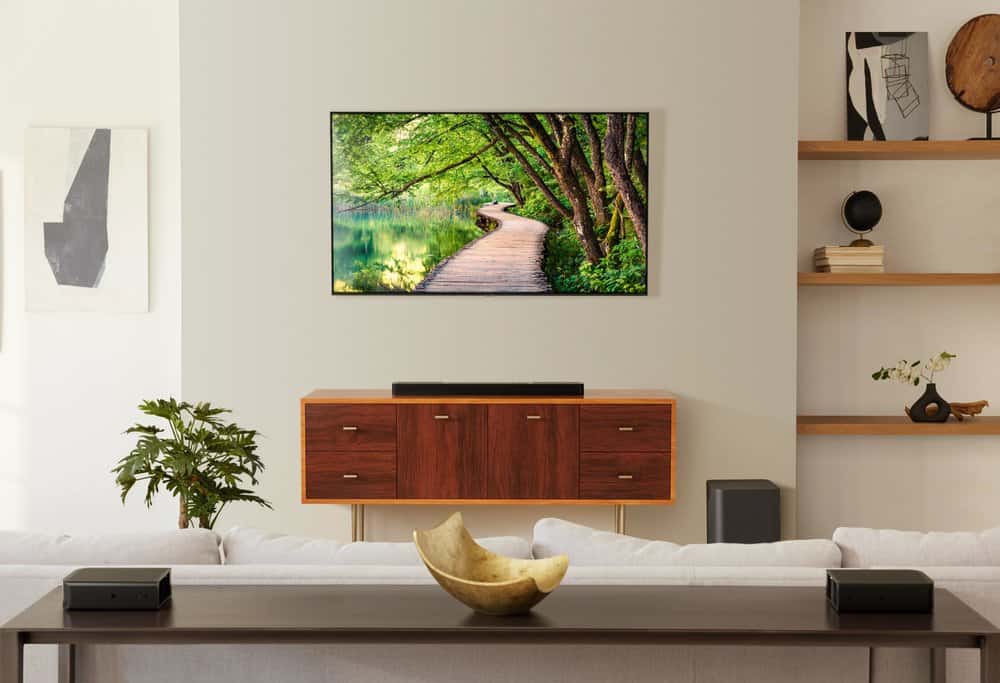 The JBL Bar 1000 Pro Soundbar is no ordinary sound system. This 7.1.4 Dolby Atmos powerhouse features detachable battery-powered rear speakers that can be magnetically attached to the soundbar for a full-on surround sound experience. The latest addition to JBL's MultiBeam technology ensures you get the most immersive sound experience possible from your setup. 
If you're a gamer, you'll love the two HDMI 2.1 passthrough ports that support 4K 120Hz images, VRR, and Dolby Vision. This exclusive bundle also comes with a 10-inch wireless subwoofer and a Sanus SAC-21HDMI2 2.0 meter/6.56 ft. 8K Ultra High-Speed HDMI Cable. However, all this comes at a price, with the JBL 1000 Pro soundbar costing you more than $1000.
What We Love About the JBL Bar 1000 PRO
Realistic and accurate 3D sound effects with True Dolby Atmos®, DTS:X, and MultiBeam™ surround sound.
10" wireless down-firing subwoofer and detachable surround speakers. 
PureVoice dialogue enhancement technology for crystal clear conversations.
880W output power with 11 channels (7.1.4) for unparalleled audio quality.
Built-in Wi-Fi with AirPlay2, Alexa Multi-Room Music, and Chromecast built-in™ allows you to stream your favorite music, podcasts, and more.
An ultra-high-speed 8K HDMI Cable.
Compatible with voice assistant-enabled speakers for hands-free control.
HDMI eARC with 4K Dolby Vision pass-through for ultra-sharp visuals.
Easy sound calibration to personalize the sound to your preference.
Customize your EQ and control with the jbl sound bar app.
Cons
The soundbar goes into standby mode after a while when connected via Bluetooth.
No AUX connection
The bass is a bit underwhelming for a soundbar that costs $1000+
Design and Setup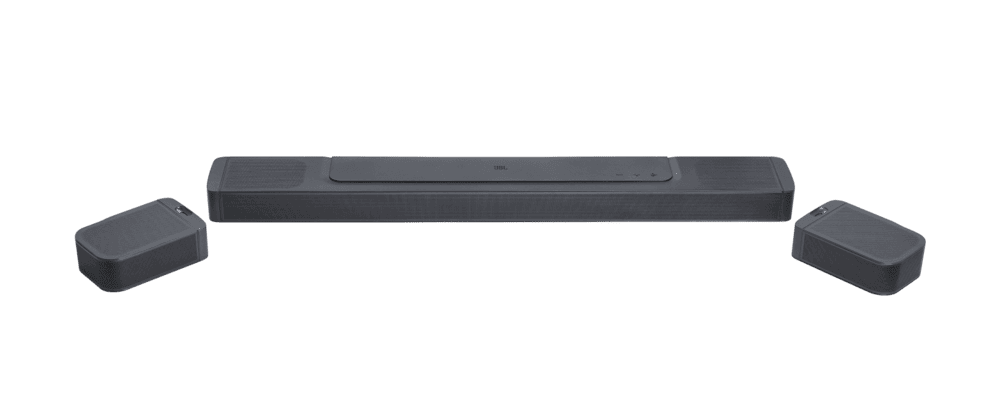 The JBL Bar 1000 Pro is a sleek and stylish piece of equipment. Its slender profile fits perfectly in front of most TVs without blocking your view.
The two detachable speakers can be removed from the central soundbar unit and feature magnetic cover clasps.
As for battery life, you can expect around 10 hours on a single charge.
The speakers can be charged via USB Type-C inputs, taking approximately 3-4 hours to recharge. Alternatively, you can plug them into the soundbar unit and charge them in standby mode.
Controls and Connectivity
At the top of the soundbar, you'll find a few physical buttons and an LED indicator.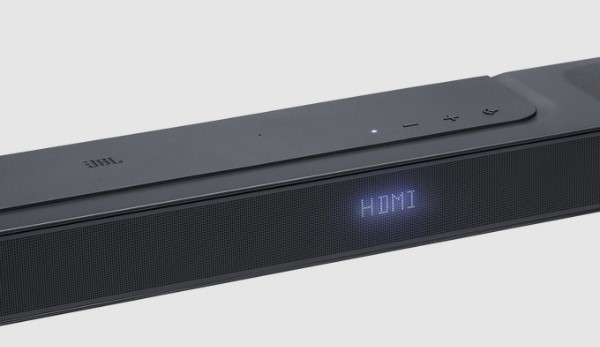 The included remote is sleek and stylish, and if you want to enhance your experience further, you can download the JBL app. This provides access to all the same settings as the physical remote, with the added bonus of haptic feedback and a three-band equalizer. 
As for connectivity, you have Wi-Fi for Apple AirPlay, Google Chromecast, and Alexa MRM. Bluetooth is also supported, but with the lower quality SBC codec, so you should only use it sparingly. You can also connect to your TV with either optical or HDMI. The higher quality eARC standard is supported, meaning it can bind and convert uncompressed Dolby Atmos data. Finally, there are three HDMI inputs, two of which are HDMI 2.1, allowing for 4K 120Hz pass-through for modern consoles.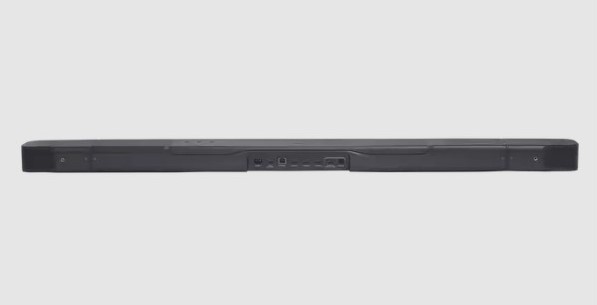 Sanus 8K Ultra High-Speed HDMI Cable

The JBL 1000 pro soundbar is accompanied by a Sanus 8K Ultra High-Speed HDMI Cable, offering a one-cable solution for home theater audio and video throughput. It is a perfect connection option for HDMI-enabled displays such as home theater projectors and HDTVs to devices such as gaming consoles, streaming boxes, and Blu-Ray players.
Performance: How Does It Sound? Movies & Music.
The JBL Soundbar 1000 Pro offers an immersive surround sound experience for movies and music. It comes packed with MultiBeam technology and has an easy calibration option for the best audio performance. So, how does it sound on film and music?
Surround Sound Effect
I was most impressed by the JBL Bar 1000's surround sound effect, enhanced by its MultiBeam technology. The sound was expansive and well-distributed across the TV, with the rear speakers also providing a prominent role. The sound reflection was fascinating, creating a sense of sounds coming from nearby. The result was a precise and robust surround sound experience, surpassing the capabilities of most high-end soundbars.
Dialogue Enhancement
The Bar1000 also features specific dialogue enhancement systems. However, I found it challenging to pick out the speech in The Batman from the action. This could be down to the film's mix, so I will only be quick to judge once I can try it with a broader range of content.
Overall Performance
The JBL Bar 1000 is an excellent option for an immersive surround sound experience. The convenience of being able to 'snap' a couple of rear speakers off the end of your soundbar for when you want an all-encompassing surround experience is great. However, I did feel like the audio presentation was a bit too forward and aggressive, so it struggled to keep the definition between elements when things got dense. More testing and lower volumes could help determine this soundbar's full potential.
Sound Quality: The Techy Aspect
The JBL Bar 1000 Pro offers 880 watts of total power output, with 440 watts delivered from the main soundbar unit, 70 watts from each of the surround speakers, and 300 watts from the 10-inch subwoofer unit. There are 15 drivers, including the subwoofer within the main soundbar unit, two 0.75-inch tweeters, and two 2.7-inch full-range drivers. The frequency response is rated at 33 Hertz up to 20 kilohertz which is slightly underwhelming.
The sub-bass response is only decent, whereas competitors such as the Sennheiser Ambeo Soundbar Plus offer a better experience. The mid-bass is good, with good quantity and quality, but the mid-range feels too recessed. The highs are good but could use a bit more zing. The soundstage is neither good nor bad, but it could be improved.
The Dolby Atmos support is great, and really helps to bring out the nuances of gunshots, explosions, and other sound effects. It's worth noting that the Samsung flagships offer three drivers in each of their rear-facing speakers, whereas the JBL Bar 1000 Pro offers two.
JBL Bar 1000 Pro 7.1.4 Specs
Frequency response: 35Hz – 20kHz (-6dB)
Total speaker power output: 880W
Soundbar transducer: 5 racetrack drivers, 3 tweeters, 2 up-firing full-range drivers
Subwoofer transducer: 10" (260mm)
USB port: Type A
USB rating: 5V DC, 0.5A
HDMI video input: 3
HDMI video output (with Enhanced Audio Return Channel, eARC): 1
HDR pass-through: HDR10, Dolby Vision
Audio inputs: 1 Optical, Bluetooth, USB (USB playback is ONLY available in the US version. For others, its for Service only.)
Main soundbar dimensions (W x H x D): 884 x 56 x 125 mm / 34.8" x 2.2" x 4.9"
Subwoofer dimensions (W x H x D): 305 x 440.4 x 305 mm / 12" x 17.3" x 12"
JBL Bar 1000 Review: Should You Buy It?
Besides the modern style, the JBL soundbar 1000 is naturally a great soundbar. The four up-firing drivers, 10″ subwoofer, and support for Dolby Atmos and DTS:X 3D surround sound offer quality crisp audio that does not disappoint.
EXCLUSIVE BUNDLE - Includes (1) JBL BAR 1000 PRO Soundbar (1) 10 inch Wireless Subwoofer and (1) Sanus SAC-21HDMI2 2.0 meter/6.56 ft. 8K Ultra High Speed HDMI Cable
880 WATTS OF OUTPUT POWER - With 880 watts of total system power the JBL BAR 1000 transforms your movies music and games into immersive sound experiences and pulls you into the middle of the action
BUILT-IN WIFI - Enjoy all of your favorite audio content internet radio and podcasts in high definition and access over 300 online music streaming services through AirPlay Alexa MRM and Chromecast built-in
JBL ONE APP - Customize EQ and control all of your compatible speakers with a single convenient app - easily set up the soundbar personalize settings and browse the integrated music services to find your new favorite song
PERFECT PAIR - The Sanus Ultra High Speed HDMI cable provides a throughput for home theater audio and video in a single-cable solution and supports up to 8K resolution @ 60Hz
The ability to 'snap' on a couple of rear speakers when you want full surround sound and then 'pop' them back off when you want a more compact setup, is an incredibly convenient feature.
While it might struggle with the most dense audio content, it still offers great sound quality, making it a great option for those looking for a well-rounded soundbar.