Supports Dolby Atmos, Dolby TrueHD, Dolby Digital Plus, Dolby Digital, DTS:X, DTS-HD Master Audio, DTS-HD, and DTS Digital Surround.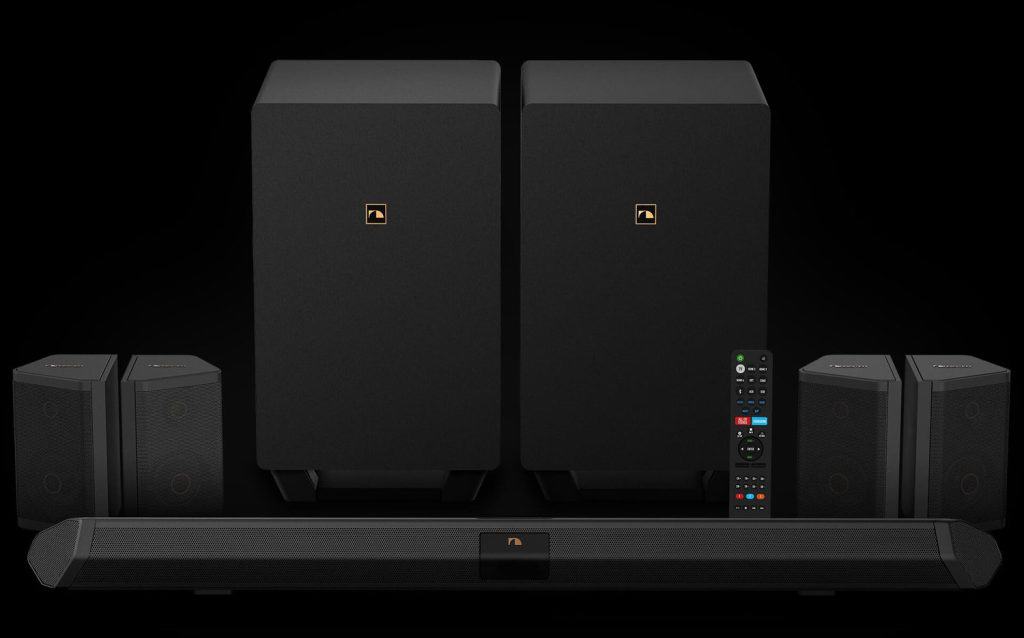 The Nakamichi Shockwafe Ultra 9.2.4 eARC offers an unparalleled home theater experience for those looking to recreate the feeling of a true cinematic experience. This system is easy to assemble and supports all advanced audio standards with many advanced features. It features two large subwoofers and four satellites.
The 9.2.4 model offers eARC connectivity for DTS:X and other immersive formats and features the Spatial Surround Elevation (SSE) technology that allows users to select from three soundscape presets based on the size of their living room.
With its stylish design and powerful sound capabilities, the Nakamichi Shockwafe Ultra 9.2.4 eARC soundbar is the perfect choice for any home theater setup.
Nakamichi Shockwafe Ultra 9.2.4 eARC Vs. Nakamichi Shockwafe Ultra 9.2 Ch
| | | |
| --- | --- | --- |
| (Amazon Product Links>) | Nakamichi Shockwafe Ultra 9.2.4 DTS:X/Atmos Soundbar | Nakamichi Shockwafe Ultra 9.2 eARC /SSE Soundbar (2022) |
| Dolby Atmos, Dolby TrueHD, Dolby Digital Plus, Dolby Digital / DTS:X, DTS-HD MA, DTS-HD, DTS | Yes | Yes |
| Dolby Vision / 4K HDR Pass-Through | Yes | Yes |
| Audio Channels | 9.2.4 SSE | 9.2.4 SSE Max |
| Total Power / SPL Loudness | 1000W / 110dB | 1300W / 113dB |
| Speaker Drivers (Soundbar & Surround Speakers) | Full Range Drivers, Mylar Tweeters | Extended-Range Twin Cone Drivers, Silk Dome Tweeters (Unmatched 360º surround experience) |
| Subwoofer / As deep as (Hz) | 2 x 10″ Subs (Wireless) / As deep as 30Hz | 2 x 10″ Upgraded wireless Subs with High Output Amplifiers / As deep as 20Hz |
| Rear Speakers | 4 (Connected to subs via included wires) | 4 (Connected to subs via included wires) |
| Bluetooth Connectivity (BT) | Qualcomm aptX 16-Bit BT Streaming | Qualcomm aptX HD 24-Bit High Res BT Streaming |
| HDMI Connectivity | 1 Out (ARC; can stream Dolby Atmos using Smart TV Apps) / 3 In | 1 Out (eARC) / 3 In |
| Nakamichi Shockwafe Ultra Dimensions (L X W X H) | Soundbar = 45.5″ x 3.0″ x 3.5″ (7.2lbs); Subwoofer (Each) = 12.0″ x 13.5″ x 20.5″ (23.4lbs); Rear Speaker (Each) = 5.0″ x 5.4″ x 8.0″ (2.8lbs); | Soundbar = 45.5″ x 3.0″ x 3.6″ (6lbs); Subwoofer (Each) = 12.0″ x 13.6″ x 20.2″ (23.8lbs); Rear Speaker (Each) = 4.8″ x 5.6″ x 8.1″ (2.9lbs) |
First Impressions
The Nakamichi Shockwafe Ultra 9.2 eARC is a step up from its predecessor, the Nakamichi Shockwafe Ultra 9.2Ch. This upgraded model offers exciting features like Dolby Vision Passthrough and eARC support for streaming formats like DTS:X. Plus, the Spatial Surround Engine feature offers three distinct soundscapes based on the size of your room. While sound quality may be slightly improved, the additional features make it worth investing in the eARC model. It's one of the closest rivals to the JBL bar 1300x, released in early 2023.
What We Like About The Nakamichi Shockwafe Ultra 9.2.4 Channel Dolby Atmos/DTS:X Soundbar
High-quality sound performance with 360° cinema surround and bass performance.
It features an energy-saving mode or "eco mode." The soundbar goes into standby if inactive for over 20 minutes.
Features extended range twin-cone drivers, silk dome surround effects tweeters, and high output amplifiers for a superior audio experience.
SSE MAX technology for perfect power, processing, and performance convergence.
An advanced backlit remote for easy control 
HDMI eARC for future-proof connectivity.
Optimized for 4K or 8K Mini LEDs, QLEDs, OLEDs, and HDTVs 
The dual 10" wireless subwoofers offer deep, booming bass.
Utilizes Spatial Surround Elevation (SSE) MAX technology for optimal sound performance.
The advanced backlit remote allows for easy control and optimization.
It can be used in smaller rooms as dipole speakers to create 360° surround.
Supports 4K HDR and Dolby Vision pass-through for spellbinding picture quality.
Features Qualcomm aptX HD for better-than-CD sound quality and future-proof connectivity with HDMI eARC and 3 HDMI inputs.
Cons
It doesn't have an app you can use, which is pretty disappointing compared to other soundbars in its class.
No automatic calibration requires the use of an SPL meter for optimal performance.
No graphic EQ.
Factory preset tuning can be challenging for novice users.
The audio feels like it is a bit compressed at max volume (although it doesn't really matter as you possibly will never use the soundbar in full volume)
Set-Up Process
The Nakamichi shockwafe ultra 9.2.4 setup is a breeze!
The plug-and-play soundbar is designed to work with your television's HDMI ARC connection. All you need to do is plug in the included cable and set your television to 'external speakers' or 'CSC' in the audio menu. If your TV does not support HDMI ARC, don't worry – the Shockwafe Ultra also comes with optical and analog cables for easy connection. 
You can also connect source devices directly to the soundbar's HDMI ports, such as DVD and Blu-ray players or game consoles. 
After connecting your speakers to the subwoofers, you're ready to go! Nakamichi includes diagrams and recommendations for speaker placement, but placement is entirely up to you. 
Placement Options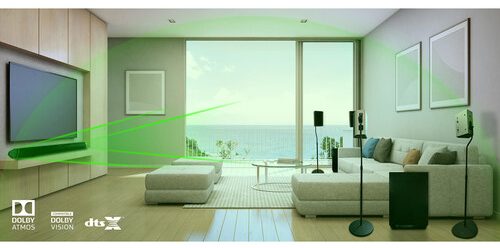 The Shockwafe Ultra subwoofers connect wirelessly to the main unit and power up the two surround channels. You get a fairly long RCA cable for the connection, allowing plenty of placement options. 
If you're planning to place the soundbar on the same level as your TV, it may obstruct the bottom part. For the best sound and aesthetics, place the Nakamichi Shockwafe Ultra speaker lower than your TV or mount it on the wall. 
Nakamichi recommends sidewall placement for the subs, which helps reduce wire clutter and may even improve the bass response. 
Design & Aesthetics
The Nakamichi Shockwafe Ultra 9.2 is a powerful home theater system that looks good and sounds even better.
The Shockwafe Ultrasoundbar features a control panel with five buttons: two for volume, one for inputs, a demo button, and a power button. The power button is especially helpful for testing the tones of each channel, making it easier to optimize the audio. A mini display behind the grill shows your settings and menus, making the soundbar even more user-friendly. 
"designed with energy-saving in mind."
The soundbar has an 'eco mode' that puts it on standby if it has been inactive for over 20 minutes. This way, you can enjoy your favorite tunes without worrying about consuming excessive energy.
Performance; How Does It Sound?
The Nakamichi Shockwafe Ultra 9.2 eARC is an excellent choice for mixed usage. This unique bar is perfect for larger living rooms, as it has added subwoofers and satellites, making it louder and more customizable. 
The Nakamichi Dual Subs did an amazing job of capturing the deep boom of the bass drum. However, other elements lacked in comparison, likely due to the small radiating area of the 2.5" drivers and their directional sound. Kicking in the surround speakers with DTS:X processing enlarged the audio drastically and showed the product's potential. 
Though the overall tonality was a bit too piercing, with an emphasis on upper frequencies, adjusting the treble control on the remote helped tame it a bit. Additionally, the recent firmware update includes an adjustable crossover with 180, 140, and 110Hz settings, allowing users to achieve a better balance with the midrange.
The Soundbar Four 2-Way Rear Speakers Are The Industry's First!
Each of these speakers is constructed with a tweeter that reproduces high frequencies with stunning clarity and a full-range driver that delivers surround effects with power and precision.
Experience Cinema-Level Audio with SSE Technology 
The Shockwafe Ultra also features exclusive Spatial Surround Elevation (SSE) Technology. This advanced audio processing engine works harmoniously to enhance directionality, enlarge spaciousness, and unlock extra details of any audio soundtrack. The result is a whole new level of surround performance, up to 9.2.4 channels of Dolby Atmos or DTS:X moving audio that flows all around you, and 110 dB of room-filling sound. 
EQ Presets/Listening Modes
The Shockwafe Ultra soundbar offers a range of listening/EQ modes, such as Music, Movie, and Clear Voice. Recent firmware updates have improved the soundbar by adding a Dynamic Range Control specifically for the Night Mode.
The setup menu allows you to easily access all modes and use DTS Neural:X processing implementations to upmix content to the 9.2 available channels. The firmware also simplified the Pure Direct naming conventions and increased the info displayed using the INFO and SETUP buttons. Although preset tuning at the factory would benefit novice users, more advanced users will appreciate the improved clarity and control.
The two system memory settings with dedicatedSETUPte buttons are really useful. You can dial in EQ, Volume, and speaker levels and save them for quick future retrieval. This approach is much better than relying on presets.
Advanced Features and Connectivity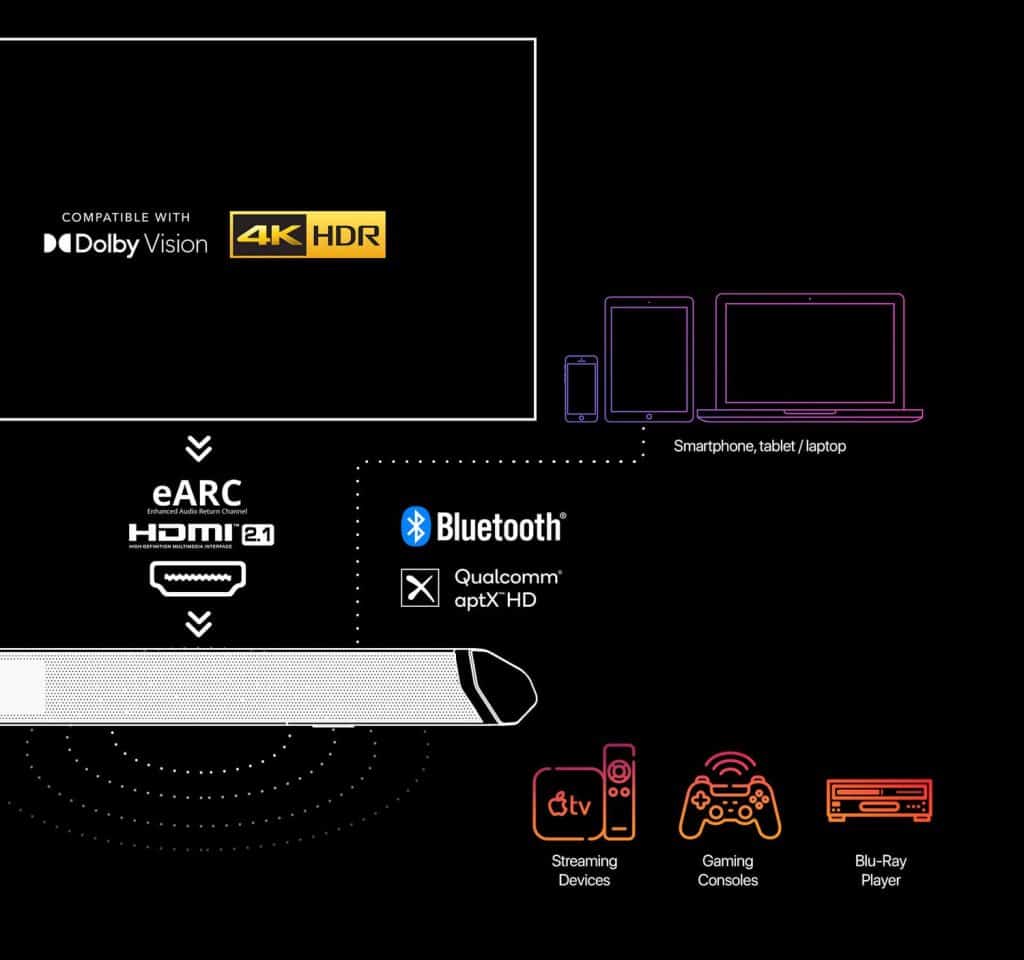 The audio and video passthrough from your devices is made easy and efficient with the connectivity of the HDMI eARC and three HDMI inputs, including Dolby Vision and 4K HDR pass-through. This allows you to enjoy high-resolution wireless audio streaming with aptX️ HD. You can also take advantage of Bluetooth 5.0 for up to four times the range. Plus, you can connect devices with Optical, Coaxial, or 3.5mm Aux-in.
The 43-key remote makes controlling your audio experience easy and accurate – even in the dark. The large, color-coded, backlit buttons are thumb-sized for precise control. So you can customize your personal audio experience with ease.
Nakamichi Shockwafe Ultra 9.2.4 Review; Should you buy it?
Nakamichi Shockwafe Ultra is a top-performing soundbar that provides an unparalleled 360° cinema surround experience. It competes with other leading brands like Sonos and Bose, offering a high-quality audio experience at a competitive price.
The soundbar features custom-designed drivers and amplifiers. It's also complemented by the exclusive SSE MAX processing technology, ensuring a smooth, powerful, crystal-clear sound. With Dolby Atmos effects, the Shockwafe Ultra provides an incredibly immersive audio experience.
For those looking for alternative options, the Bose Smart Soundbar 900 with Speakers + Bass Module and the Samsung HW-Q990A are also premium soundbars that deliver excellent sound quality for more typical living spaces. 
These soundbars offer superior sound quality and a more typical setup process, making them a great option for those new to the home theater experience.
Is Nakamichi better than Bose?
Comparing Nakamichi to Bose, both soundbars have their own strengths and weaknesses. While Bose is known for its clean and balanced sound profile that requires little to no tweaking, the Nakamichi is better suited for users with a lot of space in their setup due to its multi-dimensional surround sound capabilities.
Is Sonos better than Nakamichi?
If you're focused on an immersive movie experience, Nakamichi's surround sound performance, EQ presets, and satellites might be the better choice. On the other hand, if you're looking for a standalone bar with a wider soundstage, the Sonos may be the better pick. Both options offer high-quality sound, so evaluating your specific needs and preferences is recommended before making a decision.