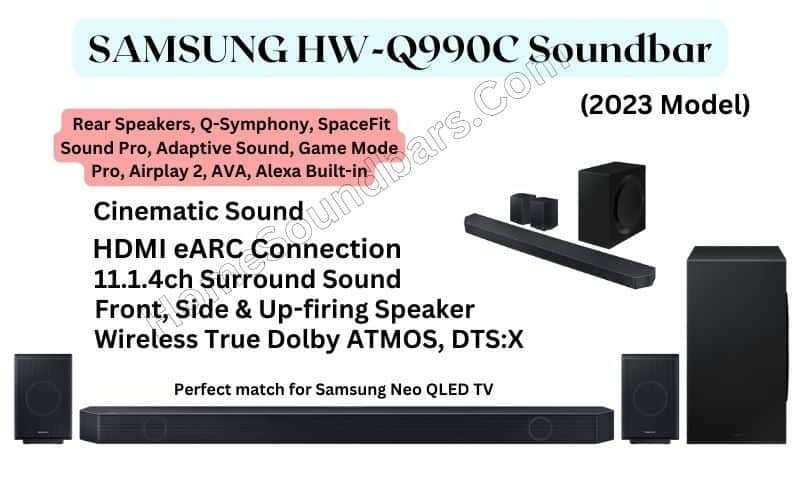 The Samsung HW-Q990C Q-Series 11.1.4-channel soundbar promises to provide a stunning three-dimensional soundstage with its impressive array of 22 drivers.
This high-end soundbar utilizes Dolby Atmos technology to deliver powerful and clear audio, allowing for an immersive experience in both movies and music.
Despite its hefty price tag, the HW-Q990C is sure to please audiophiles looking for a top-of-the-line Atmos soundbar.
"First Impressions"

Samsung q990c hasn't really done a lot of upgrades in terms of hardware, design, and dimensions. They've made it a bit lighter and made a few audio improvements. However, the price difference is quite high compared to its predecessor. This may put off some customers who are looking for value for money. The soundbar still offers an impressive Dolby Atmos experience and could be a great choice for those looking for the ultimate soundscape.
11.1.4 CH. TRUE DOLBY ATMOS SOUND: Feel sound all around with 11 front-facing speakers, 1 subwoofer and 4 up-firing channels for a true Dolby Atmos experience; Flood the room with audio from all angles, for sound so real you can almost touch it
Q-SYMPHONY: Amp up your audio with the greatest duo of all time—Samsung TVs paired with Samsung soundbars; With Q-Symphony, your TV speakers paired with Q-Series soundbars operate as one*
WIRELESS DOLBY ATMOS: Feel surrounded; Cue up Dolby Atmos sound and skip the cumbersome HDMI cables; Feel free to arrange your space exactly how you want without compromising the audio experience**
SPACEFIT SOUND PRO: Sound amplifies everything; This soundbar reacts accordingly; Get room-filling sound, calibrated to your space, with a soundbar that analyzes your environment and automatically optimizes the audio
UP / SIDE FIRING REAR SPEAKER KIT INCLUDED: Ready to have your mind blown? Be captivated by dense layers of all-around sound with up/side firing rear speakers
BUILT-IN VOICE ASSISTANT: Activate hands-free navigation of your soundbar and TV using built-in voice assistants; The feature allows you to operate your TV and control other smart devices with only the sound of your voice***
ADAPTIVE SOUND: Hear voices better, even at low volume, with intelligently optimized audio; Scenes are analyzed in real time to pull out the most important audio based on the type of content
GAME MODE PRO: The game is calling; Powerful up-firing speakers, acoustic beam and strong woofers unlock a more intuitive gaming experience, complete with 3D optimized sound****
AIRPLAY 2: Get in sync; Simply pair the soundbar with a compatible iPhone or other Apple device to hear your music, podcasts and more; Easy as pie*****
AVA: Ensure dialogue and commentary are not drowned out—so you never miss an important moment; Active Voice Analyzer breaks down room noise so that onscreen voices are always optimized
Samsung HW-Q990C Setup
Connecting the Q990C soundbar to a TV is a straightforward process. For example, if you have a 75" Class QN85B Samsung Neo QLED 4K Smart TV (2022), you can establish a wireless connection and still enjoy quality access to Dolby Atmos and DTS:X.
Alternatively, you can use the included HDMI cable to connect the soundbar to the display's HDMI eARC or ARC port. This will give you a reliable wired connection. Whatever connection you choose, the setup process is simple and straightforward.
When setting up the system, one hiccup could be the placement of the rear speakers.
Samsung provides only around four feet of power cable, which could limit the distance these speakers can be from a power outlet.  In most cases, it's possible to make it work. 
With the SmartThings app settings, you can easily set up your sound system and customize your sound even further. You can customize voice & bass voice enhancement and activate or turn off the night mode features. The app also llows you to adjust the channel levels for the center channel and rear heights, giving you an even more personalized audio experience.
The Samsung HW-Q990C Soundbar: A Spectacle in Every Sense
Weighing in at 62 pounds in total, the Q990C is a sleek, stylish soundbar with all the bells and whistles. Its black finish and high-end bookshelf speaker design make it stand out in any living room. And with a soundbar that stretches over 48 inches across, you'll need to make sure you have some space on your TV stand to designate a spot for it.
Display
The display on the Q990C is a bit on the small side, making it difficult to make out what the digital display is showing when you're 8 feet away. It's much easier to make significant updates in the SmartThings app and relegate the remote for simple adjustments like volume and subwoofer level. 
Features & Connectivity
The Q990C is packed with features that make it stand out from the competition. 
The Q-Symphony 3.0 uses your Samsung TV's drivers along with the soundbar's speakers to create a surround sound effect. 
Game Mode Pro is meant to optimize the directional sound to enhance your gaming experience, but is only compatible with 2023 Samsung TVs. 
Tap Sound lets you begin playing music by tapping your Samsung phone to the soundbar. 
Active Voice Amplifier increases the volume of dialogue and commentary in movies and documentaries. 
SpaceFit Sound Pro is a feature that adjusts the sound to match the room's reverberations. It automatically customizes your sound accordingly. 
In addition to its powerful sound, the Q990C also offers smart home capabilities. It is compatible with Apple Airplay, Spotify Connect, Amazon Alexa, and more. You can even use it as a SmartThings Hub to control your smart home devices like televisions, outlets, door locks, and lighting, among others.
Audio Performance.
The Q990C Soundbar is the epitome of cinematic sound. With its up-firing, side-firing, and rear speakers, it immerses its listeners in an incredibly detailed and impactful audio experience.
Whether you're watching a Mandalorian dogfight or a Jurassic World action sequence, the Q990C takes you along for the ride. Its bass is especially impressive, giving every moment a dynamic presence that can even shake picture frames off walls when turned up.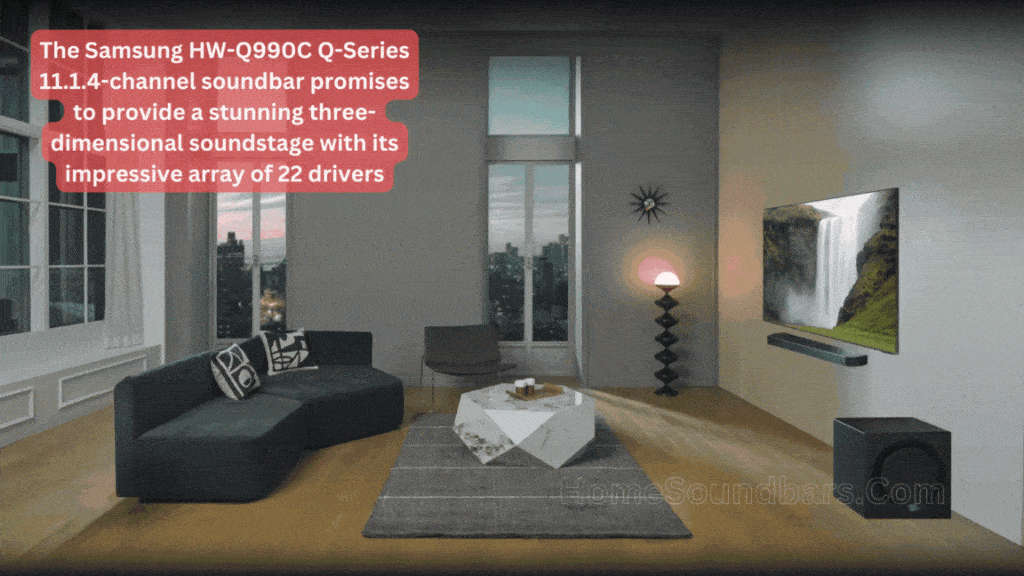 Voice and Music Clarity.
The Q990C is not just a home theater system. Its sound is crystal clear, making it perfect for dialogue-driven content like documentaries and music of any genre. It also has adjustable channel levels, a 7-band equalizer, and presets like Pop, Jazz, and Classical that can be used to customize your sound.
Competition and comparison
The Klipsch Cinema 1200 is a great option for those seeking to save a few bucks, as it is routinely sold for about $1,000.
If you don't mind going for the 2022 model, Samsung's now-discounted Q990B offers many features available on the Samsung Q990C, minus the upgraded software for 2023, for a lower price.
On the other hand, LG's flagship bar, the S95QR 9.1.5 system, is only slightly cheaper than the Q990C at retail prices.
The JBL 1300X is also a close competitor
The Q990C stands out as one of the more expensive systems on the market, costing $1,900.
Samsung HW Q990C Specs
Samsung Q990C Channel Configuration
11.1.4-Channel
Amplifier Output
656 W
Inputs
1 x HDMI – Audio/Video/eARC
1 x HDMI
1 x Optical TOSLINK – Audio
Outputs
1 x HDMI
Wireless Audio Protocols
AirPlay 2, Bluetooth, Spotify Connect, TIDAL Connect, Wi-Fi
Audio Decoding
DTS-HD High-Resolution, DTS-HD Master Audio, DTS:X, Dolby Atmos, Dolby Digital Plus, Dolby TrueHD, LPCM
HDMI Compliance

CEC, eARC
HDR Compatibility
HDR10+
Supported File Formats
AAC, AIFF, ALAC, FLAC, MP3, OGG, WAV, WMA
Samsung Q990C
Soundbar Dimensions
Subwoofer Dimensions
Satellites

48.5 x 2.7 x 5.4″ / 123.2 x 6.9 x 13.7 cm
8.7 x 16.3 x 16.1″ / 22.1 x 41.4 x 40.9 cm
5.1 x 7.9 x 5.5″ / 13 x 20.1 x 14 cm
Should You Buy It?
It can be hard to resist the charm of Samsung's latest flagship soundbar. Whether you're playing music, movies, or games, the Q990C offers impressive sound quality. The setup is relatively simple, and it's fitted with plenty of useful features. Despite the short power cable length and a pretty standard display, it remains a solid choice for those who don't mind the hefty price tag.
The Q990C is up there with the best of its kind when it comes to Dolby Atmos soundbars. It's an ideal choice for those invested in the Samsung ecosystem and for those who are willing to pay for a superior sound system. All things considered, it's a worthy investment for anyone who wants to upgrade their audio.