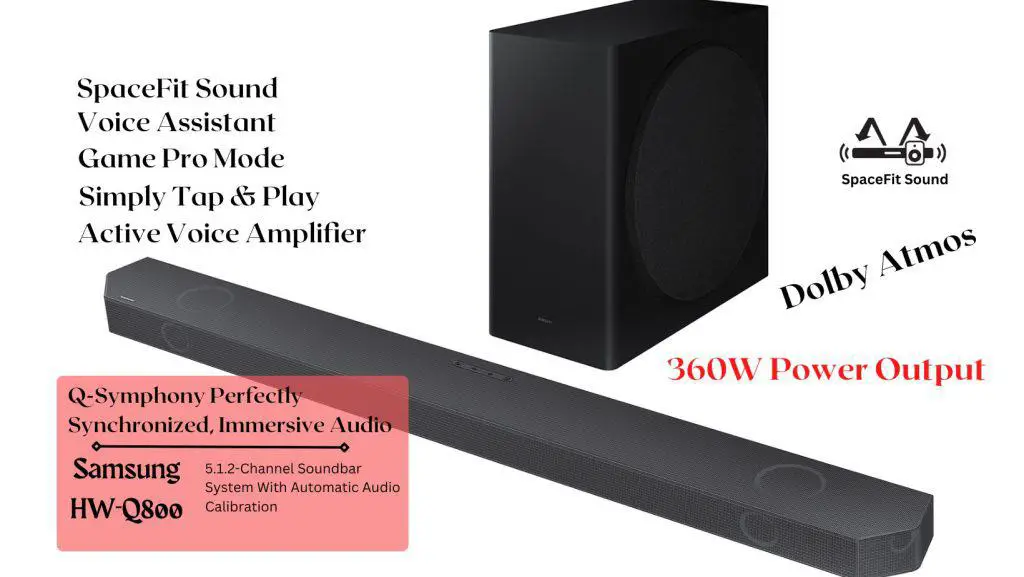 The Samsung  HW-Q800B is a mid-range 5.1.2 soundbar released in 2022, perfect for those who don't have the space for traditional rear speakers. It supports Dolby Atmos content and comes with plenty of Samsung's premium features like SpaceFit Sound room correction and Q-Symphony support. It's great for mixed usage and has a neutral sound that works well with music, movies, and TV shows. 
You can fine-tune the sound with the 7-band graphic EQ and presets. While it's less immersive than Samsung's top models, it's a great option if you're looking for a more compact setup.
In this article, we'll take a look at the features of the HW-Q800B soundbar and how it stacks up against the competition.
Pros
Graphic Equalizer and Preset Modes for enhanced sound quality.
Extended Low-Bass for an immersive audio experience.
Compatible with Samsung SWA-9500S rear speakers for a truly immersive sound.
Dolby Atmos and DTS:X support for true 3D audio.
Synchronized Audio with all speakers in compatible Samsung TVs and Soundbars.
SpaceFit Room Correction for optimized sound and Bass Enhancement for added depth.
Q-Symphony Feature for simultaneous playback of audio from TV and Soundbar speakers.
Cons
Not a true Dolby Atmos system without overhead ceiling channels,
You may need to tweak the sub-level at high volumes to ensure the overall bass doesn't swamp the other speakers.
What Comes in the Box?
The Samsung HW-Q800B soundbar comes with all the necessary accessories for setup. This includes wall mounting brackets for the soundbar, two power cables for the country, a high-speed HDMI cable, and a new remote. The Samsung HW Q800B remote is identical to other bars from Samsung's 2022 lineup. It's simple and sleek, and you can access many different enhancement tools. If you'd rather control the bar from your phone, you can download the Samsung SmartThings app.
The Samsung HW-Q800B is a 5.1.2 setup out of the box, but with the added Samsung SWA-9500S wireless rear speakers, it can be upgraded to a 7.1.4 setup.
Quick Overview
The Samsung HW-Q800B offers good sound quality for movies and music. The vocals are clear, and the soundstage is wide for the size of the soundbar. The Atmos height is good, but it is room dependent. The base output is well-controlled, but you should increase the centre speaker level (or reduce the bass) a couple of notches for the best dialogue performance.
The Samsung HW-Q800B soundbar has a 5.1.2-channel system with five a-level speakers encased in the main bar. It also has an 8-inch side-firing subwoofer. 
The soundbar also offers plenty of volume and is more than capable of filling a large room. You can connect your soundbar to music via Bluetooth, Chromecast, AirPlay, Alexa, and Google Assistant-enabled devices.
The Design of the Samsung HW-Q800B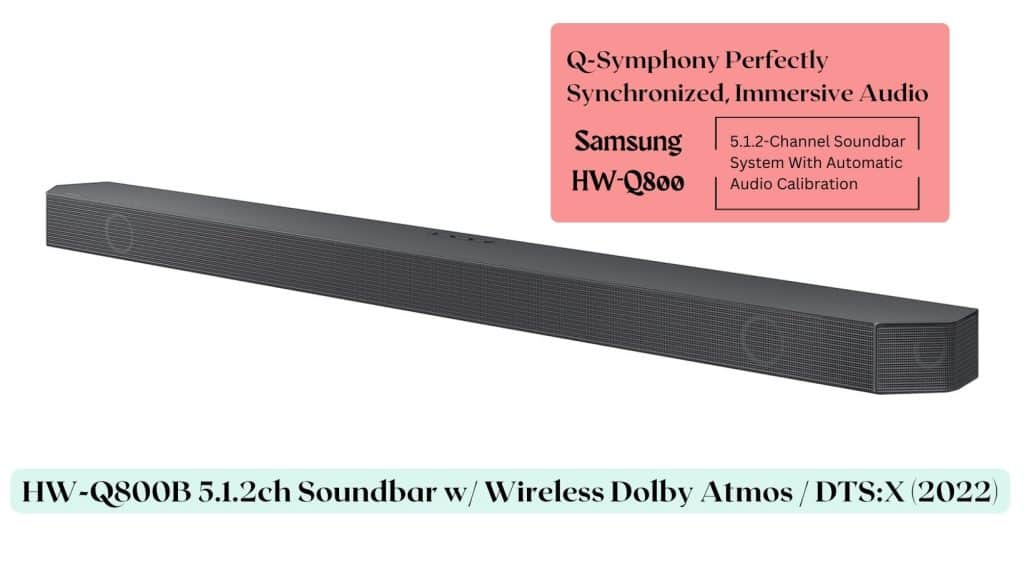 The Samsung HW-Q800B soundbar has a striking design. It is part of Samsung's Q Series soundbars of 2022, and all of the bars in this series share the same overall shape and size.
The front of the soundbar features a LED display that allows you to easily change the input, volume, and other settings. On the top of the soundbar, there are four buttons. The far left button is a multi-function button that can be used to power the soundbar and change the input. The middle buttons are for volume control and microphone mute, while the right button is for information.
Samsung HW-Q800B Connectivity Options
The Samsung HW-Q800B has a host of connectivity options to make your home entertainment system even more immersive and enjoyable. With support for Dolby Atmos and DTS:X, you can enjoy an incredibly immersive audio experience. This soundbar also features the Q-Symphony feature, allowing it to synchronize with compatible Samsung TVs to create a fuller soundstage.
The HW-Q800B also receives a Dolby Atmos signal via Wi-Fi from your compatible Samsung TV, and its SpaceFit technology allows compatible Samsung TVs to process the audio signal based on your room, ensuring added clarity and immersion. 
Add the optional Samsung SWA-9500S wireless surround speaker kit for a more immersive sound. 
For more convenience, the soundbar is equipped with built-in Amazon Alexa voice control and is compatible with Google Assistant devices (sold separately).
Physical Connectivity Options. 
You'll find an HDMI e-ARC, single HDMI input, and an optical port on the back. This means you can plug in a streaming device or gaming console to get Dolby Atmos pass-through without using your TV's output port. You can also connect the soundbar to your phone via Bluetooth, Chromecast, or AirPlay. Plus, you can use the SmartThings app to control the soundbar and pair it with Alexa and Google Assistant-enabled devices.
Others;
SmartThings app gives you access to advanced sound settings.
Audio Performance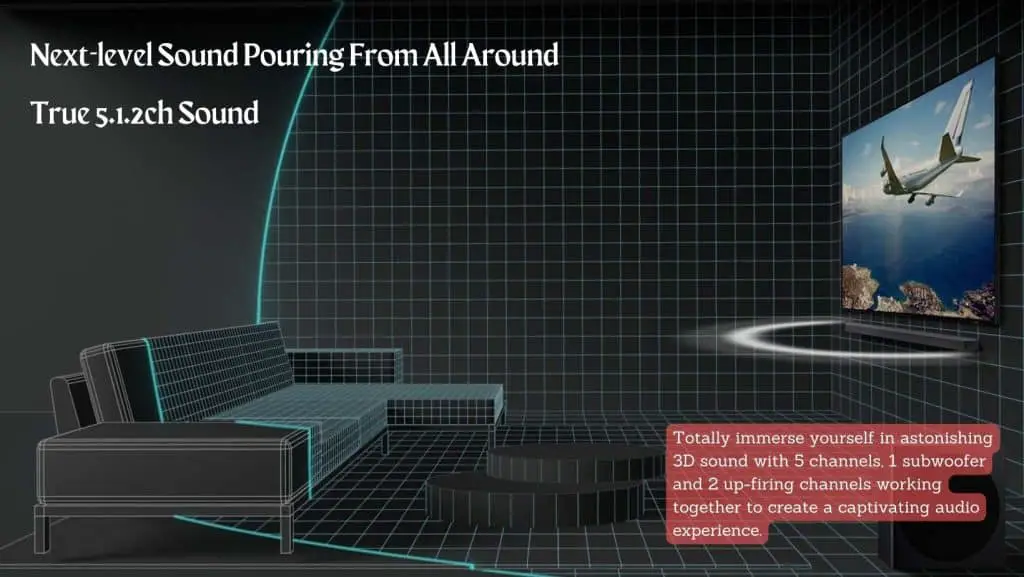 The Samsung HW-Q800B soundbar is built with 10 drivers powered by a 200-watt amplifier, giving you an unbeatable sound experience.
It also features a dedicated center channel for clear dialogue, side-firing drivers for an expansive soundstage, and up-firing wide-range tweeters for overhead effects. 
The  HW-Q800B takes your sound to the next level with Adaptive Sound, which optimizes audio settings based on the scene to ensure voices stay clear even at low volumes. The Active Voice Amplifier (AVA) also helps make dialogue easier to understand by singling it out and amplifying it. And gamers will appreciate the Game Pro Mode, which adjusts audio settings to improve directionality and help you keep track of sound cues.
Samsung HW-Q800B Specs
Channel Configuration – 5.1.2-Channel (Virtual Surround)
360 W – Total Output power
Connectivity – 1 x HDMI ,1 x Optical TOSLINK, 1 x HDMI eARC
Wireless Connectivity – AirPlay 2, Bluetooth, Proprietary, Spotify Connect
Audio Decoding- DTS:X, Dolby Atmos, Dolby Digital Plus, Dolby TrueHD, LPCM
HDR Compatibility – HDR10, HDR10+
Wall Mountable- Yes, with Included Hardware
Samsung HW-Q800B Soundbar Dimensions – 43.7 x 2.4 x 4.7″ / 111 x 6.1 x 11.9 cm 
Samsung HW-Q800B Subwoofer Dimensions – 8.3 x 15.9 x 15.9″ / 21.1 x 40.4 x 40.4 cm Samsung hw-q800b manual
Comparing the Samsung HW-Q800B to the Competition
The Samsung HW-Q800B is positioned as Samsung's cheapest soundbar from their premium line in 2022. As such, it has to stack up against some established competitors, such as the JBL 5.1, LG S75QR, and the Sonos Beam Gen2 with MiniSub.
The JBL 5.1 is a few hundred dollars cheaper than the Q800B and is more powerful, particularly in bass output, due to its 10-inch sub. However, the Q800B offers e-arc for Dolby Atmos, app support, and is more customizable when paired with a Samsung TV.
The LG S75QR is another soundbar in a similar price range that could be a good option for those with an LG TV. Meanwhile, the Sonos Beam Gen2 with MiniSub is a more expensive option but offers better sound quality and precision.
Samsung HW Q800B Soundbar Review: Should you buy it?
The Samsung HW-Q800B is a great soundbar with plenty of features and good sound quality. It is ideal for those with a Samsung TV who are looking for an upgrade without breaking the bank. However, those seeking an immersive Atmos experience should consider a soundbar with rear speakers instead.
Wireless Dolby Atmos: Enjoy a surround sound experience with Dolby Atmos and skip the need for HDMI cables
True 5.1.2ch Sound: 5 channels, 1 subwoofer and 2 channels combine to create astonishing 3D sound
Q-Symphony: Perfectly synchronized audio uses every speaker in compatible Samsung TV and soundbars
SpaceFit Sound: Elevate your sound experience with a soundbar that automatically analyzes your room and calibrates the upper range tones to best fill your space by pairing with Samsung TV
4 Year Extended Epic Protect Coverage in Addition to the Included Full Manufacturer Coverage. Intended for Residential Use Only
Samsung Q800B: FAQs
Can you add rear speakers to Samsung Q800B?
Yes, you can add rear speakers to the Samsung Q800B soundbar. It is compatible with Samsung SWA-9500S rear wireless speaker kit for a truly immersive sound.
How many speakers does the Samsung HW-Q800B have?
The Samsung HW-Q800B has 10 built-in speakers.