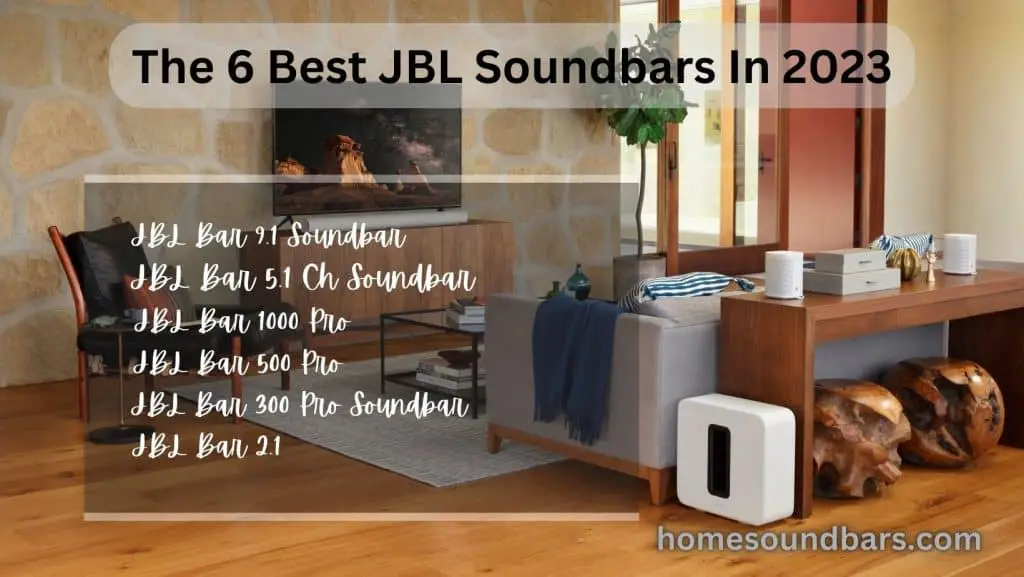 Living in a small space shouldn't mean sacrificing audio quality. JBL soundbars are the perfect solution for compact living areas where traditional speakers might not fit. These slim-profile soundbars deliver excellent audio performance, ensuring you don't miss out on immersive experiences while watching TV.
A favorite among audiophiles and home entertainment enthusiasts, JBL has a stellar reputation in the audio industry, earned through years of crafting top-notch audio equipment. Offering affordable options without compromising sound quality, they provide a captivating audio experience for your movies, shows, and music.
What sets JBL soundbars apart is their exceptional sound quality. They incorporate cutting-edge technologies that deliver dynamic and immersive audio, leaving a lasting impression.
Now, with various options available, selecting the right JBL soundbar to suit your needs is essential. To make an informed decision, we'll showcase some popular JBL soundbars.
In this review, we'll feature the best JBL soundbars that offer high-quality music experiences with surround sound and Dolby Atmos capabilities. Most of these soundbars have a wireless subwoofer that produces JBL's signature sound with deep bass.
If you're looking for the best JBL soundbars for home entertainment, check out our top picks below!
820W Output power
Built-in Dolby Atmos and DTS: X decoding
Detachable, battery-powered surround speakers.
Experience deep bass with a 300W, 10″ powered subwoofer
Ultra HD 4K Pass-through with Dolby Vision
Experience unmatched real surround sound without clutter and wires!
880 watts of total output power.
300+ online streaming services through AirPlay Alexa MRM & Chromecast.
Customize your experience through the JBL One App
#1 Best Soundbar For Large Rooms
Transforms your movies, music, and games into immersive sound experiences. Get in the action!
260 watts of total output power.
300+ online streaming services through AirPlay Alexa MRM and Chromecast.
Customize your experience through the JBL One App
#1 Best Soundbar for Small Living Room
Transforms your movies, music, and games into immersive sound experiences. Get in the action!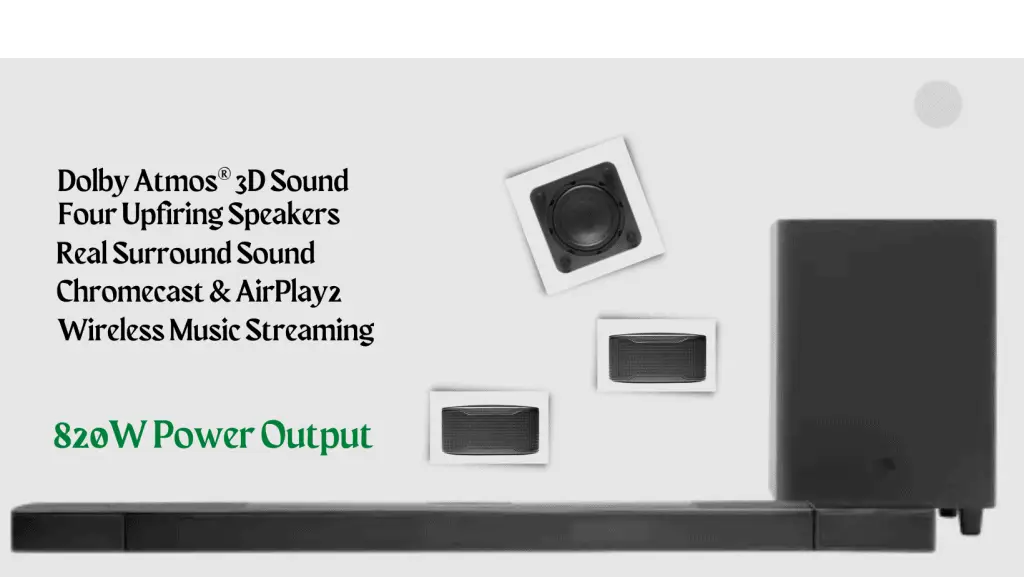 With five main drivers, four Dolby Atmos/DTS:X drivers, and a dedicated subwoofer, the JBL Bar 9.1 delivers powerful sound and a surround sound experience that will leave you amazed. It has Bluetooth, HDMI-in, Chromecast, DTS:X, and wireless rear subwoofers. This soundbar supports 820W output and 4K pass-through with Dolby Vision, ensuring an immersive audiovisual encounter. It even comes with optical cables for easy connectivity.
The JBL Bar 9.1 lives up to its reputation for sound performance with 820W total system power, clear highs, detailed midranges, and impactful bass.
The 10″ subwoofer adds depth to the sound.
It supports Chromecast and Airplay music streaming, giving you more listening options. Whether watching movies or enjoying music, this soundbar enhances your experience by highlighting every detail. While not a fully 9.1 sound system, its surround sound capabilities, volume, and presence transport you to a cinematic setting.
This 9.1 JBL soundbar still holds it's ground even against the newer 1300X soundbar that released in early 2023
While the JBL Bar 9.1 excels in various aspects, there are a few minor considerations. Some users have reported auto-calibration issues during setup, which has a two-stage process. The included remote control works but could benefit from additional buttons for night or smart modes.
On a positive note, the battery life of the rear JBL soundbar speakers is impressive, providing hours of entertainment without frequent recharging.
JBL Bar 2.1
The JBL Bar 2.1 is a joy to unpack. Its sleek soundbar and wireless subwoofer immediately caught my attention with its modern and stylish design. The slim, elegant soundbar features a glossy black finish that effortlessly blends into any decor. At the same time, the minimalist and sturdy build of the subwoofer adds a touch of sophistication to your living space.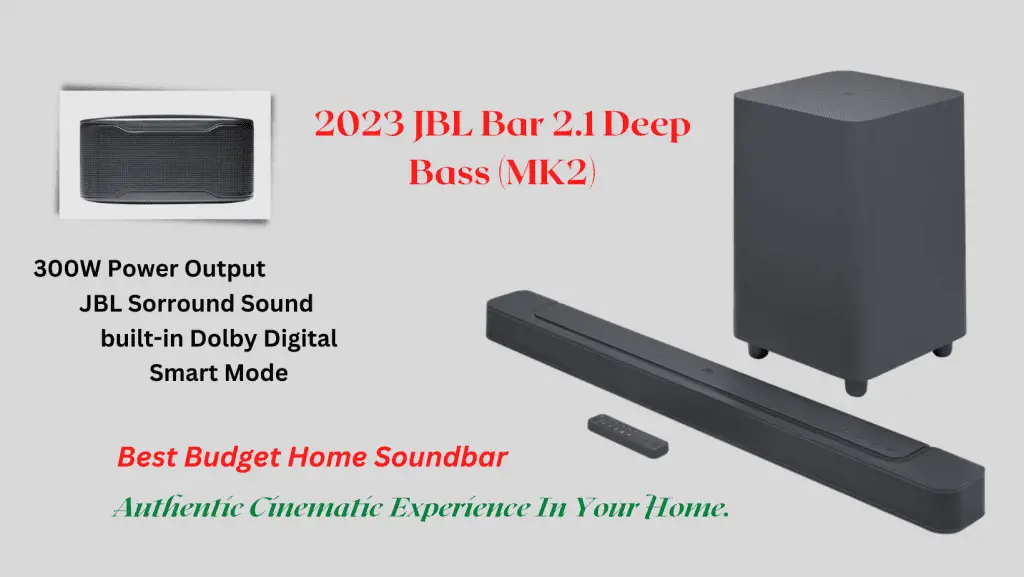 Related: JBL Bar 2.1 Deep Bass MK2 Soundbar, Review| Better Than Its Predecessor
You will have no trouble unpacking it and getting it up and running alongside our other devices. Like its counterparts, the JBL Bar 9.1 and 5.1 seamlessly integrated with our setup, offering Bluetooth and ARC support for easy connectivity.
Connecting to the TV is effortless using the HDMI ARC port. What impressed us was that the soundbar automatically synced with the TV's remote control. This meant we didn't need multiple remotes, as we could control both devices with just one click.
The soundbar features two full-range drivers, separate tweeters, and a wireless subwoofer. The wireless subwoofer shines, delivering deep and powerful bass that enhances the audio experience without overpowering the overall sound quality.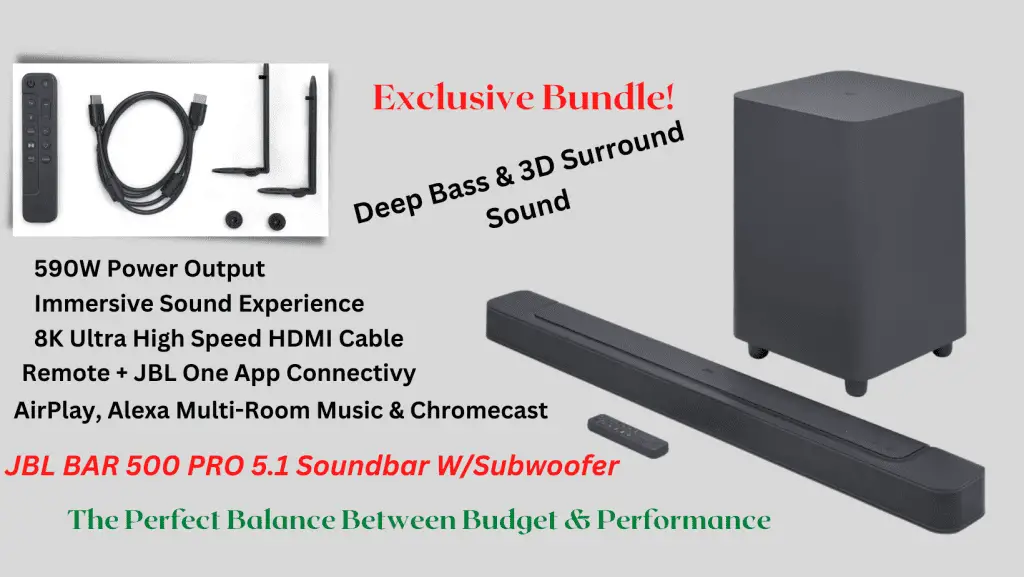 JBL 500 Pro 5.1Ch soundbar is seen as a replacement of the older version 5.1 Channel soundbar.
Starting with its audio quality, even without the subwoofer, the JBL Bar 500 Pro delivers crystal-clear dialogue, enhancing your listening experience and immersing you in the story. The bass performance is noteworthy, offering a powerful impact that can be adjusted to suit your preferences. Finding the sweet spot between levels 2 and 3 usually provides the ideal balance for general viewing.
The standout feature of the JBL 500 pro is undoubtedly the subwoofer. It complements the main soundbar unit that outputs 290 watts of power through four racetrack drivers and three 0.75-inch tweeters. The additional 300 watts from the subwoofer create a frequency range from 35 Hertz to 20 kilohertz.
The sound quality is impressive, with excellent sub-bass extension, though limited to 35 Hertz. The mid-bass tones are well-handled, and increasing the bass level intensifies the low-end rumble. The Pure Voice functionality and mid-range boost bring the mid-range tones to life, while the highs, powered by three 0.75-inch tweeters, offer crisp audio, tapering off at around 16 to 17 kilohertz. While the soundstage reproduction isn't exceptional, the Dolby Atmos effect enhances the overall audio experience.
590 watts of total output power.
Immersive Audio Experience.
Remote + JBL One App Connectivity.
300+ Streaming Services through AirPlay Alexa MRM & Chromecast built-in.
The Perfect Balance Between Budget & Performance.
Transforms your movies, music, and games into immersive sound experiences. Get in the action!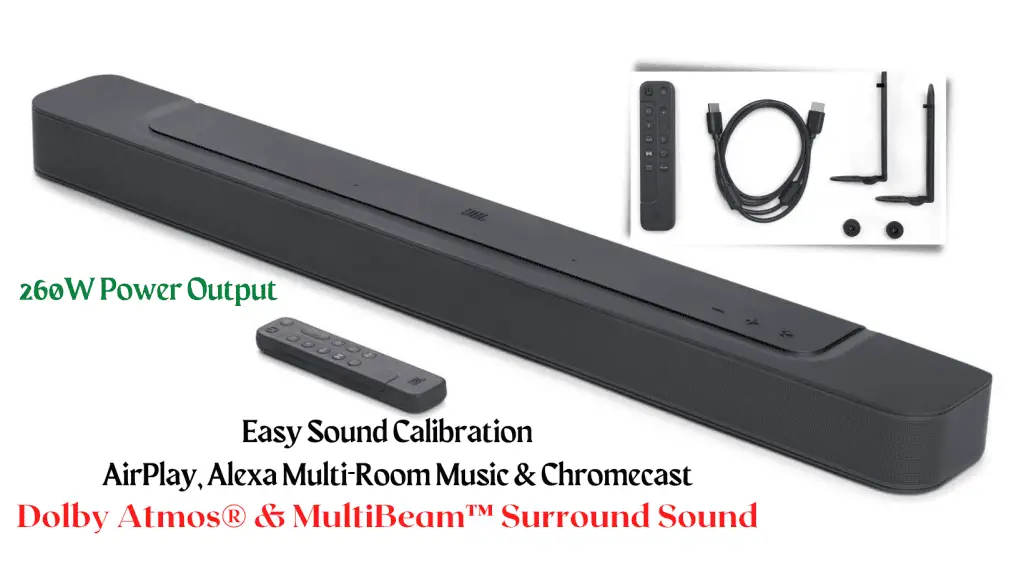 The compact and sleek design fits well on cabinets or as a wall mount. The top features physical control buttons, avoiding any accidental touches.
The LED display on the front shows the settings or metadata, and the included remote is sleek and functional. Plus, the JBL app offers a virtual remote control.
What we like about the JBL Bar 300 Pro:
Theater-quality surround sound with virtual Dolby Atmos® and MultiBeam™ technology.
Even without a sub, decent bass suits apartments or gaming rooms.
Clear dialogue thanks to PureVoice dialogue enhancement technology.
Built-in Wi-Fi with AirPlay, Alexa Multi-Room Music, and Chromecast built-in.
Connects with voice assistant-enabled speakers for easy control.
HDMI eARC with 4K Dolby Vision passthrough for uncompressed sound.
Easy sound calibration for optimal audio in any room.
JBL One App for easy control and personalization.
Connectivity options are vast, supporting Google Chromecast, Apple AirPlay, Alexa over Wi-Fi, and Bluetooth for music streaming.
You can connect via Optical or HDMI for high-quality audio, enjoying the immersive audio experience with 4K Dolby Vision passthrough.
Sound quality is commendable with six audio drivers, including four racetrack drivers and two tweeters, offering 260 watts of power and a frequency range from 50Hz to 20kHz. Adjust the bass level as you like, and the mid-bass is impressive in small rooms.
Though it doesn't output real Dolby Atmos, the virtual experience through HDMI adds a room-filling effect. However, this works only with Dolby audio signals, not terrestrial TV or YouTube.
Samsung's latest offering, the HW-Q990C, hit the market in early 2023.
Building on the success of its predecessor, the HW-Q990B, the HW-Q990C takes the immersive audio experience to new heights.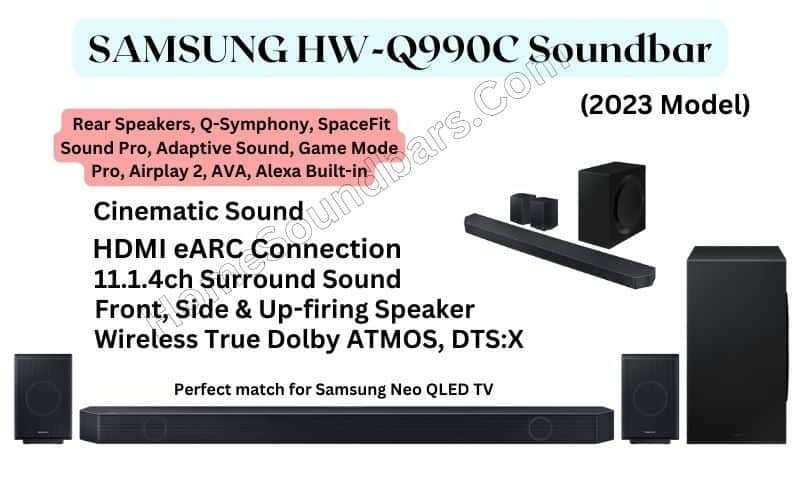 What sets the HW-Q990C apart?
It still maintains the exceptional 11.1.4-channel configuration and powerful Dolby Atmos and DTS:X processing. However, the exciting software enhancements that truly elevate its performance are what sets it apart.
One standout feature is AI Sound Remastering, which harnesses the power of AI processing when connected to a Samsung TV. This clever combination ensures that sound objects in Dolby Atmos or DTS:X mixes are delivered with utmost clarity and balance, immersing you in a crystal-clear audio experience.
Samsung also introduced SpaceFit, a room EQ technology previously featured in their soundbars, now updated and fine-tuned to optimize bass and surround sound. This means you'll enjoy an audio setup that perfectly adapts to your living space, enhancing the overall immersion.
Alongside the HW-Q990C, Samsung released the HW-G60C, a compact game-centric soundbar tailor-made for gaming enthusiasts. Not only does it offer bi-directional audio support, but it also comes with cool LED effects lighting, adding a touch of excitement to your gaming sessions. The HW-Q990C and HW-G60C promise to bring a new level of audio excellence right into your living room or gaming setup. So, if you're in the market for an immersive and top-notch soundbar, these models are worth considering!
JBL Bar 5.1 Ch Soundbar W/Virtual Sorround
The JBL Bar 5.1 takes your audio experience to new heights with detachable wireless surround speakers that seamlessly blend into your setup. Say goodbye to flat sound and hello to a dynamic and immersive cinematic adventure.
Update;

The original JBL 5.1 Soundbar is available in two options
The soundbar packs a serious punch with its robust 510W total system power. The 10-inch wireless subwoofer delivers deep and powerful bass, elevating your audio experience. Three HDMI inputs make connecting your 4K devices a breeze, ensuring seamless connectivity for all your entertainment needs.
Experience the magic of Dolby Digital, Dolby Pro Logic II, and DTS sound technologies with the JBL Bar 5.1. These cutting-edge features enhance your cinematic sound, creating a captivating soundstage that transports you into the heart of the action.
Setting up the JBL Bar 5.1 is a breeze, allowing you to start enjoying your favorite movies quickly.
Control the soundbar using your TV remote and effortlessly switch between audio from your TV and audio from your smartphone or tablet with JBL Soundshift, expanding your listening possibilities.
The JBL Bar 1000 Pro boasts an impressive output power of 880W and 11 channels, ensuring unmatched audio quality that will blow you away. Whether you're watching a movie, gaming, or enjoying your favorite tunes, this soundbar delivers clear highs, a solid mid-range, and deep, rumbling bass that will make your heart pound.
And if you're a gamer, you're in for a treat! The two HDMI 2.1 passthrough ports support 4K 120Hz images, VRR, and Dolby Vision, perfect for your gaming setup.
The soundbar exclusive bundle includes a 10-inch wireless subwoofer and a Sanus SAC-21HDMI2 8K Ultra High-Speed HDMI Cable. But be prepared, all this goodness comes with a price tag of around $1200.
and it doesn't stop there… This soundbar is designed with convenience and connectivity in mind. Built-in Wi-Fi with AirPlay2, Alexa Multi-Room Music, and Chromecast built-in allows for seamless music streaming from your favorite devices. And with HDMI eARC supporting 4K Dolby Vision pass-through, you can enjoy stunning visuals while experiencing the ultimate audio immersion.