The JBL Bar 300 Pro Promises A Vivid 3D Surround Sound in a 5.0Ch All-In-One Soundbar.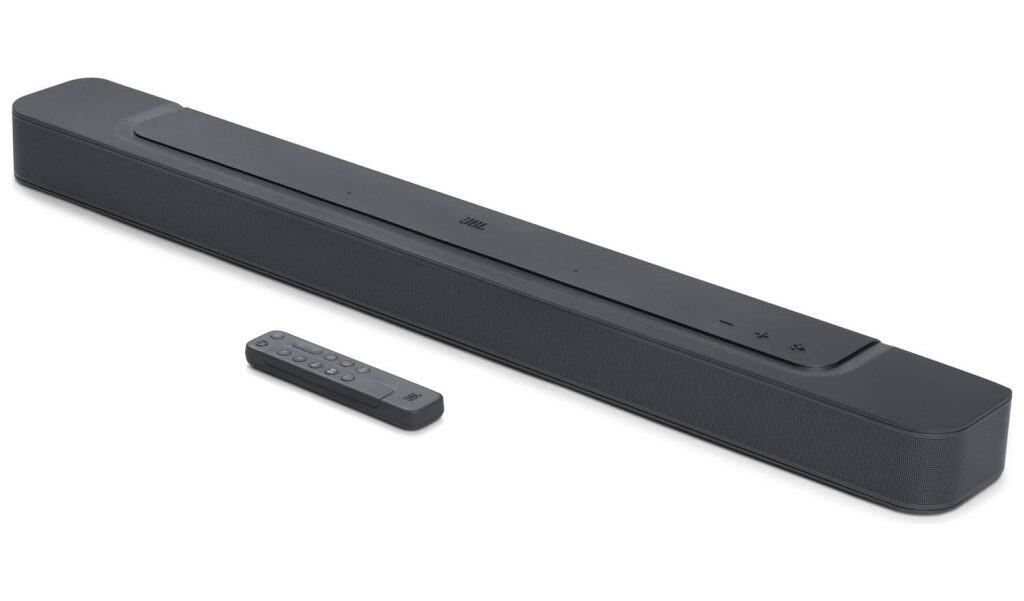 If you're in the market for a new soundbar, you've probably come across the JBL Bar 300 Pro. This stylish and powerful soundbar offers a great balance of features and performance for a relatively reasonable price.
With a Red Dot award for product design in 2022, it's termed as one of the best budget all-in-one soundbar. But is it worth the money? Stay with us on this JBL bar 300 review as we dive into the features and performance of the soundbar so you can make an informed decision on whether this soundbar is a worthy investment.
EXCLUSIVE BUNDLE - Includes (1) JBL BAR 300 PRO Soundbar and (1) Sanus SAC-21HDMI2 2.0 meter/6.56 ft. 8K Ultra High Speed HDMI Cable
260 WATTS OF OUTPUT POWER - With 260 watts of total output power the JBL BAR 300 transforms your movies music and games into immersive sound experiences
BUILT-IN WIFI - Enjoy all of your favorite audio content internet radio and podcasts in high definition and access over 300 online music streaming services through AirPlay Alexa MRM and Chromecast built-in
JBL ONE APP - Customize EQ and control all of your compatible speakers with a single convenient app - easily set up the soundbar personalize settings and browse the integrated music services to find your new favorite song
PERFECT PAIR - The Sanus Ultra High Speed HDMI cable provides a throughput for home theater audio and video in a single-cable solution and supports up to 8K resolution @ 60Hz
Compact Design & Build
In terms of design, the JBL Bar 300 Pro looks great. Its slim form factor allows it to fit on most cabinets and is wall mountable for extra convenience. It also has physical control buttons at the top, which is a nice touch as it prevents accidental touches.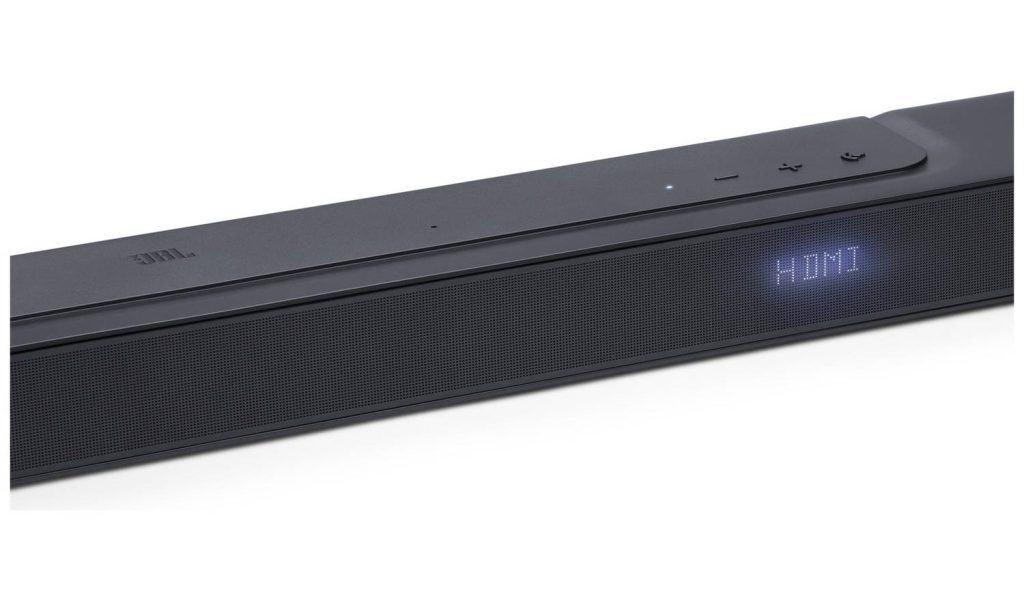 On the front, there's an LED display that shows the settings you're adjusting or the metadata being played. The remote that's included is sleek and offers all the necessary options. You can also access a virtual remote control via the JBL app.
What We Like About The JBL Bar 300 Pro
Theater-quality surround sound with the virtual Dolby Atmos®, and MultiBeam™ technology.
A fairly okay punchy bass despite having no sub. It's pretty good for an apartment or gaming room.
PureVoice dialogue enhancement technology for crisp and clear dialogue.
Built-in Wi-Fi with AirPlay, Alexa Multi-Room Music, and Chromecast built-in
Connects with voice assistant-enabled speakers for convenient control.
HDMI eARC with 4K Dolby Vision passthrough for uncompressed sound.
Easy sound calibration for optimal sound no matter the room.
JBL One App for easy control and personalization.
Connectivity; Now Comes W/ 8K Ultra High-Speed HDMI Cable
The JBL Bar 300 pro supports Google Chromecast, Apple AirPlay, and Alexa, over Wi-Fi. It supports both 2.4 and 5 gigahertz frequencies, so you can enjoy high-quality music streaming services.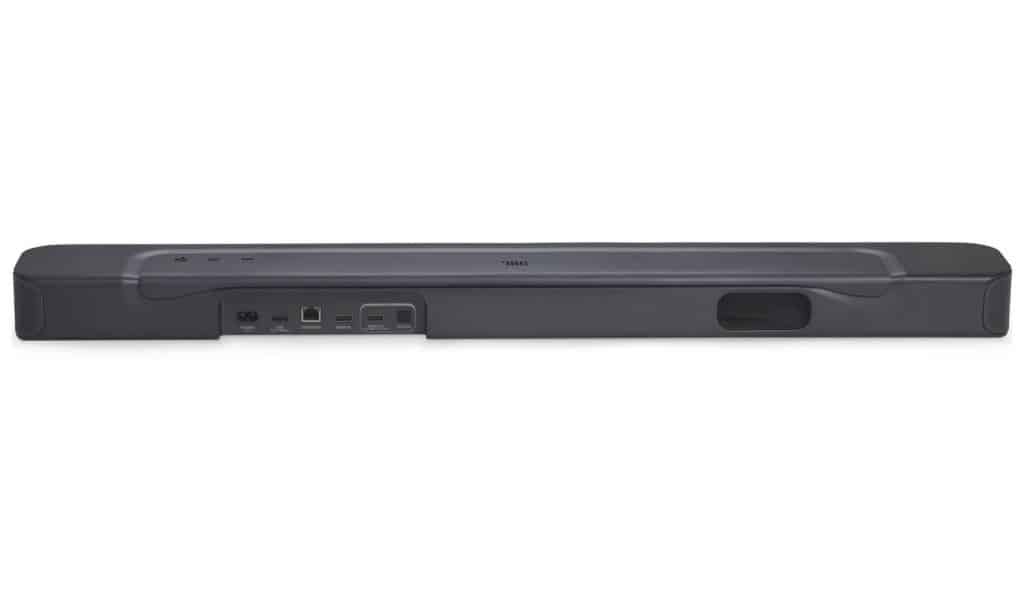 For a higher quality audio experience, you can connect to your TV via Optical or HDMI, taking advantage of the ARG and ER standards formats supported. The HDMI eARC allows 4K Dolby Vision passthrough for an immersive audio experience. Alternatively, you can pair up to the speaker via Bluetooth to enjoy music from your devices.
Sound Quality: Fairly Good For An All In One Soundbar!
The JBL Bar 300 has six audio drivers, comprising 4 racetrack drivers and two 0.75-inch tweeters. This combination offers 260 watts of total power and a frequency range from 50 hertz to 20 kilohertz. The soundbar does not come with a subwoofer, nor can you purchase one as an additional extra. It also does not support rear speakers.

You can adjust the bass level to your preference, and the mid-bass comes out nicely, especially in a small room/apartment. It'd be the perfect gaming soundbar for a small room. If you want more thunderous bass, you'll be a bit disappointed since the sub-bass extension is limited due to the absence of a subwoofer (you can still enjoy it as it is although you can't compare it to the JBL 1000 or the JBL Bar 9.1)
The mid-range has a Pure Voice Technology, which helps bring out the lower mid-range. The highs extend relatively well, although it is limited due to the two tweeters. The soundstage is good, with decent instrument separation and width and depth.
Dolby Atmos
The JBL Bar 300 does not actually output Dolby Atmos but rather feeds the signal through its HDMI port and then has a virtual Dolby Atmos experience.
Toggling the virtual Dolby Atmos experience on and off through the remote or app can give you a room-filling experience, even though it is not the same as the real thing. You can only enjoy the virtual Dolby effect when a Dolby audio signal is fed; it will not work with terrestrial TV or YouTube.
JBL 300 Bar Manual – Check here.
JBL Bar 300 Pro Review: Should you buy it?
Overall, the JBL Bar 300 Pro is a decent soundbar. It offers a great balance of features and performance, and the virtual Dolby Atmos experience is appreciated. I'd say the only main problem is the price. At about $400 it's a bit too much for an all-in-one soundbar. For about $100 more, you can get the JBL bar 500 Pro, which comes with a wireless sub and 590W power output…perfect value for money.