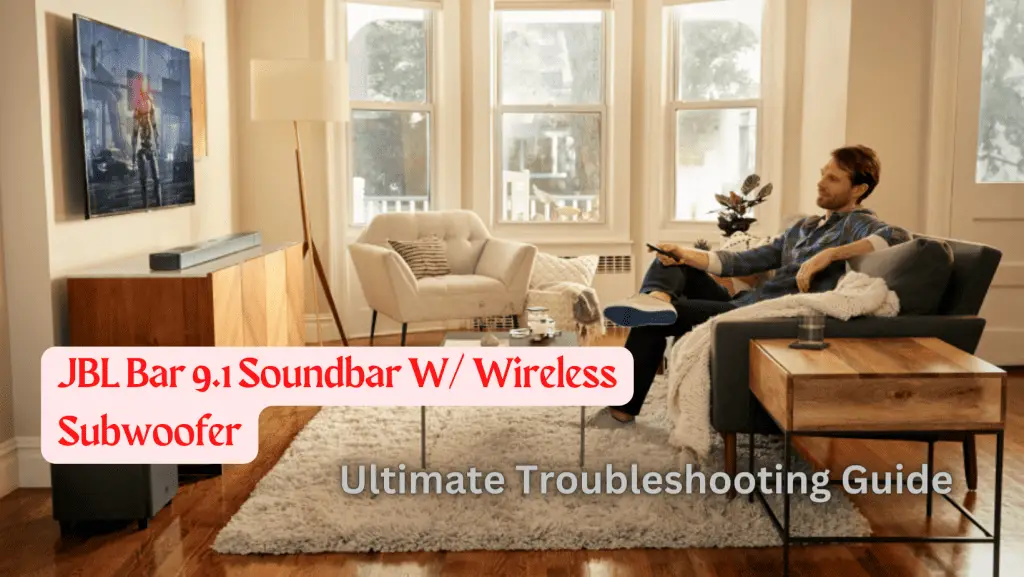 As a team of passionate audio enthusiasts, we know firsthand how thrilling it can be to unbox a new piece of gear and start exploring its capabilities. That's why we've compiled a list of expert tips and tricks to help you enhance your audio experience and get the most out of your JBL Bar 9.1 right from the get-go.
So whether you're looking to optimize your sound quality, fine-tune your settings, or simply get a better understanding of what this powerhouse system can do, you're in the right place… let's dive in!
How to set up jbl 9.1 soundbar
The JBL Bar 9.1 is a great choice for a soundbar, and it's easy to set up. Let's go through the basics of making the connections and calibrating your soundbar.
Overview of the Back Panel Connections
First, let's take a quick look at the back of the bar. On the left side is the power connection, and then a USB Type-A port. This lets you connect a USB storage device such as a thumb drive or hard drive and play your MP3's or to update the firmware.
Next up is an optical Toslink input, ethernet port, (1x) HDMI eARC output, and (1x) HDMI input.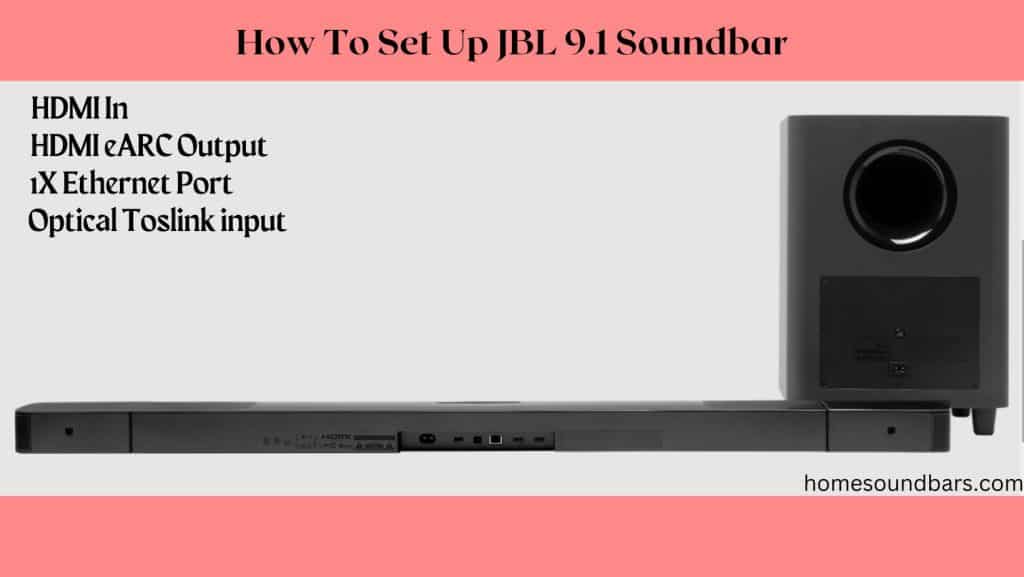 "jbl 9.1 best settings"
Your JBL Bar 9.1 supports the newer version of HDMI ARC called "eARC." This is great for true Dolby Atmos experience, but make sure your device is compatible with eARC for the full effect. We recommend connecting the soundbar directly to your router with a hardwired ethernet connection for the best performance. You can also stream music directly to the bar using Chromecast, Apple AirPlay 2, and Bluetooth.
JBL 9.1 Calibration Process
Next, you'll need to calibrate the soundbar. This is easy and only requires two steps. Place the two detachable wireless rear speakers behind you. For the best sound, try to position them flat on a tabletop or speaker stand in the rear of the room and make sure there's nothing blocking the soundwaves from reaching your ceiling. Angle the speakers, so the charging dock points away from you for the best horizontal surround sound.
To start the jbl 9.1 calibration process, use the remote control and hold down the button labeled "HDMI" for 3 seconds. The LED display will count down the seconds for you. After this, the Bar 9.1 will output a few test tones from the soundbar and the rears. The internal microphones will capture the acoustic properties of your living space in no time.
JBL 9.1 Tips & Tricks
Tailoring Your Sound
The remote control also has some controls to customize the soundfield. You can raise or lower the volume-levels coming out of the subwoofer (levels 1-4) and the rear surround speakers (low, mid, and high). We found level 3 perfect for our room, but this is a matter of personal preference.
The remote also has a button to raise or lower the entire Atmos effect in your room. "High" is best for ceilings higher than 10-feet, so "mid" for 9-foot ceilings and "low" for anything less. To make dialogue in movies sound crystal clear, lower the bass coming out of the subwoofer, the Atmos effect, and the volume of the rear speakers.
Getting Dolby Atmos Content
If you're looking for Dolby Atmos content, you can find it on Netflix and Amazon Prime by typing "Dolby Atmos" into the search field. Disney+ also has a great selection of Dolby Atmos content, so be sure to check that out.
JBL 9.1 Troubleshooting: Common Issues & Fixes
How do I connect my JBL soundbar to Wi-Fi?
You can connect your soundbar to Wi-Fi in two ways. The first option is through Wi-Fi or an Ethernet cable. With Chromecast built-in and AirPlay supported, you can stream audio on smartphones or tablets through the soundbar speakers. To enter the Wi-Fi setup mode on the soundbar, press to switch on.
If the soundbar has not been connected to a network, the screen shows "HELLO " and then, " SETUP WIFI". To re-enter the Wi-Fi setup mode, press and hold until " RESET WIFI" is displayed. Then, on your Android or iOS device, add the soundbar to your home Wi-Fi network.
The second option is through the Google Home app. Connect your Android or iOS device to your home Wi-Fi network and download the Google Home app. Then, sign in with your Google account. It should show a new device jblxxx and then follow the app instructions to complete your setup.
Why Does My JBL 9.1 Soundbar Keep Cutting Out?
Bad wiring or connection: Make sure all your cables are securely connected, and that there is no loose wire touching any other components.
Incorrect settings: Check that all your audio devices are turned on and that the Soundbar is set to the correct input. Make sure the surround speakers are set up correctly.
Problem with the HDMI cable: Check if the HDMI cable is connected correctly and if it's faulty, try using it on another device.
Disconnected power supply: Check if the power supply is faulty or not plugged in correctly.
Interference from another device: Check your other speakers and devices to find out whether there is interference.
Faulty or old software: Update or reinstall the firmware for your soundbar.
Defective equipment: Contact JBL support for assistance.
What is the reset process of JBL 9.1 soundbar?
Press and hold Source and Power buttons for at least 10 seconds. The text RESET will be displayed. Wait until it shows READY. Your JBL BAR 9.1 True Wireless Surround with Dolby Atmos has been successfully factory reset, congratulations!
How do I update my JBL 9.1 soundbar?
Insert the USB thumb drive to the Soundbar USB port on its rear panel and hold down the [POWER] and [VOL- ] buttons for 10 seconds to start the software upgrade. You'll now see "UPDATING" on the Soundbar front display.
How do I reset my JBL 9.1 calibration?
Hold down the HDMI button for a few seconds and the soundbar will enter calibration mode. Place the rear speakers at the sitting position, close to each side. Run calibration. Then move the rear speakers to where they should be located, and run calibration again.
How do I put my JBL 9.1 in pairing mode?
In the Bluetooth source, press and hold on the soundbar or on the remote control until " " is displayed. This will clear the previously paired device from the soundbar and enter the Bluetooth pairing mode.
Why is my JBL 9.1 speaker flashing red?
The detachable rear-surrounds of the JBL Bar 9.1 are wireless and rechargeable. When it's time to charge, a red light will blink on top of each unit to let you know it's time to recharge.
How long do the JBL 9.1 speakers last?
The detachable speakers of the JBL Bar 9.1 provide up to 10 hours of wireless playback. Simply dock them to the soundbar to recharge.
Where should I place my 9.1 speakers?
In a 9.1 setup, two more speakers are mounted a few feet above a corresponding left or right front speaker, giving the sound some opportunity for altitude. This creates a more immersive experience.
Aand there you have it! You can now enjoy uninterrupted quality audio.
Think we've left out something? Drop us a comment below and we'll be happy to look into it.
Also, what's your favorite soundbar tip and trick?