A Balanced Sound Profile, Immersive Listening Experience & Wireless Connectivity.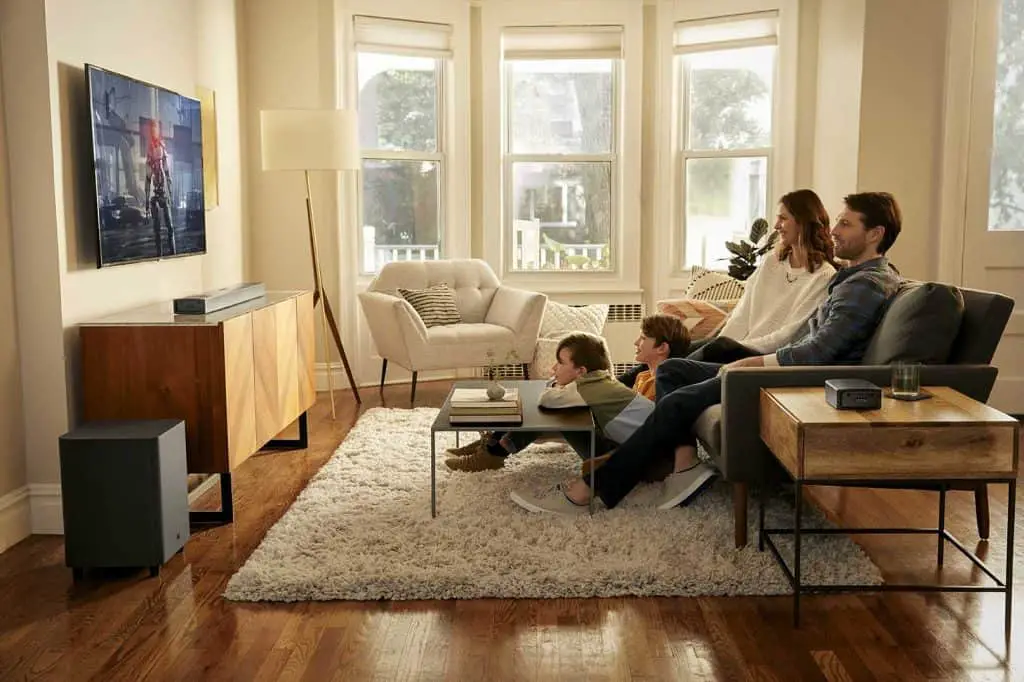 The JBL Bar 9.1 soundbar is an interesting proposition for those looking for the convenience of a soundbar without compromising on quality. It promises to bridge the gap between the convenience of a soundbar and the quality of a full home cinema speaker package and amplifier. 
With 820W of power, it's one of the most powerful soundbars on the market. It comes with two detachable, true wireless, battery-powered rear speakers. Plus, it fully integrates with Google's Chromecast platform so you can manage it from the Home app. 
Atmos surround sound is included, so you can get a truly immersive audio experience without running wires or installing speakers around your room. Of course, such convenience doesn't come cheap. JBL wants a cool grand for the JBL Bar 9.1 soundbar with Dolby atmos.
But if you're looking for powerful, immersive sound without committing to a full home cinema setup, the JBL Bar 9.1 will be worth it.
Its balanced and neutral sound profile is well-suited for various audio content. Its surround performance rivals that of the Samsung HW-Q90R and the Vizio SB46514-F6. So if you're in the market for a soundbar, the JBL Bar 9.1 should definitely be on your list.
What We Love
820W of powerful audio output for an immersive sound experience.
Bluetooth wireless streaming for easy access to your favorite music.
The Airplay2 & Chromecast built-in allows for easy streaming of online music in high clarity.
Dolby Atmos and DTS: X decoding for a true surround sound experience.
Detachable, rechargeable surround speakers for real surround sound without wired clutter.
Feel the action with punchy and precise bass from a 300W, 10″ powered subwoofer.
4K HDR pass-through with Dolby Vision for the ultimate viewing experience.
Includes all necessary components for setup, including a remote control, power cords, HDMI cable, wall mount brackets, and screw kit.
Sleek, understated design to fit any decor.
Con's
Limited EQ Controls – The EQ controls are limited and could use more precision. 
No Graphic EQ – There is no graphic EQ on this system.
Limited EQ Presets – The EQ presets are also limited. 
No Display – The lack of a display makes accessing settings rather difficult.
Batteries – The satellites need to be recharged daily.
HDMI-in – There is only one.
No voice assistant – Close competitors like the Bose Smart Soundbar 900 feature built-in voice assistant capabilities, which the JBL Bar 9.1 doesn't have.
The JBL Bar 9.1 Soundbar Is A Real Powerhouse.
Its sleek, metal casing is complemented by various speaker grilles, while the back and bottom are plastic. Plugging in and powering up is a breeze with the power, USB, optical, ethernet, and two HDMI ports (ARC audio and 4K HDR passthrough). Accompanying the soundbar is a 10-inch subwoofer, which isn't too flashy but certainly packs a punch. For optimal sound, it's best to keep the sub at least a few feet away from the soundbar, though that might not be possible in smaller spaces.
The soundbar's only display is a "dot-matrix" panel on the front, which can be a bit of a hassle to use since it only shows you a few characters at a time, so you have to cycle through the settings painfully. There are some physical controls on the top surface, but they're all replicated on the remote, which is also quite basic, with only a few buttons. To make the most of the soundbar's features, we'd recommend keeping the manual handy to look up the combos.
General Build & Technical Specs
At just 6.2cm high and 88cm wide, it's short enough to fit beneath most TVs without blocking the screen.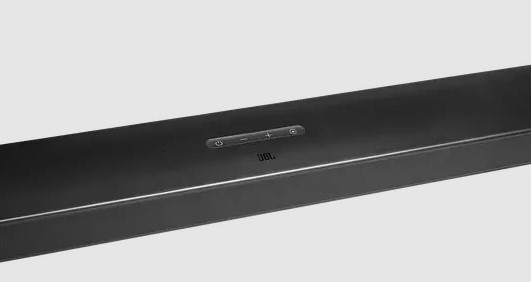 The bar measures 2.4 by 48.4 by 4.7 inches (HWD) with the rechargeable speakers magnetically docked, or 2.4 by 34.8 by 4.7 inches if they're not. The bar and speakers are black, with metallic grille paneling covering the drivers.
Four oval-shaped midrange drivers are inside, facing forward, and arranged into the front three channels of the surround along with three 20mm tweeters. On the top surface, facing upwards, are two full-range drivers for the front section of the Atmos effects.
Convenient Wireless Rear Speakers Design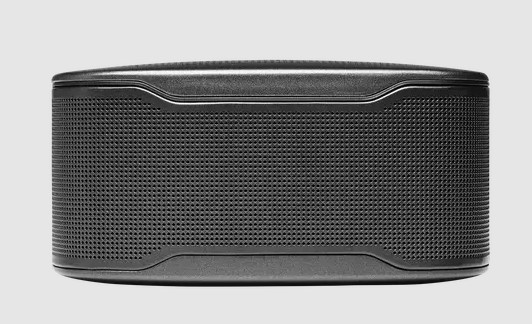 A set of strong magnets dock the removable rear speakers, while also charging up their 10-hour battery over three hours. The flexibility of the Bar 9.1 means you don't have to rearrange your furniture or purchase extra speaker stands. The speakers can be perched on the back of your sofa, up against the wall, on a window ledge, or wherever is most convenient. 
Each of the two rear speakers boasts four sound channels, including an upward-firing, full-range driver, and a 20mm tweeter for the surround effects. Meanwhile, the subwoofer is a substantial 17.3 by 12.0 by 12.0 inches and weighs 24.5 pounds.
Connectivity: 4K Passthrough/Dolby Atmos/DTS/Bluetooth
Right off the bat, the JBL bar 9.1 soundbar system sorts of disappoints as it lacks an app that sometimes comes in handy. However, like its close competitor, the Sonos Arc, it makes up for this with a feature-rich remote, Chromecast, and AirPlay 2 support. Wired and wireless internet connections are available, plus there's an HDMI-in port for 4K passthrough and Dolby Vision compatibility.
You can also send music to the bar via Bluetooth, though the USB socket is only for software updates. Although you can route sources through your TV using the eARC connection, it is not always the most straightforward. I wouldn't mind seeing a few more HDMI inputs here.  
The JBL Bar 9.1 also supports all the common audio formats. This includes Dolby Atmos and DTS content. You can also use it as a hub between external devices like a Blu-ray disc player and your TV via its Full HDMI-In port. 
JBL Bar 9.1 Performance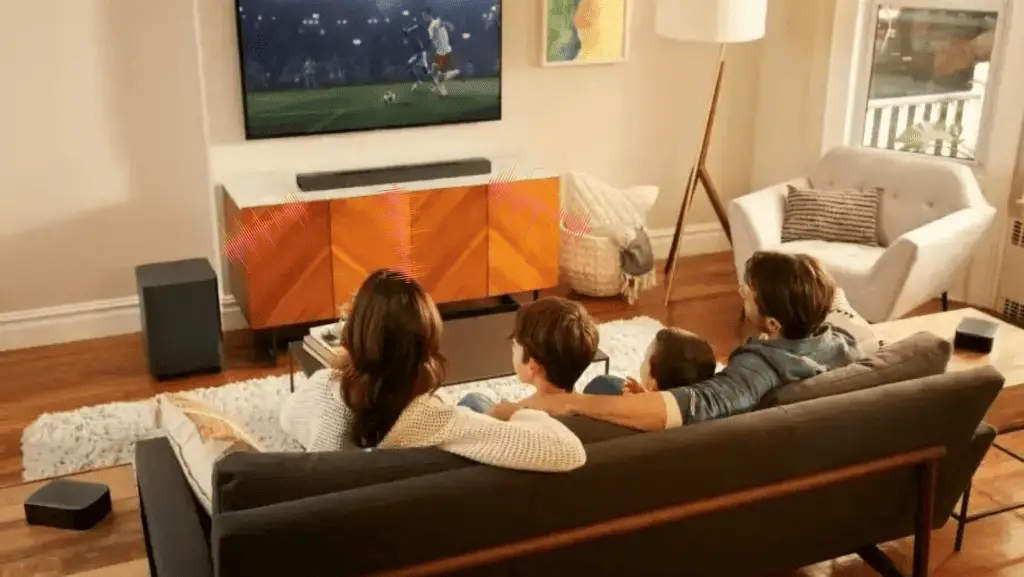 The JBL Bar 9.1 provides an amazing listening experience – from room-shaking thunder to a more refined and subtle bass. You'll get a bass-heavy sound at mid-levels and a more delicate and subtle experience at low levels. Max it out, and it'll be like a club PA! Perfect balance between a powerful punch and a more subtle soundscape
While it doesn't come with overhead speakers like the 'best' Atmos systems, it can bounce sound off the ceiling for a more immersive experience. Plus, it's easy to customize the sound with the EQ presets and room correction feature. You can also calibrate it to fit your audio performance preference.
When it comes to audio quality, this soundbar stands out. From movies to concerts, JBL Bar 9.1 sounds great. It has powerful, not overwhelming bass, crisp highs, and rich mids. The dedicated center channel also ensures that dialogue and vocals are always clear and accurate.  
You can crank the bass all the way up without overwhelming the other audio. Even at very loud volumes, the Bar 9.1 won't distort, and you'll get a balanced and bass-forward sound at more moderate levels. The stereo frequency response is also great, with a thumpy bass and an overall neutral response. 
Audio Calibration
Calibration is a two-part process on the JBL Bar 9.1.
First, use the tone-firing auto-calibration and then make three adjustments using the remote. You can alter the Rear and Atmos effects to Low, Medium, or High and adjust the sub levels from 1-5. If you don't like your news or weather reports with cinema-style drama, you can reduce the Rear and Atmos effects by switching to Standard Mode. You can also easily fix lip sync issues with the audio delay adjustment. Although, you need to refer to the manual to find out how to access these features.
JBL Bar 9.1 Soundbar Specifications
jbl bar 9.1 soundbar dimensions; (WxHxD); 884 x 62 x 120 (mm)/ 34.8" x 2.4" x 4.7"
JBL 9.1 subwoofer size (WxHxD): 305 x 440 x 305(mm) / 12.0″ x 17.3″ x 12.0″
Power supply; 100 – 240VAC, ~ 50/60Hz
Battery charge time; 3 hours
1 Optical, Bluetooth, Chromecast, AirPlay2, USBYes
Soundbar weight; 3.64 kg/ 8.0 lb
4G Wi-Fi Max. transmitting power; 20 dBm (EIRP)
jbl bar 9.1 manual – check here
JBL Bar 9.1 Soundbar Verdict
The JBL Bar 9.1 is perfect for mixed use. Thanks to its subwoofer, it provides a balanced sound profile with just a hint of extra bass. The detachable satellites also make for a complete soundscape, making it great for listening to music, movies, podcasts, and audiobooks. It can get quite loud, making it well-suited for larger rooms or crowded environments. However, there is some compression when the volume is maxed out. Despite this, dialogue remains clear and crisp, and you can easily stream audio to the bar via various wireless connections.
820W Output power
Built-in Dolby Atmos and DTS: X decoding
With detachable, battery powered surround speakers you can enjoy real surround sound without the wires
Experience deep bass with a 300W, 10" powered subwoofer
Ultra HD 4K Pass-through with Dolby Vision
Connector Type: Optical
Included Components: Main Soundbar, Detachable Wireless Surround Speakers (2), Wireless Subwoofer Remote Control, Power Cords, Hdmi Cable, (2)L-Shape Wall-Mount Bracket (Main Bar), (2) U-Shape Wall-Mount Bracket (For Surround Speakers), Kit With Screws
Power Source Type: Corded Electric
Wireless Communication Technology: Wi-Fi
Use the built-in calibration to ensure the best possible sound no matter what the room