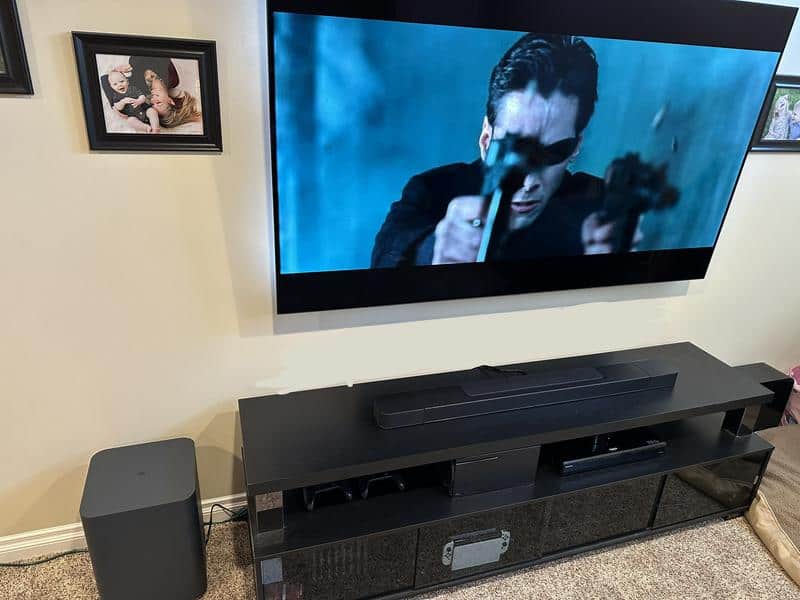 The JBL BAR 700 is a powerful soundbar that delivers a crisp and clear 3D audio experience with Dolby Atmos and 5.1-channel sound. This system includes a wireless subwoofer and true wireless surround speakers. The surround speakers feature built-in rechargeable batteries, so you can place them anywhere, making them truly wireless.
The soundbar has a total system power of 620 watts. This outputs a frequency response of frequency response: 35Hz – 20kHz (-6dB), providing a high-quality audio experience you can feel in any room. The system also features two up-firing drivers for a 5.1.2-channel setup
…unlike the Bar 1000, bar 1300X & bar 500, it does not include MultiBeam technology for additional immersive audio. This is a bit of a bummer, as the MultiBeam technology helps create a more realistic surround sound. Even the Bar 300 has it. It makes no sense why they would not include it on the bar 700.
Unboxing & First Impressions
The JBL Bar 700 comes in a 50-pound box that arrived in great condition despite a few wrinkles in the shipping box.
The first thing you notice when you start unboxing is the level of quality JBL has put into this system. Each component is wrapped in foam to keep it safe and secure. The speakers' black plastic and metal grills have a nice cool touch that resists fingerprints and gives a sense of quality. Plus, JBL has included the wall mount, necessary hardware to mount the bar to a wall underneath a TV, and a stencil guide to ensure the brackets are spaced correctly (a plus since most competitors don't include these)
The main bar weighs about 8 pounds, the 10-inch subwoofer is 22 pounds, and each surround channel weighs about 1.5 pounds. The main bar is 46 inches wide with the surround channels attached, and 35 inches wide without them.
What We Love
Dolby Atmos Surround Sound: Immerse yourself in theater-quality 3D sound. With detachable surround speakers and Dolby Atmos technology, the JBL Bar 700 delivers a 3D cinematic experience.
Real surround sound with detachable surround speakers: Enjoy real surround sound without the hassle of extra wires and power connections. Just place the two detachable battery-powered surround speakers behind you and get swept away in amazing audio.
Built-In Wi-Fi with AirPlay, Alexa Multi-Room Music and Chromecast built-in: Get ready to explore. Access over 300 online music streaming services through AirPlay, Alexa MRM and Chromecast built-in. Enjoy all of your favorite audio content, Internet radio, and podcasts in high definition. The Wi-Fi connection also allows automatic software updates, so you can always enjoy the latest features.
620W output power: With 620 watts of total system power the JBL Bar 700 transforms your movies, music and games into immersive sound experiences and pulls you into the middle of the action.
10" Wireless subwoofer: Thrilling, precise bass from a mighty 10" wireless subwoofer brings the excitement to your action movies and the emotion to your music.
A very well-balanced, rich sound profile straight out of the box.
The end caps for both the bar and the surround speakers really enhance the look of the bar when leaving the rears disconnected.
Powerful bass performance that can be easily adjusted for a truly immersive sound experience.
Easily attachable and detachable wireless surround speakers make setup and tear-down a breeze.
Supports eARC, ARC, and optical audio connections to fit a variety of TVs.
Smart connectivity options such as Chromecast, Alexa MRM, and Apple Airplay for unlimited streaming options.
Intuitive JBL One App for setup, firmware updates, and access to third-party streaming services.
Con's
The main bar has no built-in bass, so you must have the subwoofer turned on if you want to enjoy deep bass and music.
The JBL Bar 700 does not support DTS:X 3D audio. To get this feature, you'll have to upgrade to it's closer relative the JBL Bar 1000.
While the wireless rear surrounds charge when you dock them to the main bar, it'd have been good if they came with a recharging cable. The surrounds come with a charging USB port, so you can leave them detached and charge them yourself using a USB-C cable.
Design and Setup
Setting up the JBL Bar 700 is a surprisingly simple process. Thanks to its innovative design, you can quickly and easily connect this soundbar to your TV and digital devices for the best audio experience. Whether you use an HDMI connection or an optical cable, the Bar 700 makes it easy to get started quickly. 
The Bar 700 supports digital audio and video with a single HDMI connection, which is the best option for your soundbar. To connect the soundbar to your TV, use the supplied HDMI cable or an optical cable (sold separately). To experience the best Dolby Atmos experience, make sure that HDMI-CEC and HDMI ARC/eARC have been enabled.
When connecting a digital device to the soundbar, use an HDMI cable (V2.0 or later). First, ensure that HDMI-CEC has been enabled on your digital device. Then, select "Bitstream" or "Raw data" in the audio output settings for the best Dolby Atmos experience. To play audio from the digital device connected to the soundbar, select HDMI on the remote control. 
Overall, the JBL Bar 700 is a great soundbar with an easy setup process that allows you to get the best audio.
Controls and Connectivity; Supports HDMI eARC.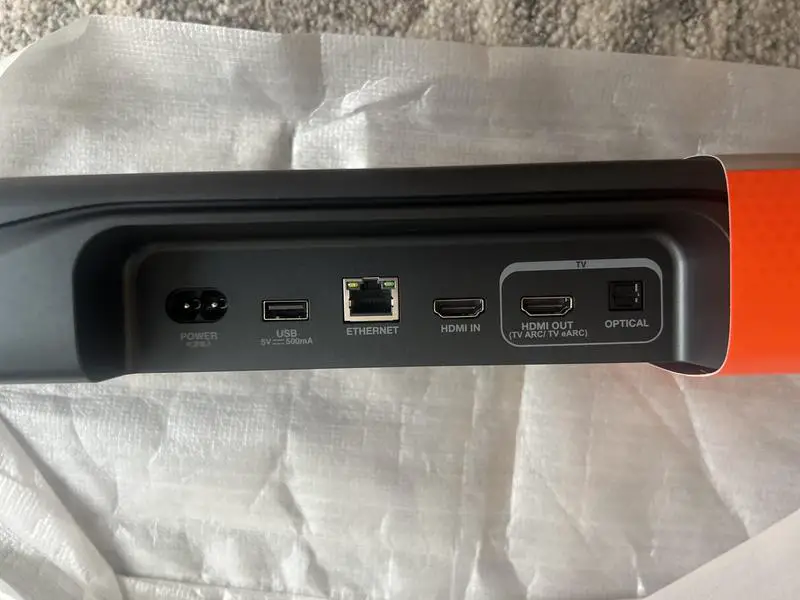 Besides the physical connections, the JBL Bar 700 offers various ways to connect and stream your favorite music. You can send audio to the bar via Apple's AirPlay 2, Chromecast, Amazon Alexa, and Google Assistant. The connectivity with Apple and  Android devices allows you to stream music directly from your smartphone or tablet to the soundbar. 
Supports 4K/HDR passthrough, Dolby Vision, & Alexa Multi-room Music
The Bar 700 is packed with features that will take your audio experience to the next level. It supports 4K/HDR passthrough, including Dolby Vision, so you can enjoy the crystal-clear sound from your favorite streaming services. And with Alexa Multi-room Music, you can easily group the bar with other Alexa devices.
JBL Bar 700 Performance: How does it sound?
The audio performance of this soundbar system is amazing!
It gives you the choice of surround sound for specific events and a full-bodied sound system for everyday use.
We tested it out with different music genres, such as classical, pop, electronic and rock, and it produced clarity with every little detail distinguishable. The highs, lows, and mids were all clear. The depth of sound was also excellent.
Powerful Bass
The bass can get really loud!
However, the audio remains clear and differentiated between bass notes, even at the highest volume. There's a bass level button on the remote so you can turn the bass up/down very easily. Even at the lowest setting, you still get to enjoy an immersive audio experience.
The one main thing I felt was a bit of a let down is the lack of inbuilt bass on the main bar. If you wanted to enjoy your movies, gaming or music with the sub off, it wouldn't be as fun and crisp.
The range of the soundbar system is also great, as all segments traveled well to other rooms, so you don't have to be sitting directly in front of it to feel the full effects. Overall, we really enjoyed testing out this soundbar system and highly recommend it for anyone looking for an immersive sound experience.
Interacting With The JBL bar 700: JBL One App & Remote Control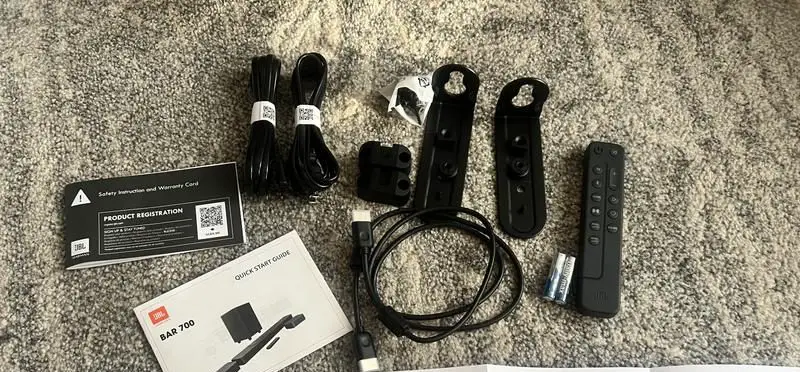 You can also use the JBL One App to customize your EQ settings and control the bar.  An HDMI input and output allows you to connect the Bar 700 to your TV for an even more immersive audio experience.
The Bar 700 also features a comprehensive remote control, which provides easy access to all the main functions of the soundbar.
The remote has two source selectors, allowing you to switch between the TV source (which prioritizes the HDMI OUT (TV ARC/ TV eARC) connector over the OPTICAL connector) and the Bluetooth source.
You can also switch on and off the virtual Dolby Atmos® sound effects and adjust the subwoofer's bass level and the rear speakers' surround sound level. 
The remote also features a CALIBR button designed to provide instantaneous audio calibration to get the perfect sound for your home theatre system. Additionally, the remote includes a 'Moment' button, allowing you to quickly access personalized playlists and speaker settings via the JBL One app. 
You can also switch the sound level for rear speakers between middle(default), high, muted or low.
JBL Bar 700 Specs
Channel Configuration – 5.1-Channel
Frequency Response – 35 Hz to 20 kHz (System)
Total Harmonic Distortion (THD)- 1%
Inputs – 1 x HDMI – eARC
1 x Optical TOSLINK – Audio
USB I/O – 1 x USB-A (Unspecified Interface)
Wireless Audio Protocols – AirPlay, Bluetooth, Chromecast built-in, Wi-Fi
Bluetooth – 5.0
Mobile App Compatible – Yes
Audio Decoding – Dolby Atmos
HDMI Compliance – eARC
HDR Compatibility – HDR10, Dolby Vision
JBL bar 700 dimensions 34.8 x 2.2 x 4.7″ / 884 x 56 x 120 mm 
JBL Bar 700: Should you buy it?
If you are looking into the JBL Bar 700, you are definitely looking for performance. For a 5.1 channel setup,  the soundbar offers a powerful 620 watts of total system power, with a frequency response of 35Hz – 20kHz (-6dB). It matches with JBL's quality audio just like the bar 1300x or the bar 800. It's packed with a ton of features, including Dolby Atmos, 4K/HDR passthrough, Alexa Multi-room Music, and comprehensive remote control. With its impressive audio capabilities and great value, this soundbar is a great choice for anyone looking for a quality soundbar.