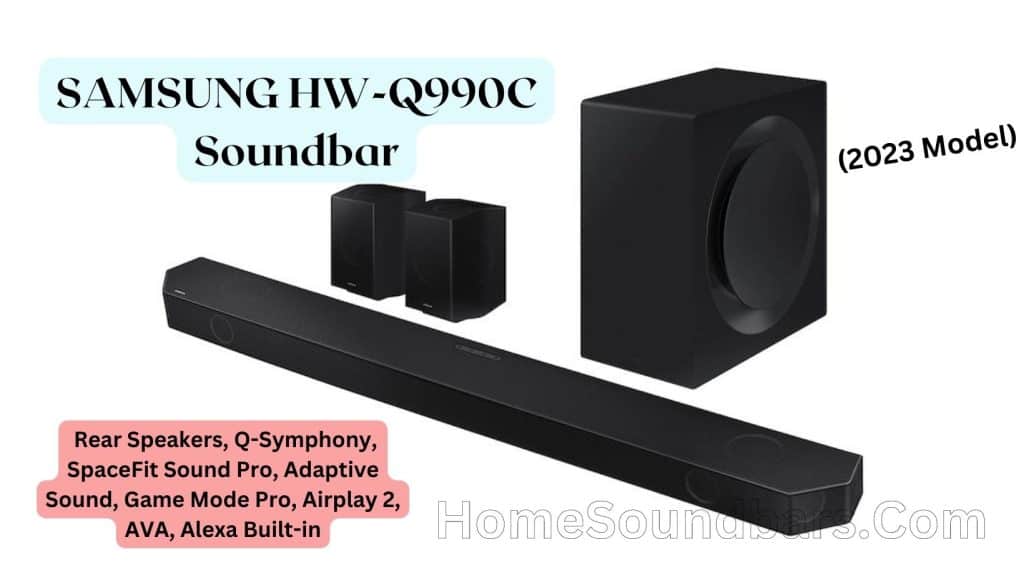 The new 2023 Samsung Q990C is the successor to the very popular Q990B, and it was announced at CES 2023.
Since then, more information about the up-and-coming soundbar has been released, leaving people with the big question: will it be a massive leap forward compared to the Q990B? In this article, we'll look at the new features, changes they should have made, and our thoughts on whether you should buy now or wait until the Q990C is released.
Update: It's now on the market. Read our Samsung Q990C review.
The Q990C will still be an 11.1.4 channel soundbar with the same bar, subwoofer, and rear speakers as the Q990B. Samsung showed the same promo video at CES for the Q990C as when they released the Q990B, indicating that the two are likely to be very similar. This means that for the most part, the 2023 Q990C soundbar will look and sound the same as its predecessor. But there are a few key upgrades that Samsung has made to the soundbar.
The third generation of Q Symphony. 
The biggest upgrade to the Q990C is the third generation of Samsung's Q Symphony technology. This feature uses the TV's audio processor to split up the sounds before sending them to the soundbar. This allows the soundbar to know which speaker each sound should come from for a more precise listening experience.
AI Sound Remastering. 
The Q990C also comes with AI Sound Remastering, which is Samsung's fancy term for more audio processing. This is designed to give you clearer dialogue and sounds that wrap around you more accurately. This is a great feature, as most soundbars have issues with dialogue being drowned out by the music or ambient sounds being too loud.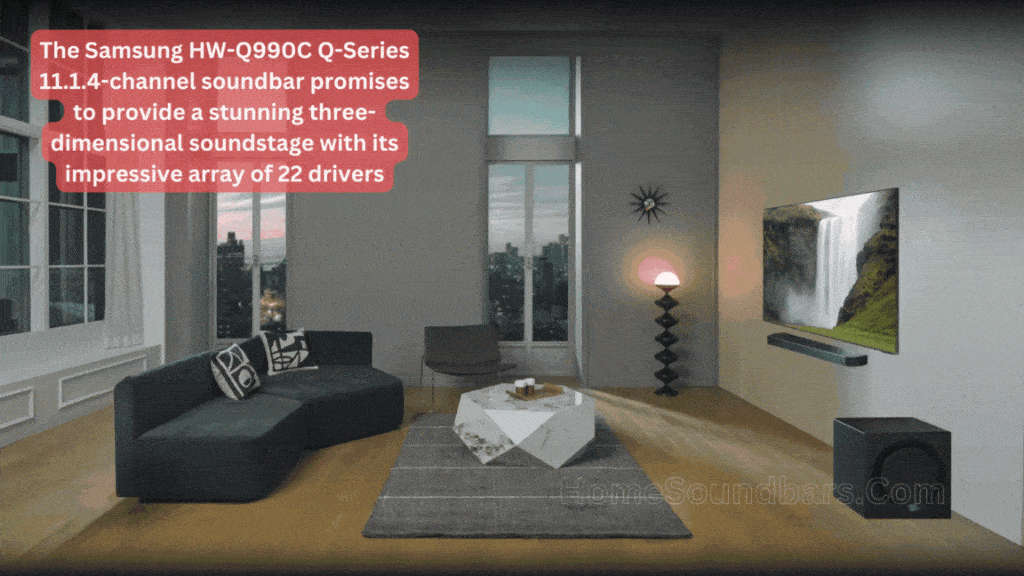 Spacefit Sound Pro. 
The Q990C also comes with Samsung's Spacefit Sound Pro, which is an upgrade from Spacefit Sound Plus. This feature allows the soundbar to be calibrated to suit each room and calibrates the subwoofer and the soundbar and the rear speakers. This should be a great feature for people who want to even out the bass throughout their space.
Subwoofer and Rear Speaker Issues. 
Another issue with the Q990B was the subwoofer and rear speaker dropouts. This is a big issue that has plagued most of the users, and we hope that Samsung has finally fixed this with the Q990C.
Dual Subwoofers. 
This was one of the most anticipated features of the Q990C. Unfortunately, it has been confirmed that the soundbar will not support dual subwoofers. This is a big disappointment for people with larger rooms, as dual subs would have helped even out the bass in bigger spaces.