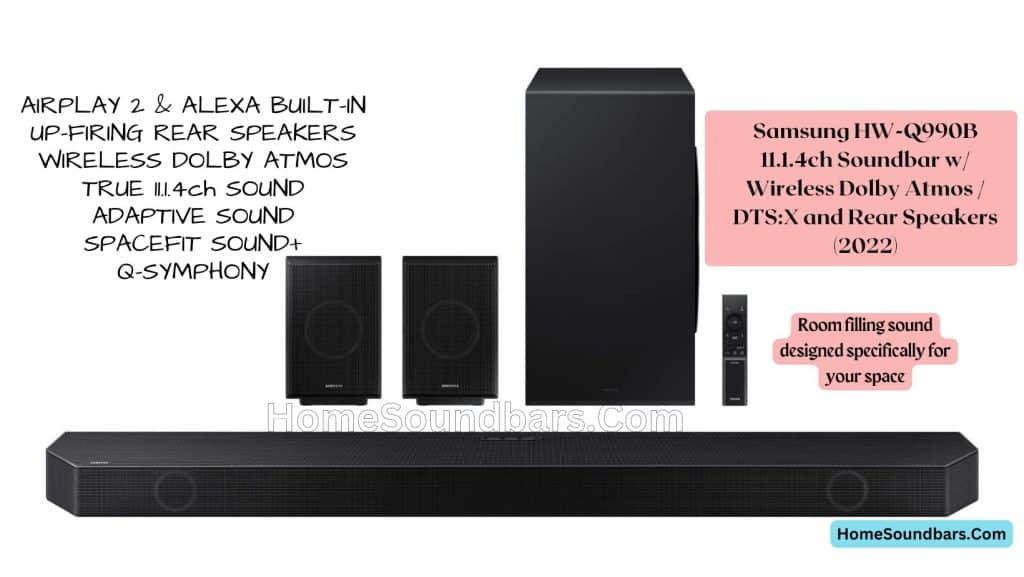 If you're looking for a surround sound system that will take your audio experience to the next level, then you should definitely check out the Samsung HW-q990b. This system is the successor to last year's Samsung HW-q950a and includes some significant changes that make it an even better system than before.
In this Samsung hw-q990b review, we'll take a look at all the features of the q990b, how it compares to its predecessor, and how it performs when it comes to audio. Let's get started!
Read more: Sonos ARC With Sub One SL Pair Kit VS Samsung Q990B.
What We Like About the Samsung HW Q990B
Delivers an exceptional Dolby Atmos sound experience, producing impressive and accurate surround imaging with height channels.
Features remarkably compact and powerful speakers that easily handle large rooms while maintaining a balanced and solid bass performance.
Offers an extensive range of connectivity options, including Bluetooth, Wi-Fi, Apple AirPlay, and Spotify Connect, for easy music streaming and versatile device pairing.
It has an impressive suite of room correction options, including graphic EQ and presets, that provide granular-level controls for adjusting the sound to your preferences.
Includes two HDMI inputs for easy setup and connectivity with other devices, allowing you to switch between audio sources without a hassle.
Excellent fidelity and Dolby Atmos effects, resulting in a powerful, immersive, and captivating sound experience.
The Q-Symphony allows for seamless integration of the soundbar with compatible Samsung TVs.
Cons
It comes at a premium price point, which may not be affordable for all users.
It does not support 4K 120Hz/VRR passthrough, which may be a drawback for users with high-end gaming setups.
It lacks Chromecast capabilities, which may limit its compatibility with certain streaming services or devices.
The soundbar's user interface and selection of built-in streaming apps are not as comprehensive as some other soundbars in their price range.
The 5.1 surround sound experience may not be as strong or well-defined as some users would prefer.
Some users have reported occasional disconnecting issues between the soundbar and their devices, which could be frustrating.
It only supports the SBC codec for Bluetooth, which may not provide the best audio quality for some users.
The 3-foot-long cords provided may not be enough for adequate rear speaker placement.
Design
The general shape and look of the q990b isn't a whole lot different from the previous model. However, Samsung made two great improvements to the design. First, the soundbar and surround speakers are no longer covered in "cloth grille:, making it much easier to keep the components clean. Second, the display has been moved from the top of the sound bar to the front, making it much easier to read the input and control.
You'll find HDMI out, an eARC port, two HDMI inputs, and one digital optical input on the back of the soundbar. Samsung is slowly getting rid of outdated ports, and it won't (possibly) be long until digital optical is gone.
Setup
The Samsung hw-q990b setup process is easy and you'll be done in just a few minutes. Once you unbox and place all the components of your soundbar where you want them, all you need to do is plug in the power and the components will automatically pair up. If they don't automatically pair, there's a simple process to follow.
Install the SmartThings app on your phone and connect the q990b to your Wi-Fi network.
The app does a great job of guiding you through the setup process and provides many features you can control. 
In the Samsung q990b app, you can change the input, adjust the volume, switch between four different sound modes, change the EQ, and even access more advanced sound settings. You can also use the app to adjust the individual channel levels, a feature that few sound systems have.
Surround Sound Performance
The q990b does a great job of producing small details throughout the room, enveloping you in movie fight scenes and race scenes. The dialogue is also extremely clear and not washed out by the other sounds.
The subwoofer has also improved significantly compared to the previous model. It's not the punchiest or boomy subwoofer in the world, but it does a great job with background low-end frequencies and can ramp up pretty well too.
The surround also provides the perfect amount of sound that can be heard and appreciated without being overpowering or distracting.
When it comes to music, the q990b really shines.
When you put it in adaptive sound mode, the audio takes on a whole new level. There's a wonderful balance between the soundbar, subwoofer, and surrounds that really brings music to life.
The center channel clarity is possibly the best I've heard from any soundbar I've tested.
My only issue was that the system was slow to respond when using AirPlay or Spotify Connect. Other than that, the q990b does a great job of making music sound great.
Verdict
The Samsung HW q990b is an excellent surround sound system that provides an immersive audio experience. It has improved upon its predecessor in many ways, including the removal of the cloth covering, improved base, and the ability to adjust individual channel levels. If you're looking for a surround sound system that will take your audio experience to the next level, then the q990b is definitely worth considering.
Wireless Dolby Atmos: Enjoy a surround sound experience with Dolby Atmos and skip the need for HDMI cables
True 11.1.4ch Sound: Enjoy enveloping sound with 11 channels, 1 subwoofer and 4 up firing channels
Q-Symphony: Perfectly synchronized audio uses every speaker in compatible Samsung TV and soundbars
SpaceFit Sound: Get room filling sound designed specifically for your space. This soundbar analyzes the room and automatically calibrates the audio to create a true to life experience
2 Year Extended Epic Protect Warranty in Addition to the Included Full Manufacturer Coverage. Intended for Residential Use Only
Samsung hw-q990b specs
Channel Configuration
11.1.4-Channel
Wireless Audio Protocols
AirPlay 2, Bluetooth
Inputs
2 x HDMI, 1 x Optical TOSLINK – Audio
Outputs
1 x HDMI – eARC
Speaker Positioning
Rear, Up-Firing
HDMI Compliance
CEC, eARC
HDR Compatibility
HDR10+
Audio Decoding
DTS Digital Surround, DTS-ES, DTS-HD High-Resolution, DTS-HD Master Audio,
DTS:X, Dolby Atmos, Dolby Digital Plus, Dolby TrueHD, LPCM
samsung q990b dimensions (subwoofer)
8.7 x 16.3 x 16.1″ / 22.1 x 41.4 x 40.9 cm
samsung hw-q990b dimensions (soundbar)
48.5 x 2.7 x 5.4″ / 123.2 x 6.9 x 13.7 cm
Samsung hw-q990b manual
Link (Samsung)