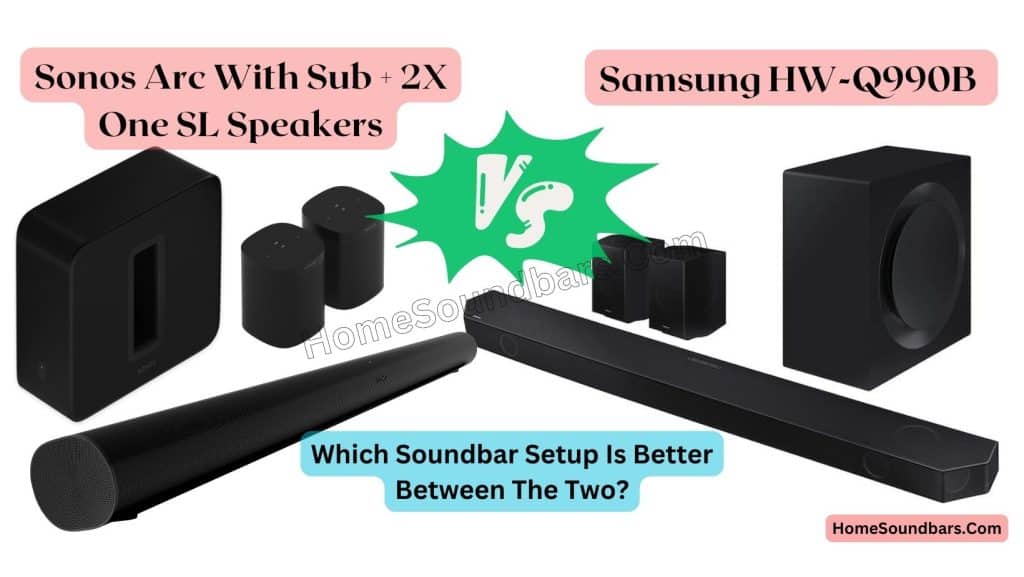 The debate between the Samsung Q990B and the Sonos ARC has been going on for a while now, and it can be hard to decide which one is right for you. But with this article, we'll break down where each of these soundbars shines and which will make it into your entertainment setup. 
Name
Sonos Arc - The Premium Smart Soundbar for TV
SAMSUNG HW-Q990B/ZA 11.1.4ch Soundbar
Featured
+Voice control
+Dolby Atmos
+Deep bass & crisp audio
+Optical audio adapter
+Full HD playback
+Impressive Dolby Atmos
+Two HDMI inputs
+Easy to set up
+Remarkably compact speakers
+Good connectivity
Name
Sonos Arc - The Premium Smart Soundbar for TV
Featured
+Voice control
+Dolby Atmos
+Deep bass & crisp audio
+Optical audio adapter
+Full HD playback
Name
SAMSUNG HW-Q990B/ZA 11.1.4ch Soundbar
Featured
+Impressive Dolby Atmos
+Two HDMI inputs
+Easy to set up
+Remarkably compact speakers
+Good connectivity
The Sonos ARC was released in 2020 and has since had many updates to improve its usability and performance. An ideal Sonos ARC setup includes the main ARC soundbar, the Sonos Sub, and a pair of Sonos One surround speakers. Samsung released the Q990B in 2022 as part of their yearly soundbar update.
The Q990B is one complete package, with a main bar, side-firing subwoofer, and two rear speakers.
Design
Both of these soundbars are made from a mixture of premium plastic and a thin metal grille, so it really comes down to personal preference as to which looks better.
The Samsung is broader and deeper than the Sonos, but it is taller and wider, which can be problematic for some TVs as it may block the bottom of the screen (especially for LG OLED TVs with their low profile bases). Pairing these soundbars with a TV 55 inches and larger would make the most sense due to the large size.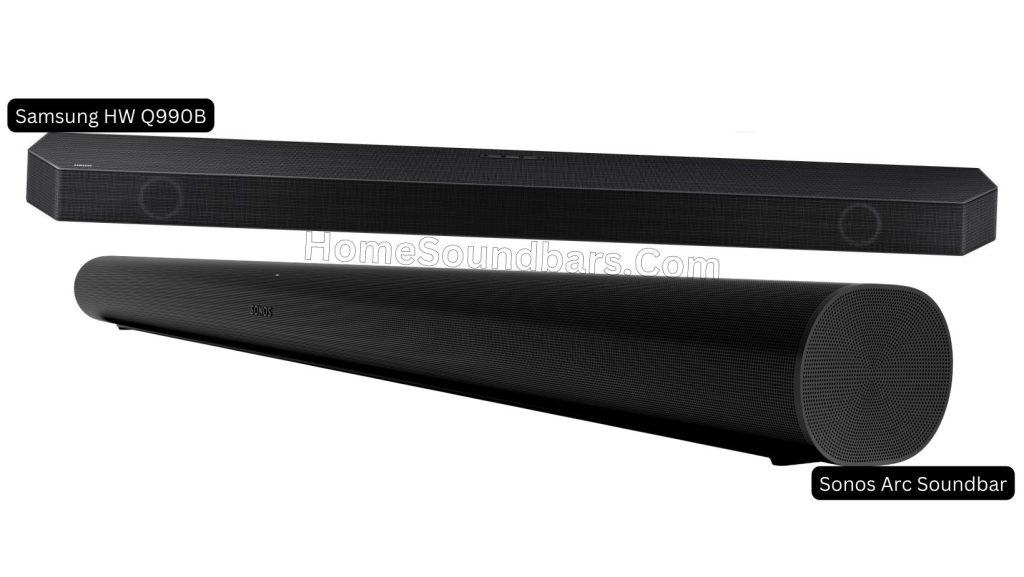 Samsung has an LED screen on the front, and you'll get a very slick remote in the box that controls most of the soundbar functions. With Sonos, you don't get a remote and rely entirely on the S2 app. You'll need to purchase the brackets separately to mount the ARC. 
Sound Performance
When testing these soundbars side-by-side with a range of songs and movie scenes, we found that they are much closer than expected. Last year's Q950A was quite a ways away from the power of the Sonos ARC, but this year's Q990B has closed that gap right up.  
When listening to The Eagles' "Hotel California," we found that the Samsung gave us better detail than the Sonos, allowing us to hear the strings individually. 
The vocals were a little more forward on the Sonos. It was better at projecting the sounds and receiving them. The bass was also slightly better on the Sonos. You could go either way with pretty much any other music genre. Sonos was slightly well-defined and better with the bass, but you'd be happy with either.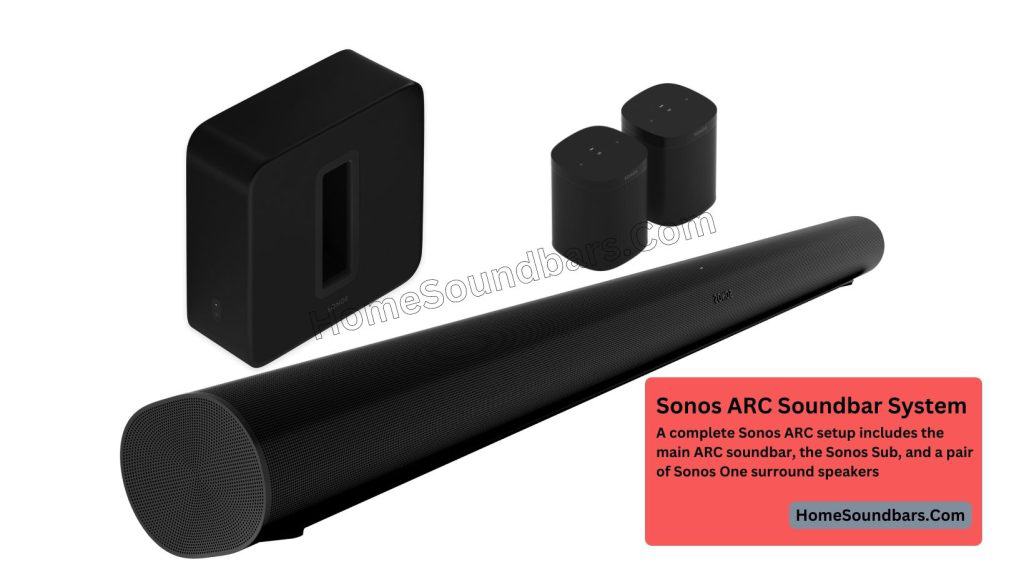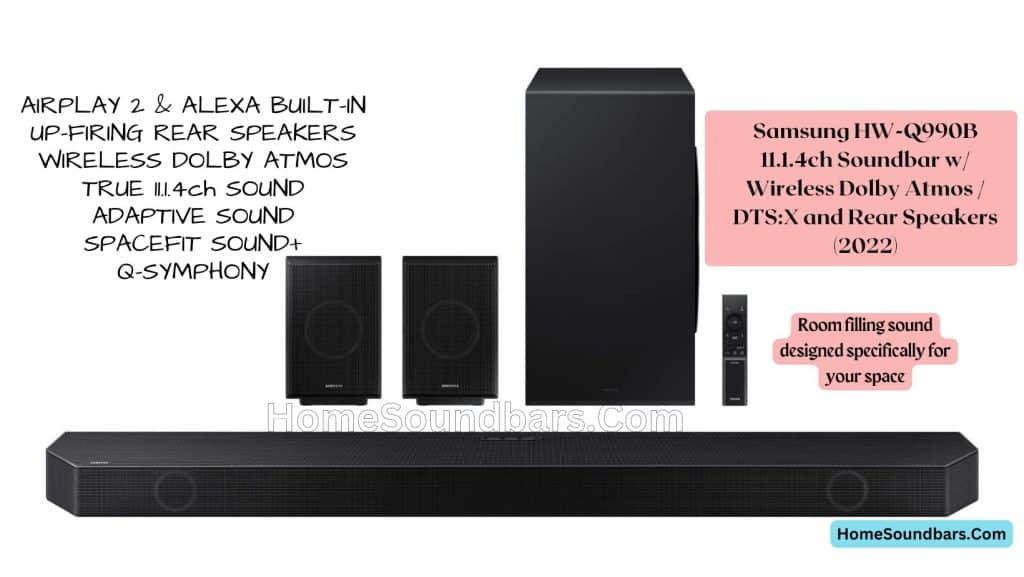 When it came to movies, both of them were excellent with Atmos, giving you a full 360-degree experience. The height was awesome, and we found that the Sonos was ever so slightly better (possibly nitpicking at this point) with the rear speakers.
The vocals on both were very good. However, this is subjective as it depends on what you're feeding these soundbars in the way of audio formats. That said, Samsung was able to give you a wider range of formats in the DTS space.
Channels and Connection
The Samsung has 11.1.4 channels compared to the 7.1.2 of the full ARC setup (which actually plays back as a 5.1.2 when the rear speakers are added). With all the soundbars tested, having the most channels doesn't automatically make it more spacious. It depends more on how well the channels have been set up to deliver audio.
Samsung has included more connection options: an HDMI ARC port, two HDMI inputs, and an optical. Sonos does not include any HDMI inputs and has a single HDMI ARC and HDMI to optical cable. Extra HDMI inputs may be important, especially if you max out the ports on your TV. 
Supported Audio Formats
Both of these soundbars support full Dolby Atmos through the Dolby TrueHD format, with the Samsung hw q990b soundbar also supporting DTS:X, which is commonly found through the use of Blu-ray discs and is the direct competitor to Dolby Atmos.
Sonos currently only supports standard DTS which is often found in older DVDs. If you watch lots of Blu-rays that don't have any Dolby audio then the Samsung will work better for you.
Smart Features
Both of these soundbars offer a variety of smart features. They each have built-in Alexa, AirPlay 2, and Spotify Connect. Sonos adds Google Assistant in some countries, and Samsung includes Bluetooth and Chromecast Audio. 
Sonos uses the S2 app, which gives you further control over an equalizer, subwoofer, height, and rear speaker levels and connects other speakers to set up a multi-room audio system. Samsung uses the SmartThings app, which gives you individual channel changing and is far more in-depth than what Sonos allows for.
Volume & Auto Tuning
When it comes to volume, the Samsung Q990B setup gets a lot louder than the Sonos.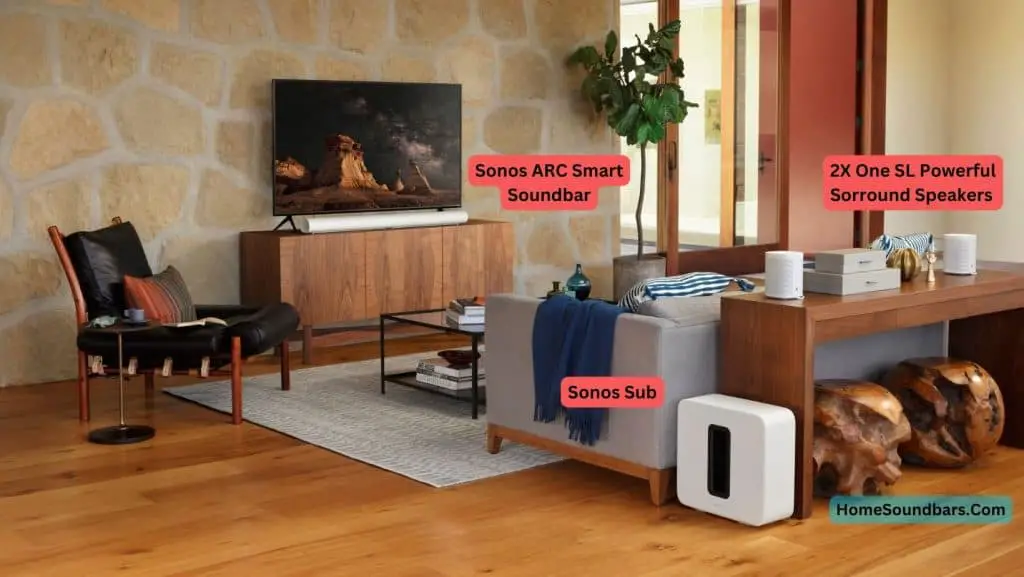 If you're looking to play at a party, then the Samsung definitely gets more audible, but that may change in the future as firmware updates are added, and they boost the sound. 
When it comes to auto-tuning, Sonos' True Play Tuning is better as you get to move the microphone around. Samsung uses the built-in microphone to pick up the sound rather than tuning it from where you're sitting. 
Conclusion
Choosing which soundbar to go for purely based on how it sounds comes down to personal preference, so if you're struggling to decide between the two, then you can check out the sound test file that compares both of these soundbars side by side. 
So which one should you buy?
The reasons to buy Sonos include a tighter base, slightly better vocals, multi-room audio, true play tuning, and a better-designed app.
Samsung supports more inputs, is slightly more immersive in movies and gaming and has more control over individual channels. It also offers a broader range of DTS audio formats, more detailed sound, and gets louder. 
If you're looking for a home theater system for the same kind of price, then do it! But for the rest of us that prefer a more minimalistic setup, easy to use, and excellent sound quality, then either soundbar is a great option and worth your money.