Roku streamers have been delivering affordable, high-value streaming solutions to consumers for over 14 years. Unlike Apple TV, Roku has offered consumers a broader ecosystem of streaming channels and apps at a cheaper price point, with a platform that's been incredibly easy to integrate into home theater and home automation systems.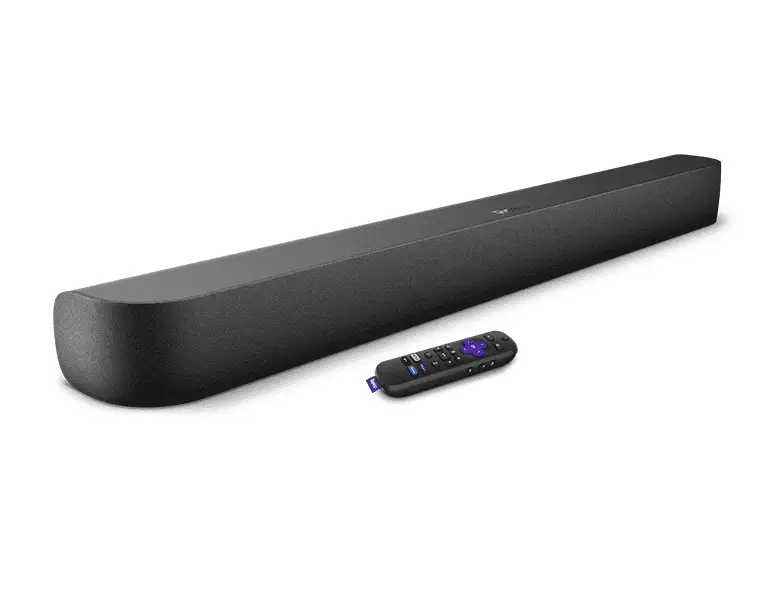 Today, Roku offers a variety of streamers and prices that just about everyone can afford.
Compared to complete home theater systems, the Roku Streambar Pro (soundbar only) offers an affordable and easy way to enjoy quality surround sound. The streambar was the base for the making of the Roku Smart Soundbar. They are pretty much similar in terms of design and physical elements, although the smart soundbar offers a better audio profile and surround sound.
Read more: Affordable Music & Movies Streaming: Roku Smart Soundbar Review
Built-in 4K streaming: Enjoy an easy interface with channels that launch in a snap—all in brilliant 4K HDR picture optimized for any TV .Waterproof : No
Cinematic sound: Enjoy a cinematic experience with expanded frequency range, dynamic bass, and Dolby Audio as four internal speakers fill your room with sound
Watch what you love: Stream a massive selection of free, live, and premium TV, including Roku Originals and 300+ live TV channels for free on The Roku Channel
Smarter than your average soundbar: Boosted volume and auto-speech clarity make your TV easier to hear and add depth to your music, all thanks to advanced audio engineering in the Roku OS
Virtual surround: Listen as spacious sound moves around the room, creating an immersive audio experience similar to surround sound
Simple sound settings: Automatically lower loud commercials, boost the volume of voices, and optimize the sound for night listening with simple volume modes
No more juggling remotes: Power up your TV, adjust the volume, and control your streaming all with one remote
Quick guided setup: Everything you need is included in the box—just plug it into your TV and connect to the internet, it's that simple
Bluetooth streaming: Enjoy private listening with your favorite pair of wireless headphones and stream music from a connected Bluetooth device
With a price tag of under $150, it's a great starting point for anyone looking for a reliable soundbar system. However, if you want to expand the system, you can get The Roku Streambar Pro Surround Set which adds wireless speakers; with an additional Roku subwoofer, bought separately, for a complete surround sound setup.
A Soundbar and Streamer in One: Overview
Great sound, considering the small size.
The Roku Streambar Pro system provides a surround-sound experience that you can customize to deliver a truly immersive audio experience.
This modular system includes the Roku Streambar Pro, the Roku Wireless Bass Pro subwoofer, and two pairs of Roku Wireless Speakers for a complete 5.1 setup.
In some ways, you could think of the streambar Pro as a combination of the Roku Express 4K plus streamer and a larger, upgraded version of the company's soundbar. The streamer is designed to sit atop an entertainment center or be wall-mounted. 
The soundbar has two padded feet at the bottom to prevent scratching or marring of delicate furniture surfaces. It's low profile at only 2.8 inches tall, 32.2 inches wide, and 3.9 inches deep and will fit comfortably under 49-inch or larger TVs.
If you put the streamer on top of the furniture, be sure to put it on the front edge. Placing the stream bar Pro or any sound bar towards the back of the furniture will significantly and adversely impact dialogue and sonic performance, so don't do it. Likewise, pull it towards the front edge if you put it inside a cabinet, which I don't recommend for soundbars.
What We Like?
The built-in 4k streaming lets you quickly access your favorite channels with stunning 4K HDR picture quality.
The frequency range and dynamic bass, along with Dolby Audio from four internal speakers provide a cinematic sound experience.
A massive selection of free, live, and premium TV, including Roku Originals and 300+ live TV channels, are available on The Roku Channel.
The Streambar Pro features auto-speech clarity and boosts the volume of voices, making it easier to hear dialogues clearly.
Virtual surround sound creates an immersive audio experience while simple sound modes lower loud commercials and optimize sound for night listening.
Once you set up the soundbar with your Roku TV, you can easily power up your TV and control the volume and streaming with the same remote.
Enjoy private listening with wireless headphones or stream music from a connected Bluetooth device.
Easily expand your sound system with the Roku Wireless Subwoofer and/or Roku Wireless Speakers.
Compact, easy to set up, and affordable
4K and HDR compatible
Cons
The bass is a bit underwhelming for movies and music (although understandable based on the soundbar's price)
The interface, while simple and intuitive, can be slow and buggy
No Dolby Vision or HDR10+
Older TVs without HDMI-ARC/Toslink are not supported.
A Seamless Design & Setup Process
The Roku Streambar Pro is an excellent choice for anyone upgrading their home theater setup. With a sleek design and 4K streaming capabilities, the Streambar Pro fits in well with almost any living room setup. The plastic body and mesh fabric covering the front ensure the soundbar won't overpower a smaller TV.
The Streambar Pro is made out of plastic on the sides and back and has a mesh-like fabric covering the front. It easily blends in with the surroundings and won't overwhelm any small TV.
The setup process for the Roku Streambar Pro is incredibly easy. Simply unbox the device, connect it to power and your TV's HDMI eARC port (if available), and follow the prompts. Utilizing the eARC port allows you to control your TV's volume and power state with the Roku remote.
Additionally, the Streambar Pro can be used with the upgraded Voice Remote (sold separately) and a pair of wired earbuds.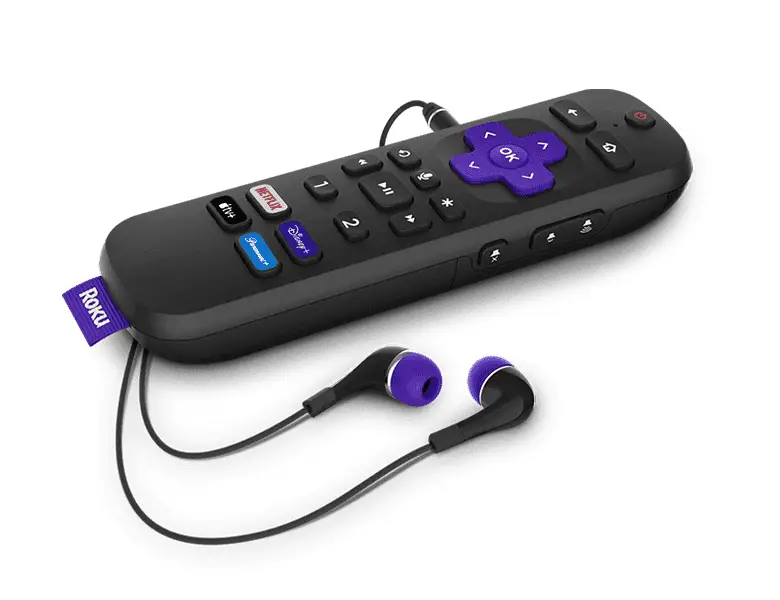 Plugging the earbuds into the side of the remote allows you to privately listen to a show without disturbing others in the same room.
The factory defaults balance the system sound impressive and the audio options are both useful and not overly complicated. Easily accessible options allow users to optimize the sound to their own preferences.
Roku Streambar Pro Performance
The Streambar Pro offers a solid overall sound quality, with clear and distinct voice reproduction. Its virtual surround feature creates a decent sense of spaciousness. It has decent bass for an all-in-one soundbar, but adding a subwoofer would enhance the overall bass performance.
The system menu offers a wide range of settings to optimize your listening experience. You can adjust the level of the surround speakers to your liking, activate the volume Leveling feature to ensure consistent sound levels across different content, and enable Night mode to prevent disturbing your neighbors with loud sounds.
The Dialog Clarity function is useful for those who want to boost sitcom or movie dialogue. Roku also includes a Private Listening mode that sends sound to headphones. In the past, this function was limited to using the app on a smartphone or plugging into the remote.
It's a little light on the bass.
For instance, when watching The Mare of Easttown, Kate Winslet's New England accent is crisp and clear, with the bass adding depth to scenes with dialogue.
The opening scene of The Falcon and the Winter Soldier, where Sam rescues the soldier, emphasized the explosions. However, it would have been more impactful with a subwoofer as it could have added a little rattle. The soundtrack of Tenet lacked the deep, pulsing bass that a system with more low-end capabilities would have provided.
Connectivity and Remote Control
The streamer supports 4K UHD and HDR via an HDMI 2.0A port with HDCP 2.2 and ARC, HDR 10 is supported, but there's no Dolby Vision or HDR 10+ support. The streamer also supports Bluetooth 5.0 but has no high-res codecs like aptX HD onboard.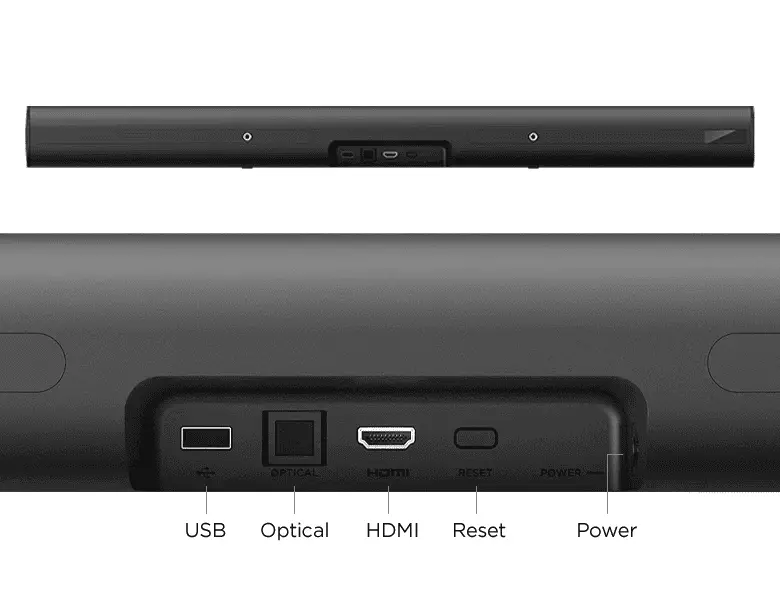 The streambar pro's remote control resembles the Roku-enhanced voice remote edition. The remote connect over a wireless network and, like IR, unlike IR remotes, doesn't need to be pointed at the Roku. You can control the stream bar Pro well off access or even out of sight. The top power button controls TV power, and there's a microphone button for voice commands. The voice command features are incredibly robust. The curved arrow is for replay, and the asterisk brings up options.
Now, the Streambar Pro lets you connect Bluetooth headphones directly to the soundbar, so you can enjoy TV sound without disturbing anyone.
Roku Streambar Pro Features
This smart soundbar comes with built-in Roku 4K streaming. Featuring four 2.5″ full-range drivers and can handle PCM and Dolby Audio but not Dolby Atmos.
It offers five sound modes: Dialogue, Movie, Music, Night, and Standard. It also has a Speech Clarity setting that makes it easier to understand what people are saying.
The Streambar Pro also comes with Roku's smart remote, which controls navigation and playback, and shortcuts to Netflix, Disney+, Apple TV+, and Hulu. It also has voice search capability built-in and a headphone jack for private listening. The soundbar has an optical-digital input and one HDMI port that's used to send video to the display and receive audio from it via HDMI ARC.
Roku Streambar Pro Specifications
Channel Configuration
2.0-Channel
Full-Range Drivers
4 x 2.5″ / 6.3 cm
Amplifier Output
36 W
Outputs
1 x HDMI – ARC/Audio/Video
1 x Optical TOSLINK – Audio
Wireless Audio Protocols
AirPlay, Bluetooth, Wi-Fi
USB I/O
1 x USB-A 2.0
Wi-Fi
Wi-Fi 5 (802.11ac)
Bluetooth
4.2
NFC
No
Roku Streambar Pro Dimensions
32.2 x 2.8 x 3.9″ / 81.8 x 7.1 x 9.9 cm
Weight
5.5 lb / 2.5 kg
HDMI Compliance
ARC
HDR Compatibility
HDR10
HDCP Compliance
HDCP 2.2