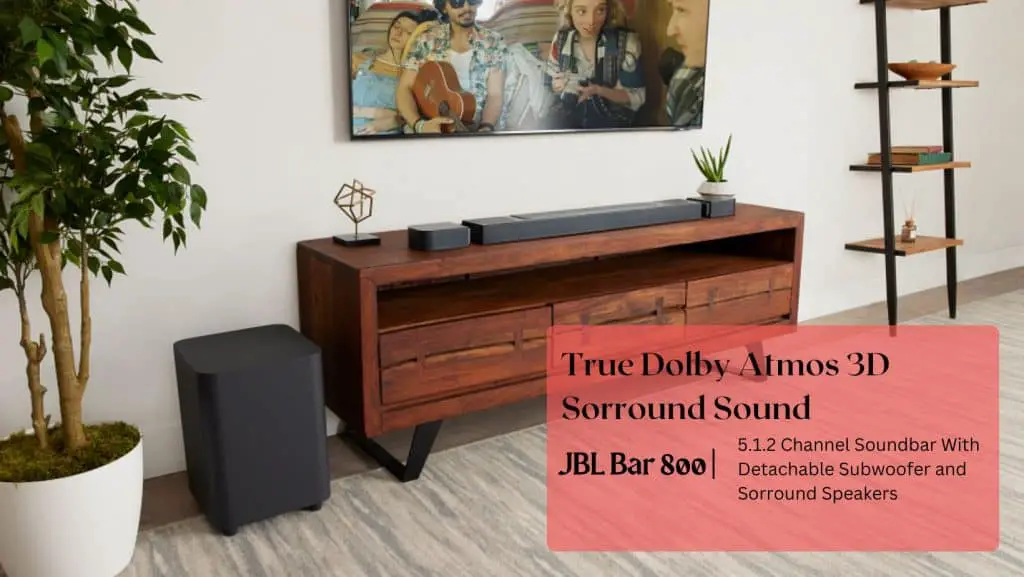 The JBL Bar 800 Pro was among the new JBL soundbars released in early 2023. With 720 watts of power, the soundbar promises  5.1.2 sound with support for Dolby Atmos, though it lacks JBL's MultiBeam technology which its bigger siblings (the JBL 1000 Pro and the flagship, the JBL Bar 1300X) have. Its main features include two detachable wireless surround speakers and a 10-inch separate subwoofer. But is it all style and no substance? Let's dive in and see what this soundbar has to offer.
JBL Bar 800 First Impressions
I was pleasantly surprised by the Bar 800 from JBL! It offers the perfect package for a great price – the design is minimalist and chic, just like you'd expect from JBL, and the setup is straightforward and easy. The sound from the soundbar is well-balanced, with clear mids and highs and powerful, deep bass. Plus, the true  Dolby Atmos support makes movies, series, and music sound super-spatial and dynamic.
Read more: JBL Bar 700 Review 2023: With 300+ Streaming Services
What We Love
Real surround sound with detachable rear surround speakers and virtual surround sound
HDMI eARC with 4K Dolby Vision pass-through, HDR10, and HLG support
Voice assistant integration with Alexa and Google Assistant
Built-in Wi-Fi with AirPlay, Spotify Connect, and Chromecast built-in™
PureVoice dialogue enhancement technology and True 3D Dolby Atmos® surround sound
Easy sound calibration with JBL One App
10" wireless subwoofer and 720W total system output power
Bluetooth® enabled for wireless streaming.
Cons
The full sound is only possible via cable
The Bluetooth wireless audio transmission sometimes cuts off
JBL Bar 800: Performance
The JBL Bar 800 delivers an impressive performance. Upon setting it up, I was immediately impressed by the clarity and bass this soundbar provides. Compared to the sound of my television playing through its internal speakers, the difference was stunning. Voices were crystal clear and harmoniously balanced with the bass, ensuring dramatic scenes and moments were not overwhelmed by the bass.
Interacting with the JBL Bar 800 Pro
The JBL Bar 800 soundbar is designed for simple and intuitive control. I found the found the physical buttons at the top to be pretty useful for quick settings adjustment for instances when you can't immediately find the remote.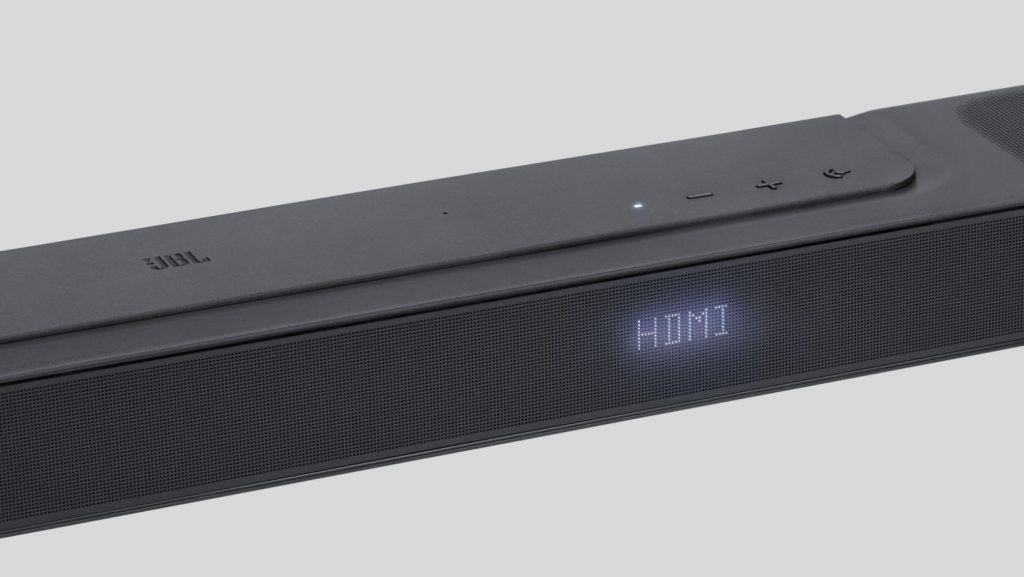 The JBL One app allows you to connect to the soundbar and customize settings with the added convenience of music streaming services and EQ control. The soundbar also supports both Bluetooth and Wi-Fi, giving you access to Google Chromecast, Apple AirPlay, Spotify Connect, Alexa multi-room services, and streaming services like Tidal, TuneIn, Qobuz, and Amazon Music. So you can easily enjoy your favorite music from any device.
Connectivity: Supports eARC, True Dolby Atmos
This soundbar offers an incredible connectivity experience, with true Dolby Atmos® 3D surround sound, 4K Dolby Vision pass-through, and HDMI eARC.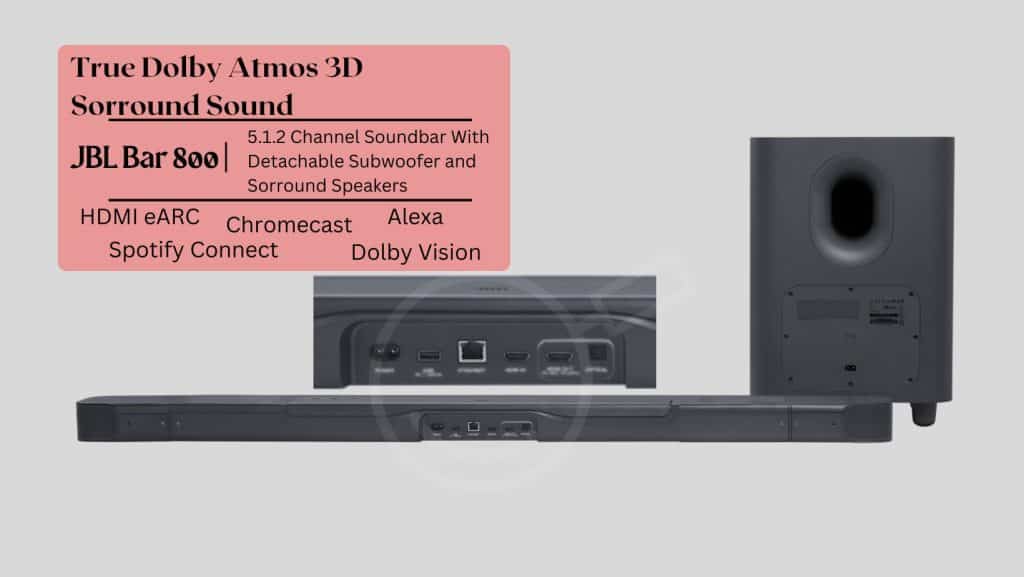 It comes with one HDMI video input and one HDMI video output (with Enhanced Audio Return Channel, eARC). The optical audio input, HDR pass-through for HDR10 and Dolby Vision, and USB (available in the US version) also add to its connectivity options. Enjoy the best of both sound and visuals with this powerful soundbar!
You can make the most of your soundbar with full WiFi support, including WiFi and Bluetooth. This allows you to easily stream your favourite music, movies, or podcasts and enjoy an amazing audio experience.
JBL Bar 800 Pro General Build & Technical Specs
JBL Bar 800 Design 
The JBL 800 soundbar is designed for maximum convenience, with a sleek and stylish look that fits perfectly beneath most TVs. It comes with an LED display on the front, plus a wireless subwoofer that packs a punch at 44 cm high and 30 cm deep and wide. The soundbar itself measures 117.4 cm wide, 12 cm deep, and 5.6 cm high, while the detachable wireless speakers reduce the width to 88.4 cm if you're looking for a more minimalist setup.
You can place the speakers on an end/side/accent table beside or behind you for a more immersive experience: no extra wires, no extra power connections, so no extra hassle.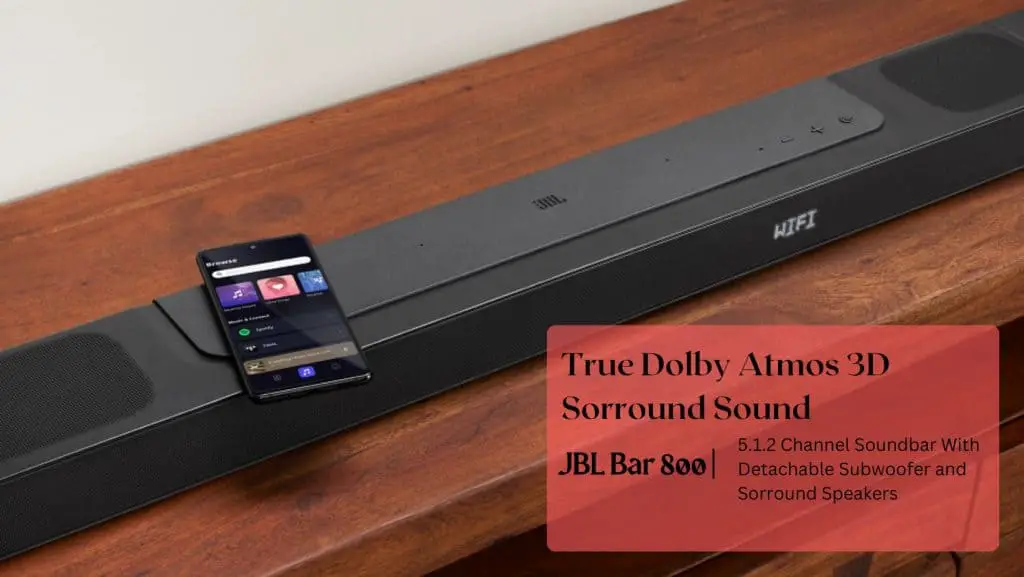 The craftsmanship is top-notch, with a mix of metal and matte plastic materials that give it a high-end feel. And don't worry about extra wires or power connections – all you need to do is connect the soundbar to your TV via an optical or HDMI connection and then use the JBL App to connect it to your WiFi network so that you can control it from your phone.
The Techy Aspects
The JBL Bar 800 Pro is an impressive soundbar system that delivers a powerful audio experience. It features three racetrack drivers measuring 46x90mm, three 0.75" (20mm) tweeters, and two 2.75" (70mm) up-firing full-range drivers, plus a dedicated surround speaker with one 46x90mm racetrack driver.
With a total output power of 720W, the soundbar provides 340W, the surround speaker offers 40W (on each speaker), and the subwoofer provides a huge 300W adding to the wide soundstage with plenty of bass. 
With a frequency response of 35Hz to 20kHz (-6dB), you can expect a powerful, dynamic sound that fills any room. Bluetooth 5.0 ensures you can easily connect and stream your favorite music wirelessly. Get ready for an immersive audio experience with the JBL Bar 800 Pro.
What is the price of JBL 800 soundbar? 
The JBL 800 soundbar price ranges between $899-$1000 depending on the outlet distributer. The soundbar is currently listed on JBL UK; we will update the post when it's on more outlets. 
JBL Bar 800 Specifications
Sound system: 5.1.2 channel
Total power output: 720W; Soundbar output power: 340W; Surround speaker output power: 40W on each; Subwoofer output power: 300 W
Four total racetrack drivers, three tweeters, & up-firing full-range drivers
HDMI video input: 1, HDMI video output eARC, 1 HDR pass-through, HDR10, Dolby Vision
Audio specification- Frequency response: 35Hz – 20kHz (-6dB)
Audio inputs: 1 Optical, Bluetooth, USB (USB playback is available in US version. For
other versions, USB is for Service only.)
Jbl bar 800 soundbar dimensions (W x H x D): 884 x 56 x 120 mm / 34.8" x 2.2" x 4.7"
Jbl bar 800 surround speaker dimensions (each) (W x H x D): 145 x 56 x 120 mm
/ 5.7" x 2.2" x 4.7"
Subwoofer dimensions (W x H x D): 305 x 440.4 x 305 mm / 12" x 17.3" x 12"
JBL Bar 800 Review: Should you buy it?
Yes. The JBL 800 soundbar features the sleek and stylish design typical of the new JBL soundbars released in 2023. The sound quality is impressive, with a balanced soundscape of clear mids and highs and a deep and powerful bass.
The true Dolby Atmos feature makes films and series sound truly immersive and powerful. In terms of price, it is a little on the expensive side, but considering the quality and features, it is worth it. If you want a high-quality soundbar that delivers amazing audio, the JBL 800 is worth checking out.