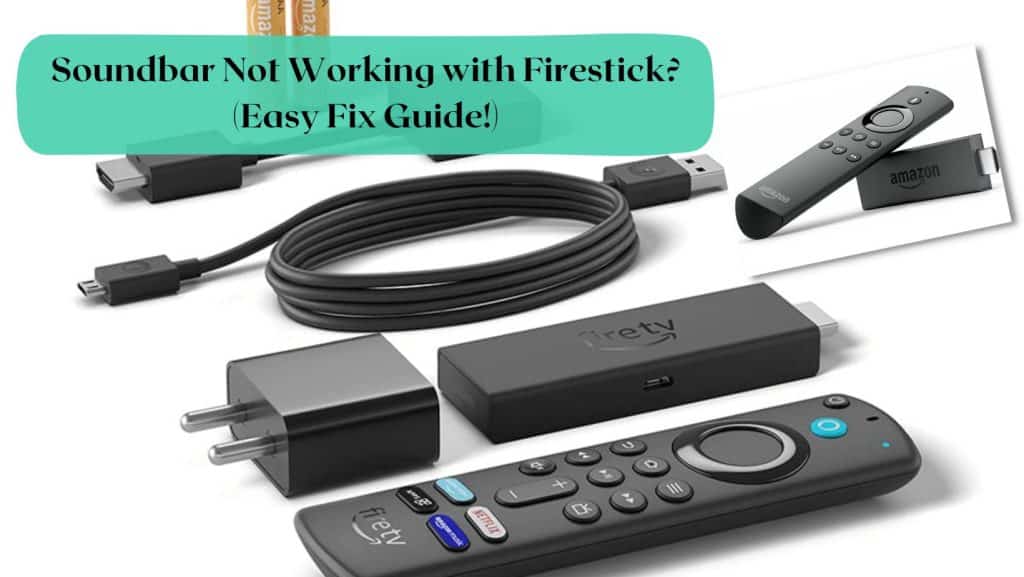 Have trouble with your Fire TV Stick Not Working With Soundbar? Don't worry, we got you covered! In this article, we'll be going over how to manage your soundbar or AV receiver with your Amazon Fire Stick Remote.
It can be incredibly annoying when your Soundbar works one time, but not the next. Fortunately, you can try a few simple fixes to get your audio back up and running.
Before we get into the solutions, let's look at why your Soundbar isn't working with your Firestick.
Why Is My Soundbar Not Working with My Firestick?
There are a few potential reasons why your Soundbar isn't working with your Firestick. The most common issues include:
Incorrect Input Source – You may have the wrong cables running from your sources, and none connects your Soundbar and your TV.
HDMI Connection Problems – A loose HDMI connection may lead to sound issues with your Firestick. Faulty and damaged cables can also cause this issue.
The Soundbar is Incompatible – Your TV's eARC/ARC port may not connect to the HDMI output. You may need to interchange the cables to your ports.
Using Wrong Settings – Your Firestick has settings that allow you to control every aspect of your entertainment experience, including the audio. If the settings are not correct, your Fire TV stick will not pair.
In this guide, we explain you how to fix a Soundbar not working Firestick problem in just a few simple steps. From making sure your cables are secure to changing your Firestick's audio settings, we'll walk you through the entire process.
Let's dive right in!
Read: How To Connect Amazon Fire TV Stick To Soundbar (Step By Step Guide)
How to Fix Soundbar Not Working with Firestick
Check To See If The CEC Is Enabled
The first step is to make sure that the CEC (Consumer Electronics Control) option is enabled on your TV remote. Depending on the type of TV you have, the menu may look different, but the CEC option should be listed somewhere on your TV audio settings. Once you've enabled the option, you want to make sure that the CEC feature is also enabled on your Amazon Fire Stick. Go to the settings menu and check under equipment control.
Confirm Devices Are Paired.
Most Times, The Firestick Should Link Up Automatically, If not you will have to manually pair the equipment
Once you've enabled the CEC feature, you want to go to the settings menu and select manage equipment. Select the device you plan on adding (e.g. soundbar, AV receiver, etc.). If your soundbar is using the ARC feature, your Amazon Fire Stick should be able to detect it. However, if you're using a red and white RCA cable, you'll have to manually select the soundbar from the list.
Once your soundbar is selected, Amazon will play a sound to make sure the soundbar is connected and working properly. Press the power button on your Amazon Fire Stick remote to turn the sound off and on. Then, press the volume up button on the remote to make sure the volume is turned up.
Set Up Primary Audio Option
The next step is to set the soundbar as the primary sound option. Go back to the manage equipment section and select advanced settings. Select volume control device and select the soundbar. This will allow your Amazon Fire Stick remote to control the soundbar's volume.
If you find that your Fire Stick has no sound coming out, there are a few steps you can take to resolve the issue. First, you want to go to the settings and select display and sound or display and audio. Here you'll find three options: PCM, Dolby Digital Plus, and Dolby Digital. Try each of the options to see which one works best for you.
If none of them work, try unplugging your Fire Stick from the power source and waiting a minute before plugging it back in.
We hope this article helped you learn how to control your soundbar or AV receiver with your Amazon Fire Stick remote. If you have any questions, feel free to reach out and we'll be happy to help.
Firestick Remote Not Working; FAQ's
Why Is My Amazon Fire Stick not loading apps?
If your fire tv is not loading apps correctly, you can try a few things to fix the issue. First, try clearing the app cache and data. This will help the app run more smoothly. If that doesn't work, you could try uninstalling and reinstalling the app. Lastly, you could try restarting your device. You can contact Amazon for more help if these solutions don't work.
Why Is My Amazon Fire Stick not turning on
If your Fire TV isn't turning on, unplug the power cord from your Fire TV and from the wall outlet to perform a hard reboot. Wait a few seconds, then plug it back in. Now, press the source or input button on your remote and make sure the TV is set to the same HDMI port where your Fire TV is plugged in. Also make sure your remote has good batteries.
How Do I fix Fire TV black screen with sound?
If you're experiencing a black screen with sound coming from your Fire TV device, try these steps to get it working again. First, make sure the A/V receiver or soundbar connected to your Fire TV is powered on and switched to the correct input. Hard reboot the FireTV device by disconnecting it from the HDMI port and reconnecting it again. If this doesn't work, check if your HDMI Hub or HDMI cable is working.