The Samsung HW-J250 soundbar is perfect for anyone looking for an entry-level soundbar for their TV or home theater setup. It's designed for TVs and gaming systems like Xbox One, so you have an immersive experience when playing your favorite games. It also comes with built-in subwoofers that give powerful, clear sound for an even better viewing expression for your favorite TV shows and movies. You can even wirelessly stream music from your phone or tablet via Bluetooth.
What we love about the Samsung Hw J250 Soundbar
Built-in Woofers. The hw j250 comes with two built-in subwoofers that provide an immersive audio experience that will make you feel like you're at the movies or in concert.
TV SoundConnect. With SoundConnect, you will enjoy your clearer and crisp TV sound through your Soundbar when it is connected to a Samsung TV compatible with the SoundConnect function.
Bluetooth connectivity. This soundbar features Bluetooth connectivity so that you can stream music from any of your compatible devices wirelessly.
Clear Voice. The Samsung Hw J250 features clear voice mode, which makes dialogue crisp and easy to hear even when other sounds are happening on screen.
Easy Setup. This soundbar has an easy plug-in and plays setup.
Preset sound modes. With the standard, Sports, 3D Sound Plus, Voice modes, you are able to customize the audio settings to suit your interest.
Cons
No dedicated subwoofer.
Features of the Hw-J250 Sound Bar
Easy Setup
The HW-J250 is easy to set up and use, so it's perfect for anyone who doesn't want to spend hours figuring out how their new product works. You won't need any complicated instructions because this product is simple enough for anyone to use in just minutes.
This soundbar has one analog audio in jack (Aux In) and one digital optical in jack. This gives you two connection options. You can also use Bluetooth connectivity to pair your compatible devices to the soundbar.
HW-J250's Design
The Samsung HW-J250 is designed to be sleek and unobtrusive, so it blends seamlessly into your home. You can also mount it on the wall or place it under a cabinet with ease. The bar is made from quality plastic, and it might look fragile because of this material, but it is pretty sturdy. It is also light in weight which makes it easy to move around and set up.
Sound Quality
Even though the J series is a little bit outdated compared to the newer release from Samsung, it does have great sound quality. The configuration of this soundbar system is a 2.2 Channel which means that it has two in-built sub-woofers and two in-built speakers. This configuration sees that you get a more harmonized audio quality with the right thump and rumble to your movies and music.
The sound quality of this soundbar may not be satisfying for bass enthusiasts who love more punch to the bass in their sound system. We would recommend a more expensive upgrade, such as the Samsung Hw-Q950T.  The Q950T comes with powerful speakers that deliver a 3D True Surround Sound quality for a more immersive sound experience.  
Sound Customization
You can customize the sound levels to your liking by adjusting the EQ settings on this device. There are preset modes such as Sports, 3D Sound Plus, Voice, and Standard that allow you to choose what best suits your needs at any given time. The Samsung Clear Voice feature enhances voices so that you won't miss anything during dialogue scenes of movies or shows. 3D Sound Plus mode improves the surround sound effect, but we noticed it has a slight similarity to the standard mode of the soundbar.
Affordable Price
This sound system is perfect for anyone who wants an affordable yet high-quality soundbar with everything they need in one package. And at just under 200 dollars, this product will save you money without sacrificing quality.
SoundConnect
The HW-J250 connects wirelessly to your TV through SoundConnect so that you can enjoy all of your favorite movies and shows without any wire connections. The only setback is that it's compatible with most 2013, 2014, and 2015 TVs and may not connect to the latest TV models.
Connecting your TV with SoundConnect
To enjoy your TV sound through the Soundbar with SoundConnect:
1. Turn both your TV and Soundbar ON
● From the "Add New Device" menu, set it to "ON."
2. Press the INPUT button on the soundbar or the "Tv Sound Connect" button on your remote control and select the TV mode.
● A Green LED will start blinking to indicate that your Tv is still not connected.
3. A pop message will appear on your TV asking whether to enable the TV SoundConnect function. Using the TV remote enables the function to complete the connection between the TV and your soundbar.
● After completing the connection, the Green LED will stop blinking. When you change your soundbar's mode, the SoundConnection will be terminated.
●For the function to work seamlessly, the distance between your soundbar and TV should not exceed 16.25 feet. Keep the pairing range within 20 inches. It is also important to note that the pause, play, next, and the previous button will not operate while using this function.
Remote Control
The Hw J250 has a remote control that lets you control the soundbar's functions. The remote is simple and has clearly labeled buttons to make it easy for you to make out the settings buttons.
Samsung Audio Remote Application
The Samsung Audio Remote App is the perfect companion for your soundbar. The app allows you to cast your favorite music to the soundbar and control basic functions such as volume, pause, and play. However, you cannot use it as a replacement for your remote as its lacks some functions such as Bluetooth and Settings buttons.
To use the app, download it on your android phone except for iOS phone users.
Firmware Updates
With the Samsung Hw J250 firmware updates, you can always keep your soundbar current with all the latest Samsung updates. You won't have to worry about buying a newer model. The firmware update is downloaded from Samsung's website to get the updates, then installed into your soundbar.
How do I connect my Hw-J250 to my TV?
Using AUX IN (Audio)
When connecting your soundbar to the TV, plug one end of your audio cable to the AUX IN port on the soundbar and the end to the Audio Out jack on your TV. When done, choose the Aux Input to use the sound system. Ensure that you complete all the connections between the TV and soundbar before connecting the power cords to an electrical socket.
Using OPTICAL IN
To connect your soundbar to the TV using OPTICAL IN, use the included optical cable. Connect one end of the cable to the Optical In port on the soundbar and the other end to the Optical Out jack on your TV. To start the system, select the D.IN Input mode.
Samsung HW-J250 Specifications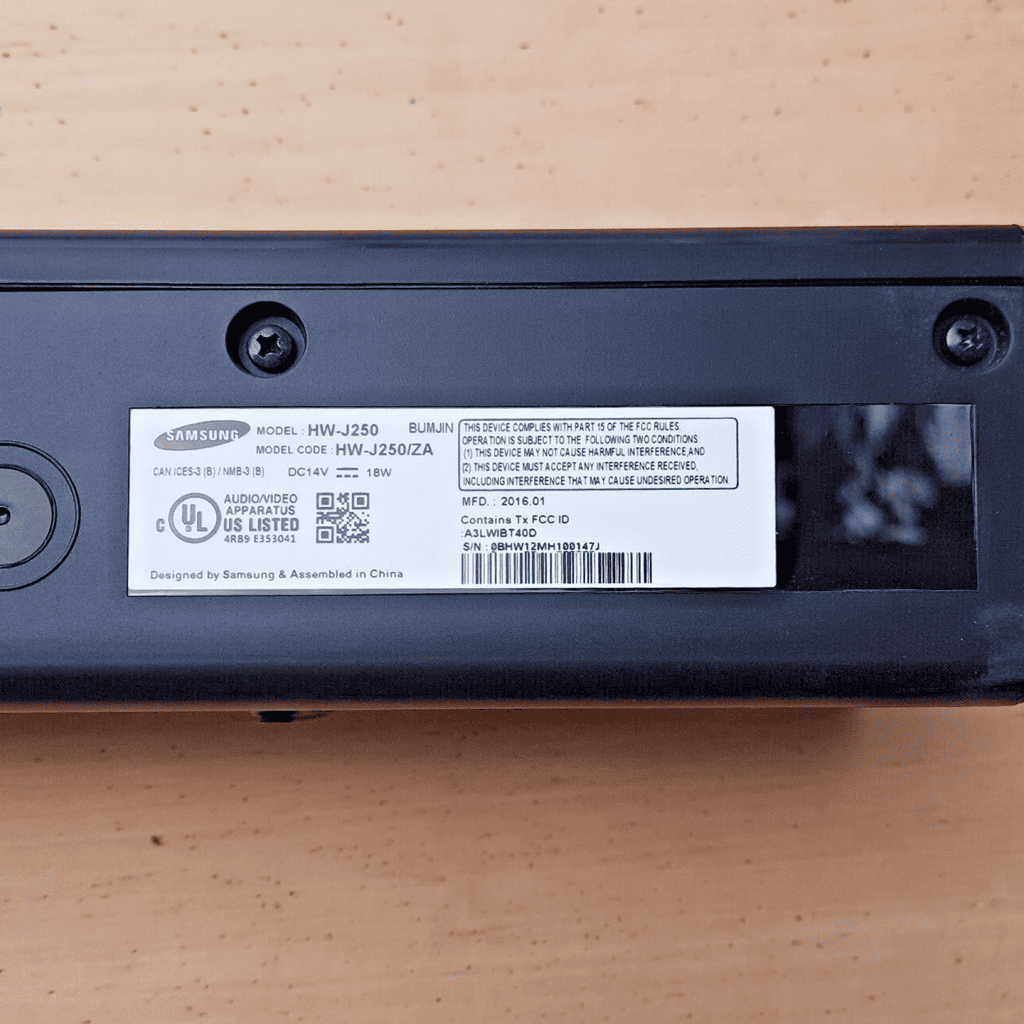 Channels-2.2 Ch
Total Power-80 W
Crystal Amp Plus-Yes
Samsung Audio Remote App-Yes
Dolby Digital-Dolby Digital 2 Channel
DTS-DTS 2 CH
Amplifier-Digital Amp
Bluetooth® HiFi Codec-Yes
Number of Sound Modes (DSP)- (Clear Voice, Sports, 3D Surround Sound, Standard)
Optical Inputs-Yes
USB Connectivity-Yes
Bluetooth-Yes
TV SoundConnect-Yes
Auto Power Link-Yes
Aux Input-Yes
Remote Control-Yes
Wall Mount Kit-Yes
Battery-Yes
TV Mount Compatibility-2015 32″ +
Optical Cable-Yes
Samsung HW-J250 Review Conclusion
This bar gives you immersive surround sound without taking up too much space or costing too much money. With its slim profile, this bar can be placed on top of your TV or mounted on the wall behind it, so it doesn't take up valuable floor space in your living room or bedroom.
We recommend the Samsung Hw-J250 Soundbar to anyone looking to boost their TV in audio.