The Samsung q80r soundbar is a great balanced soundbar for those who want to experience an immersive audio experience. This soundbar has some excellent features and gives you value for money. It has a 5.1.2 channel support with precise and well-balanced audio that plays clearly even at high volumes.
The q80r samsung soundbar , however, does not come with rear speakers. But with the SWA-9100S wireless rear speaker kit(Amazon), this can be compensated for efficiently.
In this Samsung q80r review, we will review the design, performance, specs, and general outlook of the Samsung Harman Kardon Q80R Dolby Atmos Soundbar and see if it's worth its price tag.
Design and build: Pretty sleek for a 5.1.2 speaker configuration
The HW-Q80R's bar has the same design as its pricier counterpart the Samsung HW-Q90R; metal all around except for a quality plastic back, with rounded corners for a subtle and stylish look. However, it is slightly bigger and may not fit under smaller screens, so you might have to mount it on the wall using a wall mount kit.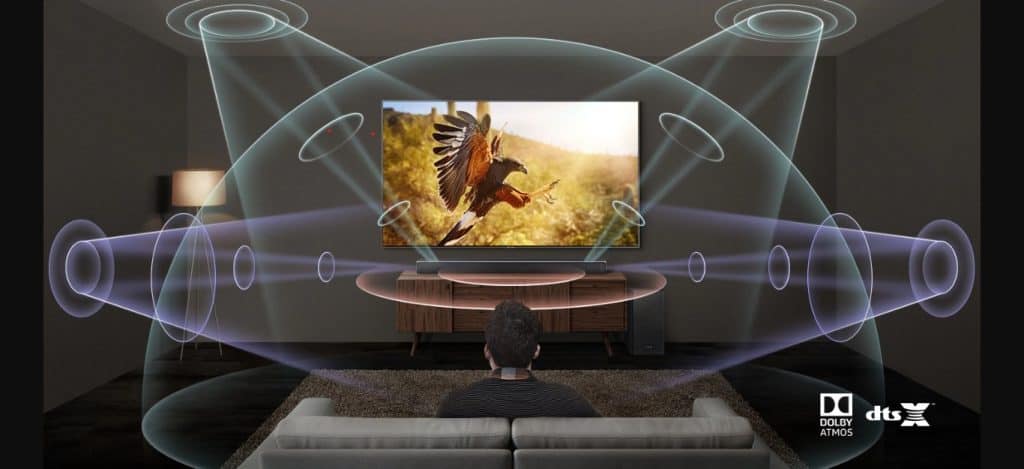 Powerful Subwoofer – Intense Bass, Crisp Sounds!
The powerful 8-inch side-firing driver of the wireless subwoofer will have you grooving to your favorite tunes every time.
With a compact size of 7.9″W x 15.9″H x 15.7″ D and a built-in rear port, the subwoofer is designed to fit anywhere in the room and provide superior sound quality. Also, the wireless connection between the soundbar and the subwoofer allows you to place them wherever you want with no strings attached!
However, since it has side and up-firing speakers, it can't be placed in a cabinet. This also means you can't place it near the walls as they'll be reflecting off the sound causing an echo or a reverberation
"Buttons on the soundbar"
The set of control buttons on the top side makes it easy to power the system on or off, regulate the volume, and select the input source. This is super convenient as sometimes you might misplace your remote and you have to turn it on/off or adjust the volume.
This soundbar has five speakers: left center, right side surround, front-firing, and two upward-firing speakers.
The setup allows you to enjoy an immersive and articulate sound experience.
What We Love About The Samsung HW-Q80R
Great audio reproduction. The Samsung Q80R has excellent audio reproduction. It's effective at filling a room, and the sound is clear and crisp.
Exceptional performance even at high volume. The high-quality speakers deliver powerful sounds, even at high volume levels.
Supports Atmos and height channels. Atmos is a surround sound technology that improves the home theatre experience. Height channels give more depth to movies, television shows, games, and music.
Dolby Atmos & DTS:X & Optimized for QLED; These systems greatly enhance your listening experience. They use the latest audio technologies to produce true-to-life, immersive surround sound effects.
Easy to set up. The soundbar is so easy to set up. It includes a remote control and has two HDMI ports, one optical audio port, and composite video input. You can check the Samsung q80r soundbar manual for easy setup and troubleshooting from their official website: Link.
Wireless subwoofer. It can be placed anywhere in the room without wires hanging all over the house.
It also features a game mode pro and works with Alexa.
4K Pass-through
Cons
No room correction feature. The Samsung Q80R does not feature the "room correction" equalizer setting. A setting used to improve sound qualities based on the characteristics of your home.
No rear speakers. This soundbar features no rear speakers, and the Samsung q80r soundbar rear speakers add-on comes at an extra cost.
Samsung HW-Q80R performance – powerful. It's almost too good!
The Samsung Hw Q80r soundbar is a powerhouse of immersive sound.
With its upward and side-firing speakers, the soundbar brings you into a realistic audio experience like no other.
Whether it's movies, music, or games, the deep and heavy-sounding bass won't interfere with the overall sound quality.
Plus, its powerful Dolby Atmos and DTS:X sound systems make you feel like you're really there, giving you the closest experience to virtual reality. Perfect for larger rooms, the Hw Q80r can get loud without sacrificing sound quality. Move your audio experience up a notch or two with the Samsung Hw Q80r soundbar!
Samsung Q80R Soundbar Setup – Super basic and easy.
Setting up your Samsung Q80R Soundbar is easy and can take as little as 5 minutes! Here's a step-by-step guide to help you get up and running:
Start by plugging in the AC power cord and give it 4-6 seconds for the power button to begin working.
Note that when you turn the soundbar on, there will be a 4-5 second delay before it produces sound.
To connect the soundbar to the surround speakers and the subwoofer, press and hold the Up button on the remote for 5 seconds.
Once synced up, you can adjust the relative volume levels of the soundbar and subwoofer to get the perfect sound balance.
If you want to take it a step further, you can invest in an audio test disc and sound pressure level meter. These will help you to properly calibrate the channel levels to get the best sound quality out of your soundbar. (although you don't really need this for your home).
Finally, if you experience any audio lag between the sound and the picture on your TV, the Sync feature allows you to add audio delay in 25ms increments to fix the issue.
Connectivity – Enjoy Wireless HDR, HDR10+, and Dolby Vision 4K HDR video.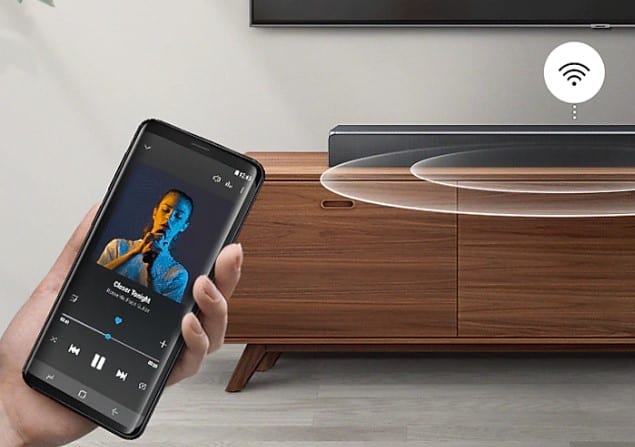 The soundbar Samsung q80r features Samsung's proprietary wide-range tweeters so you don't have to sit in a specific sweet spot to get great sound, plus Adaptive Sound and Game Sound modes to optimize sound for certain content.
It also supports high-resolution audio, UHQ Upscaling, and lossless object-based audio formats.
Connectivity-wise, it has two HDMI inputs; one HDMI output, an optical audio input, Wi-Fi, eARC, and Bluetooth wireless support. If you want rear speakers, you can always add them at an additional cost of around $180 (the SWA-9000s or the SWA-9100s).
Sound Enhancement Features: Take your surround sound experience up a notch or two!
This Samsung soundbar has a dedicated center channel that is perfect for producing neutral sounds. It also features an adaptive mode that optimizes the quality of your audio experience based on what you are listening to or watching.
Whether it's football games, movies with lots of dialogue, or even just music videos, you're going to be able to hear every little detail!
Dialogue Enhancement
This feature is great for when you want to make dialogue more clear without making a significant change in the background volume. This will help people who have trouble understanding what's being said and hear clear sounds even at low volumes.
Subwoofer Level Adjustment
The subwoofer level adjustment feature is terrific!
You can make adjustments without messing with the bass levels throughout your entire system.
If there are songs that sound too bassy or not enough of a deep rumble in movies and games – this handy little tool will work wonders.
Bass And Treble Adjustment
Adjust base levels or treble levels to find what suits your ears best.
EQ Presets
The Hw Q80r soundbar comes equipped with four preset sound modes.
The standard mode is perfect for enjoying the original sounds.
Game mode pro immerses you in your gaming experience by mimicking the action on screen and enhancing clarity as needed.
The Adaptive sound feature analyzes what's being watched or listened to. It delivers optimized sound so you can enjoy enhanced clarity no matter which content you are watching.
The Surround mode generates an enriched sound that is wider than the standard mode.
Height Level Adjustments
This is a great tip for anyone who's really looking to get lost in the sound. If you want to make your music seem more immersive, it might be worth playing with the height level of your speakers to increase your soundstage.
Other Features
Voice Assistant Support
You can now enjoy your Soundbar hands-free with Alexa voice control. Just connect the Soundbar to Wi-Fi and sync it with your Alexa-enabled devices, then you're ready to stream music or check the news.
Remote Control
The remote has a sleek design that's similar to high-end Samsung TV remotes. It allows you to control key functions on the soundbar.
SmartThings App
You'll never have to worry about missing sound from Samsung TV with your Q80r soundbar system. SmartThings lets you connect to more devices, like speakers and TVs, to make everything in your smart home work better. This gives you greater control over your audio and helps in a connected home setting.
Samsung Harman Kardon Specs
Total power output 372W
Adaptive Sound
5.1.2 Channel Sound
Subwoofer option Wireless
Rear speaker option No
USB – 1 x Micro-USB (Unspecified Interface) (Service)
Networking Bluetooth and Wi-Fi
Wall mount kit Yes
HDMI – 2 x HDMI 2.0a – Audio/Control/Video, 1 x Optical TOSLINK – Audio
Q80R Soundbar Dimensions ; 48.3 x 3.3 x 5.4″ / 1226 x 83 x 136 mm
Q80R Subwoofer Dimensions; 8.1 x 15.8 x 15.9″ / 205 x 402 x 403 mm
Samsung HW-Q80R FAQs
Is the Samsung q80r soundbar worth it?
The Samsung HW-Q80R soundbar delivers a powerful, detailed, and impactful soundstage with films and music. It supports Atmos for an immersive experience.
Although it is pricey, it is worth it if you prioritize sound quality over budget. You can also add the optional SWA-9000S rear speakers for a fuller sound. However, they don't have up-firing drivers. The Q90R would be a better option (for an extra few bucks), as it provides wireless forward- and up-firing rear speakers. The Q80R is a fantastic soundbar that packs a serious punch.
Does the Samsung q80r support Dolby Atmos?
Yes, the Samsung q80r soundbar is equipped with Dolby Atmos for immersive audio. Enjoy a cinematic experience with the Q80's Atmos for an unbeatable sound experience.
Can you add back speakers to Samsung q80r?
The Samsung q80r soundbar sound system can be upgraded with the optional SWA-9000S or SWA-9100s Samsung hw-q80r rear speakers. Adding the rear speakers will improve the soundstage and the quality of the audio. But, since the speakers don't have firing-up drivers, the Atmos/DTS/X soundstage will feel incomplete.
Verdict: Should you buy it?
The Samsung soundbar q80r is a fairly good choice for your home theatre system or living room entertainment setup. (why fairly and not great?) Compared to its newer competitors, like the JBL Bar 500, it lacks streaming services, a must-have in today's audio field. )
That said, the soundbar has a sleek design and simple setup process, providing crisp and clear sound quality for an affordable price. So if you're looking for a reliable all-in-one soundbar that won't break the bank, the Q80r is a good choice.
Q80R is out stock on Amazon, check Samsung Q90R Soundbar below,
Product Dimensions: 48.26" W x 3.26" H x 5.35" D | Spk (sub woofer) Net Dimension: 8.07" W x 15.86" H x 15.86" D
Includes: Remote Control, Battery, Wall Mount Kit and HDMI cable
DOLBY ATMOS AND DTS:X TECHNOLOGIES: With Dolby Atmos and DTS:X, sounds move independently around you from all directions, even above, just like in real life
7.1.4 CHANNELS: 17 built-in speakers, including four that fire upward and two that fire from the side, surround you in multidimensional cinematic audio that rivals even the very best movie theater experience
REAR WIRELESS SPEAKER KIT INCLUDED: Upward firing rear speakers add another element of surround sound to your movies, making every moment more cinematic
ADAPTIVE SOUND: Adaptive Sound technology analyzes the sound signal and delivers optimized sound and clear voices even on low volumes.Frequency Response (amp):34Hz~17kHz
4K PASS-THROUGH WITH HDR10: Built-in 4K pass-through for connecting to UHD 4K and HDR10 sources for a seamless audio experience that matches your video